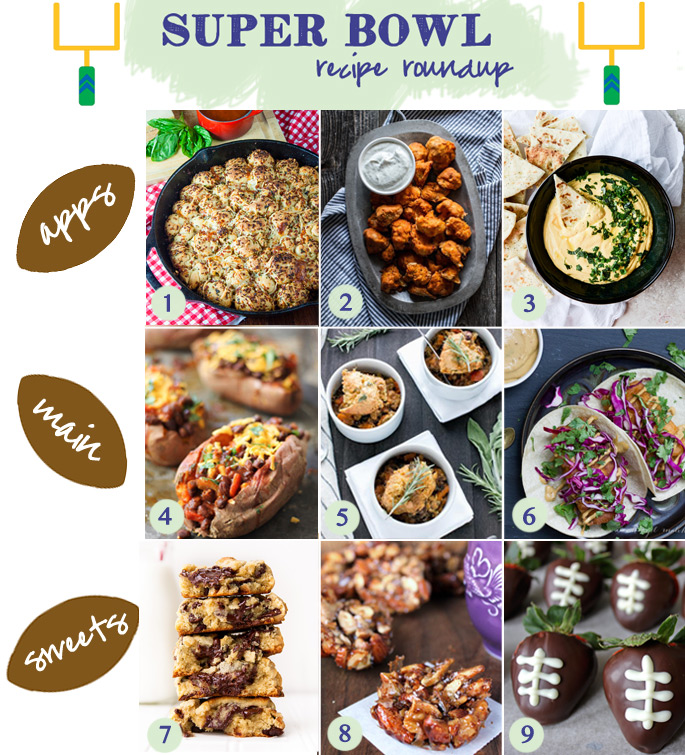 I wish there was a way to open this post with that NFL music…da dum da da da daaaa da dum da da da da da….
Please tell me you hear it. Great!
Growing up in Buffalo, Sundays were always sacred, but more in the football-and-sauce way. I mean, we went to church (20 minutes late, without fail) but after mass we headed straight to Wegmans to pick up the goods for the rest of the day. Although the Bills disappointed us most of the time (there's always next year, right?) my mom's taco dip never did, and we would cheer and yell and chomp our way through the afternoon, until it was time for dinner, where we would sit around the table and cheer and yell and slurp our way through massive plates of spaghetti.
But the Super Bowl…man, the Super Bowl was like our regular Sundays on crack. Since the Bills went to the Super Bowl four times in a row, and then lost four times in a row, the only thing that could possibly cure that kind of depression during and after those regretful years was food. Lots and lots and lots of it. So while chicken wings are no longer on my menu, here are a heavy handful of of delicious, messy, stuff-your-face, cheer-with-your-mouth-full vegetarian eats from some of the most fabulous bloggers around the web.
Go Bills! (But seriously…any enemy of Tom Brady and the stupid Patriots is a friend of mine, so go Seahawks!)
1) Cheesy Garlic Knot Pull-Apart Bread from Home Sweet Jones: While Maggie's original recipe includes pepperoni, we both agree that you can either leave it out or use a vegetarian meat substitute. And c'mon…garlic bread made in a giant skillet!? You can't go wrong.
2) Cauliflower Buffalo Bites from Edible Perspective: Calling all Buffalo vegetarians! (I know I can't be the only one.) Now we can have our beloved hometown and namesake eats without the whole "chicken" part. Yes Yes Yes Yes Yes.
3) Butternut Sqaush and Goat Cheese Dip from How Sweet It Is: This recipe is a (football) game-changer. I want to dive into that (super) bowl and (butternut) squash it. Sorry…gah, I'm a bit overexcited about this one!
4) Vegetarian Black Bean Chili-Stuffed Sweet Potatoes from Ambitious Kitchen: Fluffy sweet potato boats full of hearty vegetarian chili? I would run 50 yards and back for these. Not that you would need to, as these are both heavenly AND healthy.
5) Black-Eyed Pea Sweet Potato Cornbread Pot Pie from Vanilla and Bean: This is the one-pot wonder that will easily make you the Super Bowl hostess with the mostess. It has all the warmth, comfort and heart of a true Sunday dinner, kicked up a few notches!
6) Beer-Battered Tofu Tacos with Chipotle Aioli from 40 Aprons: This recipe is perfect for your "I eat vegetarians for lunch" crowd. We all know who they are. It might be more fun to watch them devour these with no complaints than the big game.
7) Copycat Levain Chocolate Chip Cookies from Broma Bakery: While I have never had the real thing, this copycat version ensures that I'll really never have to worry about it. Or anything else in life, because from the looks of them…these cookies will solve any problem I will ever have.
8) Salted Caramel Maple Nut Clusters from It Doesn't Taste Like Chicken: These crunchy, chewy, sweet, salty and gooey clusters meet every criteria possible for a Super Bowl Sunday dessert. And with only five ingredients, you'll be able to whip up a few more batches as the first one is sure to be snatched up quick.
9) Chocolate-Covered Football Strawberries from, well…me. Shameless plug! But I just could not not include these too-adorable for words little guys. And the fact that you can still impress people while shouting "laces out!' every time someone lifts one off of the tray is pretty impressive in itself.
Big shout out to these fabulous bloggers for letting me shout their recipes off the Ciao Mama rooftops! You are my MVPs. Or MVBs?