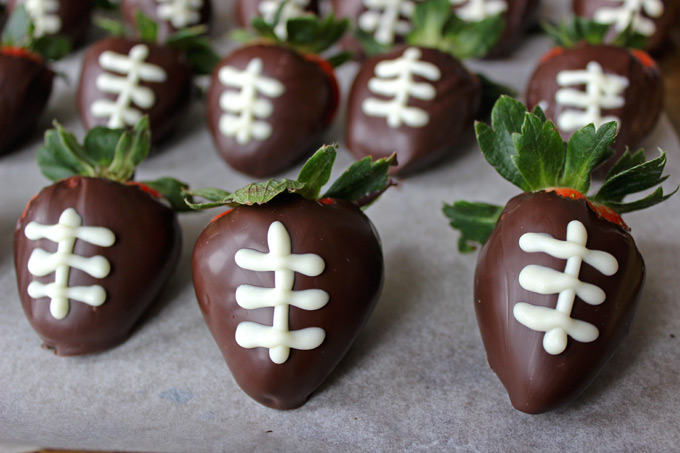 I really don't have too much to say about these chocolate-covered football strawberries except: HOW FREAKING CUTE ARE THEY?
I mean, chocolate-covered strawberries alone are perfect, bite-sized little gifts to mankind. But add four lines of white chocolate and you just became the belle of the Super Bowl ball. Take that, girl who brought those adorable bite-sized Pinterest caprese salad bites.
Plus, these will take you no longer than 20 minutes to make (well, depending on how steady your hand is. As you can see, I was killing it on some of the strawberries. On the others…let's just hope people have enough beers before they give these the eye).
Chocolate-Covered Football Strawberries
Ingredients:
1 pound strawberries
8 ounces of dark chocolate
4 ounces white chocolate
Directions:
Line a baking sheet with parchment paper.
Wash and dry strawberries.
Either in the microwave or in a double boiler, melt the dark chocolate.
Once the chocolate is melted, start dipping! (And try really hard not to sing that "when I dip you dip we dip" song. It's impossible.) Holding the strawberry by the stem, dip into chocolate and kind of lift and twist around to have excess chocolate drip back into the bowl. Line your strawberries along your baking sheet.
When all of your strawberries are dipped, set aside to cool/set for about 5-10 minutes. I popped my tray in the fridge to speed up the process.
While your strawberries set, melt your white chocolate in the microwave or in a double boiler on the stove.
Once white chocolate is melted, spoon it into a small ziplock bag and snip the tiniest bit off one of the corners. The tiniest.
Draw your laces! I learned the hard way that if you are a bit heavy-handed with your white chocolate, your laces will begin to sag. Like I don't know….a deflated football. :) So go easy – you can always go back and thicken any of the lines.