Before I talk to you about the wonders of green tea ice cubes, I need to preface this post with Matt's response when I told him about the wonders of green tea ice cubes: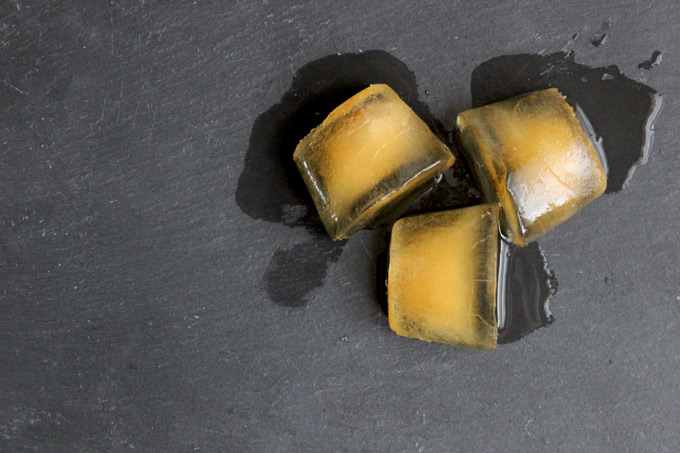 "You are honestly the weirdest person I have ever met."
Honestly…I just can't believe it took so long for him to figure that out. For better or for worse, right?!
While I am a weirdo in thousands of ways, one of the more recent ways I've started acting out is in natural skincare. Yes, you heard me blab about the dangerous ingredients lurking in your makeup bag as well as sing the praises of homemade coconut oil sugar scrub, so you should know by now: I believe that you can find everything your skin needs sitting in your pantry. Now, don't get me wrong…I did just spent $52 at Sephora yesterday. (Those freaking beauty insider deals get me every time!) But for the most part, my skincare routine has gone back to basics. And since there is so much to learn, you'll find me constantly researching things just as "where to buy rose hip oil" and "how to make your own antioxidant facial serum" or "witch hazel cures for skin." Raise Matt one point.
So when I read that Kate Moss's "secret" to flawless, smooth skin lies in her ice cube tray, I was very, very amused. I was already washing my face in ice cold water, a la the never aging Pharrell, so taking it to the next, frozen level actually made total sense. I bookmarked it in my head and went on to read about putting egg whites under your eyes to mask wrinkles. (editor's note: yes, of course I tried it while baking Christmas cookies and found myself with tiny red bumps around my left eye the next day. Certainly a tip that was not what it was "cracked" up to be.) Then I stumbled upon "icing" on Lauren Conrad's site. Hmmm… I was warming up to the freezing cold idea.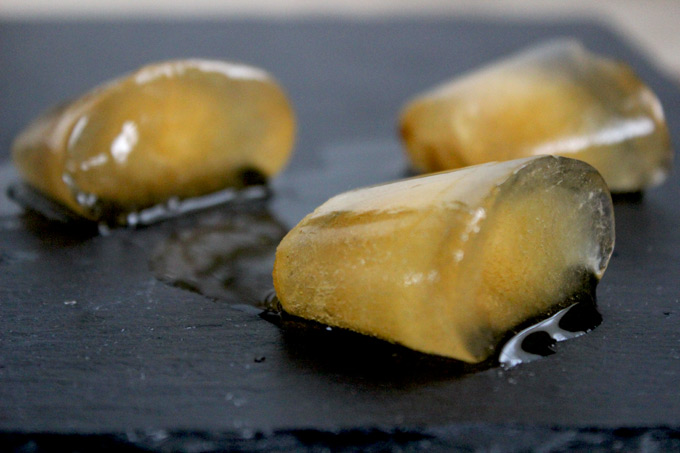 The next day, I was skimming through Alex Wolfer's Recipe for Radiance at the library and stumbled upon the beauty tip of rubbing green tea ice cubes on your skin, for not only a soothing, smoothing tool but also an energizing/brightening one. Hot damn…the universe was trying to tell me something, and for once it was being pretty clear. I grabbed the book and took off, praying I had green tea stashed somewhere behind the ridiculous amount of Starbucks mugs I had come to collect.
Besides teetering on a chair trying to reach that green tea box behind those mugs, the hardest part about making these is waiting for the damn things to freeze. Eventually, I stopped pacing in front of the freezer and actually almost forget about them, until the next morning when I bolted down the stairs, bed head and striped pajamas, like a kid on Christmas. "MY GREEN TEA ICE CUBES ARE READY!" I exclaimed to Matt as he buttoned his work shirt and grabbed his briefcase. Sometimes we could not be in more opposite worlds.
After my first cube to the face, I was hooked. Yes, it is a bit of a jolt to rub a freezing block of green tea on your face in the morning, but after the first few seconds, it feels pretty good. Plus… okay, your face becomes kinda frozen so you can't really feel how cold it is anymore. But! What you can feel and SEE is how incredibly smooth your skin becomes by the time the ice is almost melted. It de-puffs your eyes, soothes any irritations or pimples and shrinks every pore on your face, making it look like it did when you were seven. You also have a nice rosy glow, like you did when you were seven and came into the house after playing in the snow for hours.  Only this time, you're less concerned about funneling hot chocolate and more enamored with how good it feels – and looks – to be a natural skin maven/weirdo.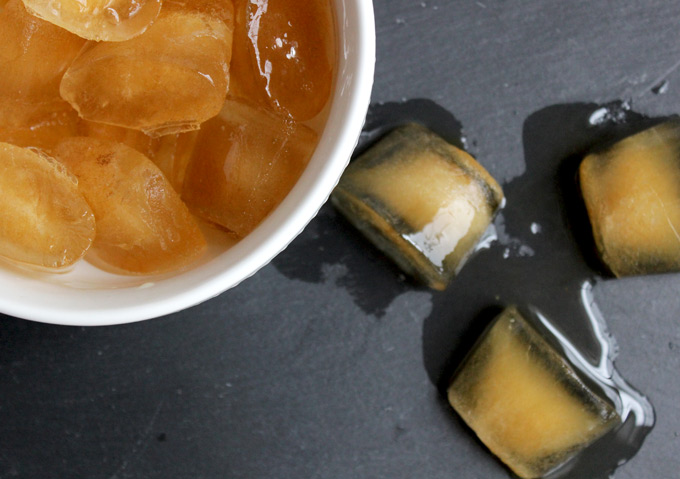 Green Tea Ice Cubes
This probably doesn't require instructions, but just in case I rambled too much and lost your focus, here's the deal. Also, the possibilities are endless for soothing or energizing ice recipes – try black tea, or even adding things like honey, cinnamon and lemon or cucumber zest to plain water for even more skin benefits. I love all of these ideas, too!
Ingredients:
two cups water
two bags of green tea
Directions
In a small saucepan, bring the water to a boil on the stove.
Once boiling, remove from heat and drop in the green tea bags. Let steep for 2-5 minutes
Remove tea bags from pan and pour water into an ice cube tray. Freeze for at least two hours.
Once frozen, pop out as needed. Wet your face as well as the ice cube, and using a towel or washcloth to hold without freezing our fingers off, rub the ice cube in circular motions around your face. I tend to hold it on each eye for about ten seconds each, too, but you can do whatever you fancy/dare.
When ice cube is almost melted or you can't take the cold any longer, pat your face dry with a clean cloth.
Oh, haaaaayyyyyy now Kate Moss!