Whew…we made it to the last installment of my roadtrip recap! (Check out parts one and two if you missed 'em.) Just so you know, I swore not to make this longer than three installments…so this may be a long one. :)
After our Friday trip to the Biltmore and evening spent downtown, we decided to get back to the mountains on Saturday morning and do some exploring. Since I was still a bit nervous to run wild in the woods by ourselves a la our Thursday excursion, we decided to gear up for a hike and take a leisurely drive along the stunning Blue Ridge Parkway.
But first – coffee with a view!
My friend had told us about the Grove Park Inn and said it is a must-stop for its cozy interior and breathtaking views of the mountains. And since, like everything seemed to be in Asheville, it was only a two-minute drive from our rental house, we were there in a jiffy. But then once we saw the view (and the Starbucks!) we lingered for quite a while.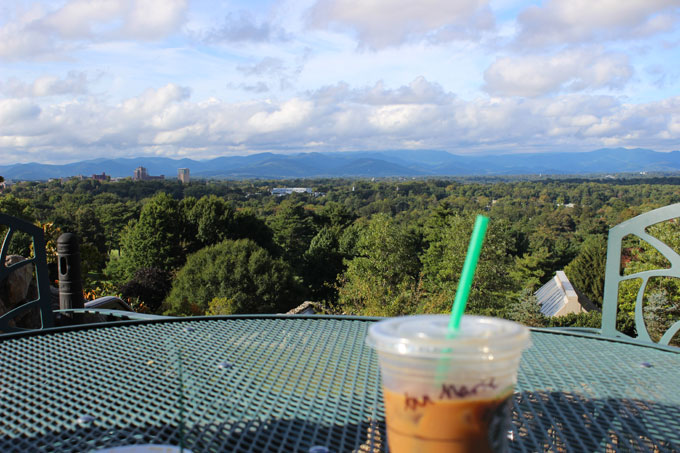 After our coffee break, we got on the road. I instantly regretted the large iced coffee and hoped the Blue Ridge Parkway had rest stops.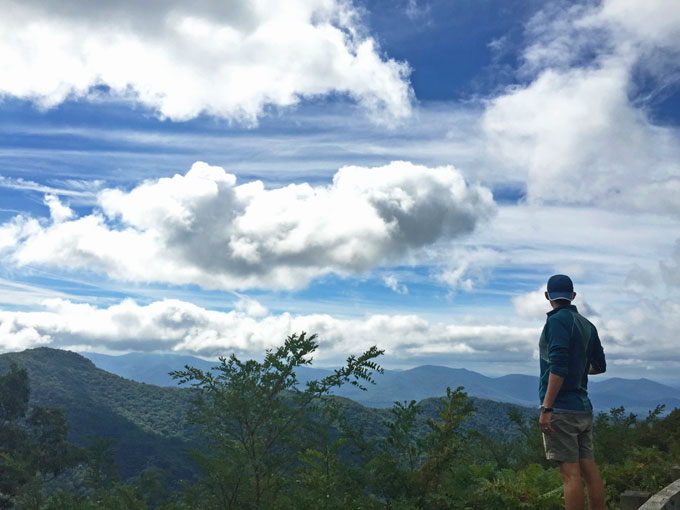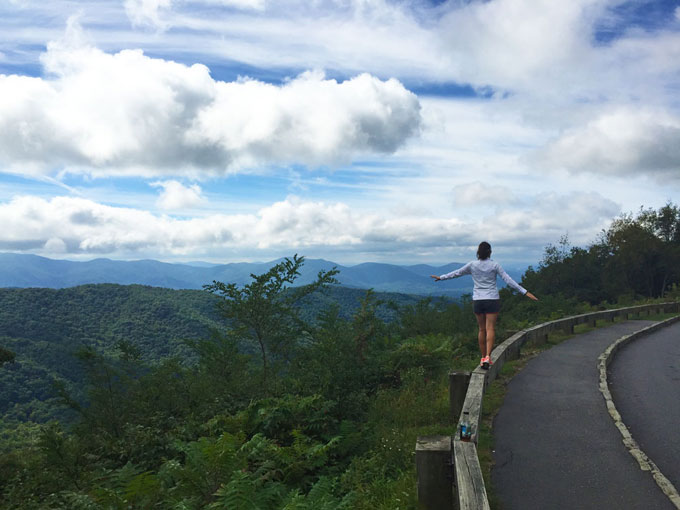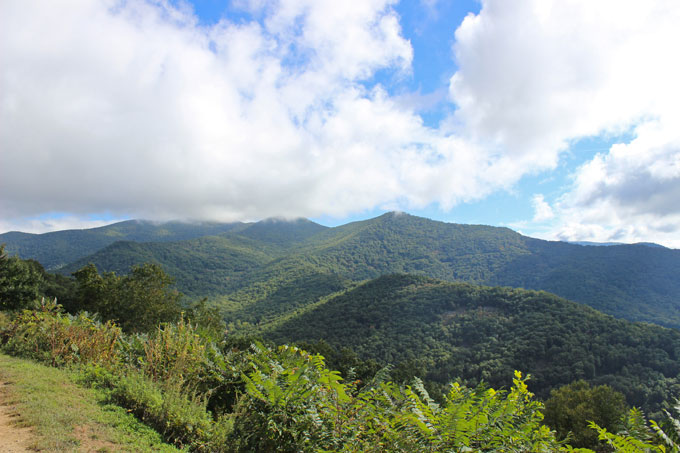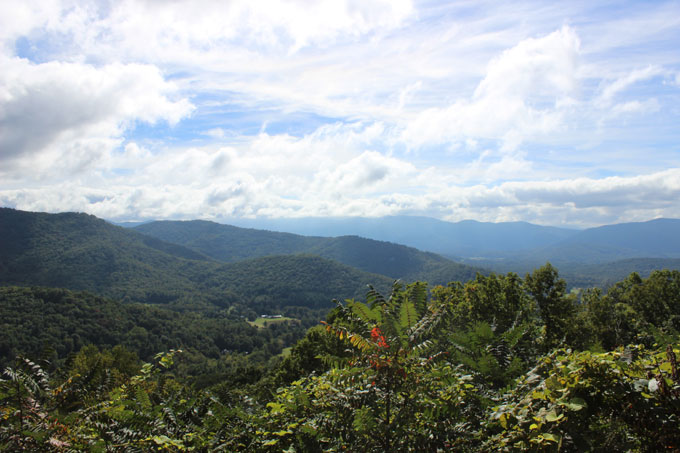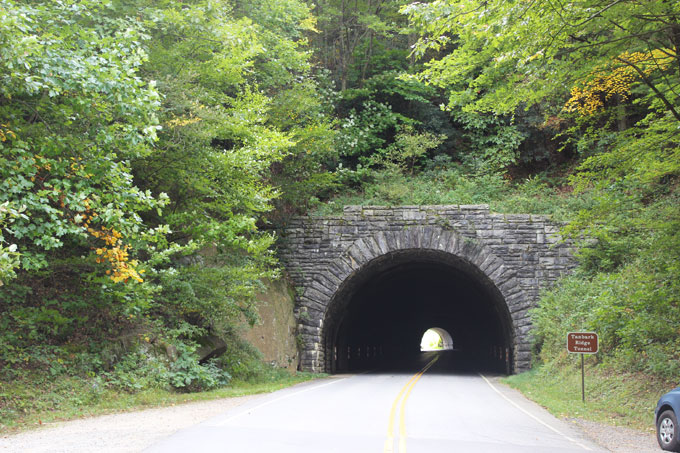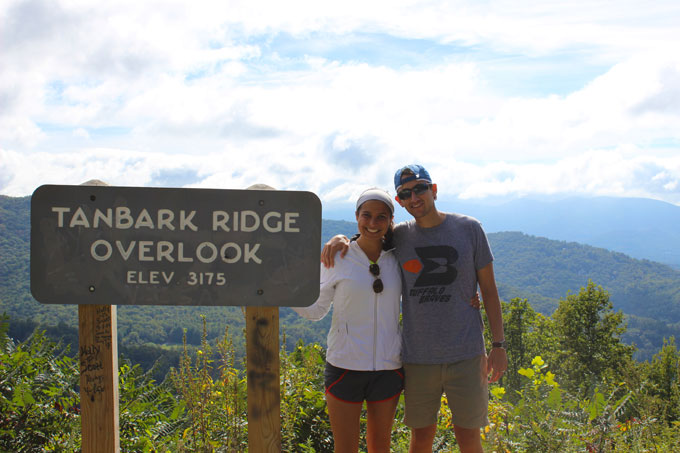 Welp, it didn't. But it did have PLENTY of scenic overlooks/photo ops! My urge to pee was forgotten about once I saw the magnificent views all around me. Oh and the giant spiders…I'd rather hold it for three more hours, thankyouverymuch.
We stopped once to hike around a subtly marked path, but with my bear anxiety and refusal to pop a squat after seeing aforementioned spiders, we decided to keep on driving and see what else we could find. I had read about the Craggy Gardens hiking area – with its "bald" mountains (read: no tall trees hiding bears) and rangers who patrol the area…seemed right up my alley. Matt was skeptical that it even existed until we saw the sign a few more miles into our drive. I would have done a "I told you so!" dance if my bladder wasn't overflowing and we weren't in a rental car.
Upon that first turn into the parking area, it was clear that Craggy Gardens was exactly the kind of trail we were looking for. (Not just because it had bathrooms!) We were already up pretty high in elevation, and so even our view from the start of the trail was incredible. There were a few picnic tables where hikers of all ages sat to eat (with all my bear research, I couldn't help but think that if there were any bears in the area, they would be by the picnic tables and not up in the trail we were about to hike) and well-marked, informational signs about the mountains, the hiking trail and types of trees/flowers/plants you'd run into along the way.  THIS IS MY KIND OF HIKING, FOLKS.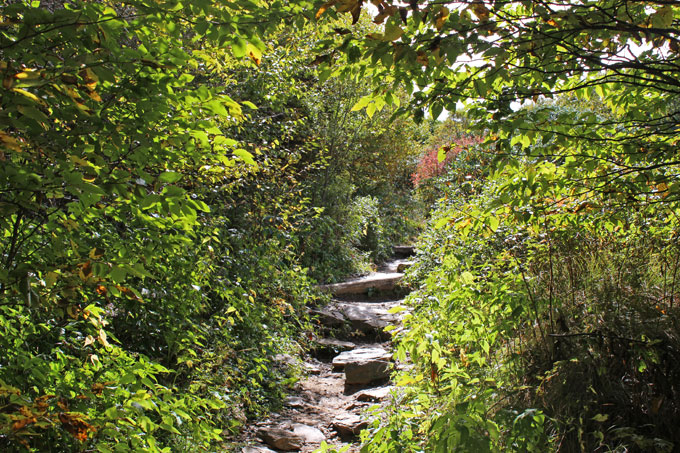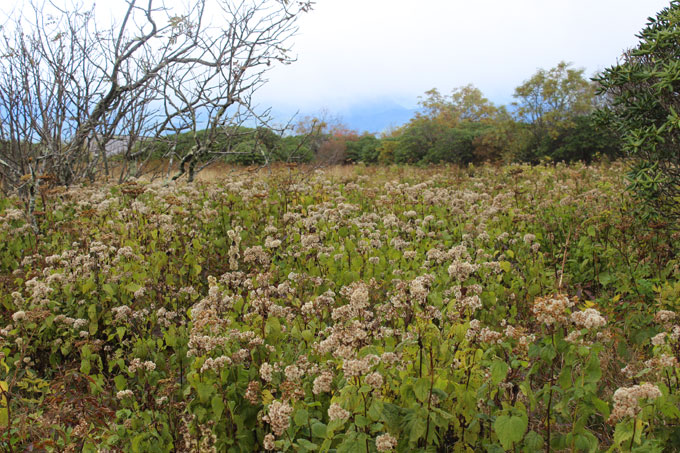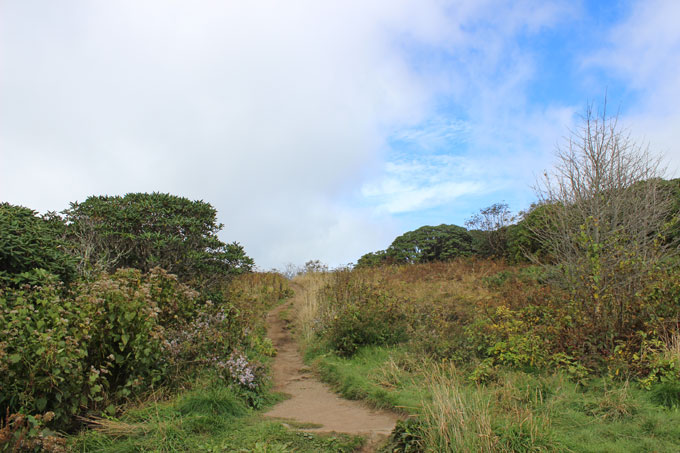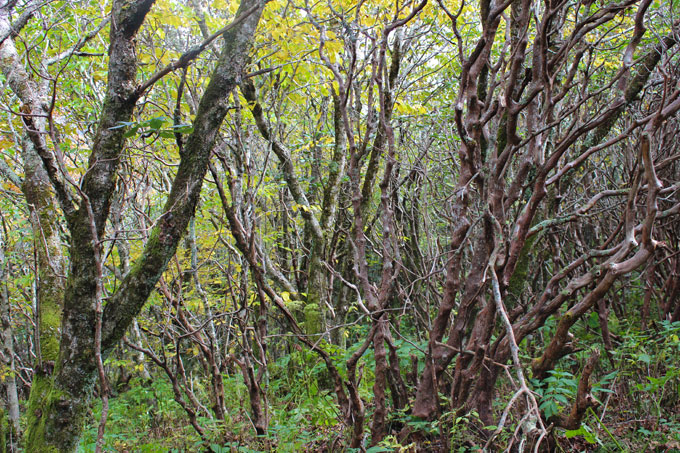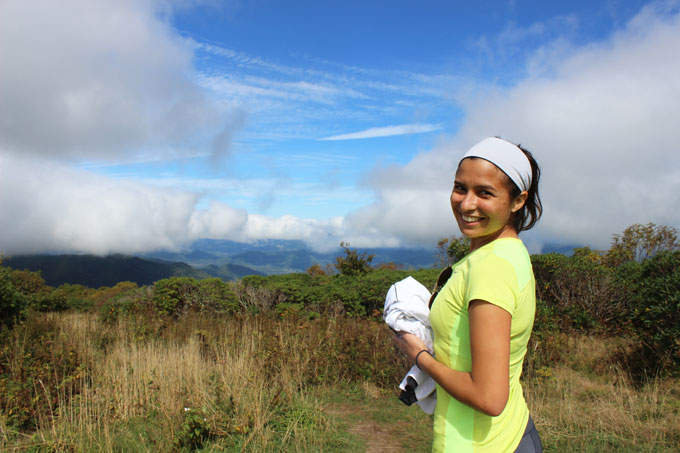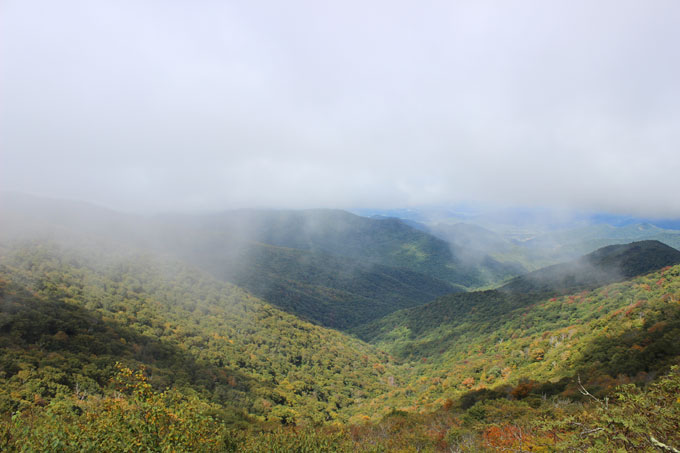 It was really warm when we started the hike, but we climbed towards the top it started to get a bit chilly. That's when I realized for the first time in my life, my head was actually in the clouds. Which explains why I asked Matt for every single item in the mountainside visitor center, thinking he would hand me his wallet. Womp womp.
We hung out and drooled at the view for a little while before we made our decent. By this point, it was 2 p.m. and neither one of us had had lunch. I brought a few granola bars in the car, but I knew we would have to go somewhere quick before Matt got hangry.
We enjoyed our scenic route back down the Blue Ridge Parkway and headed straight to Asheville Brewing Company to continue on our "Beer City" tour. They had a huge outdoor seating area, complete with corn hole, darts and a movie screen for special events. At that point in our trip, having just come from the top of a mountain, and now holding cold craft beers and eating vegan pizza…we were pretty much calling realtors.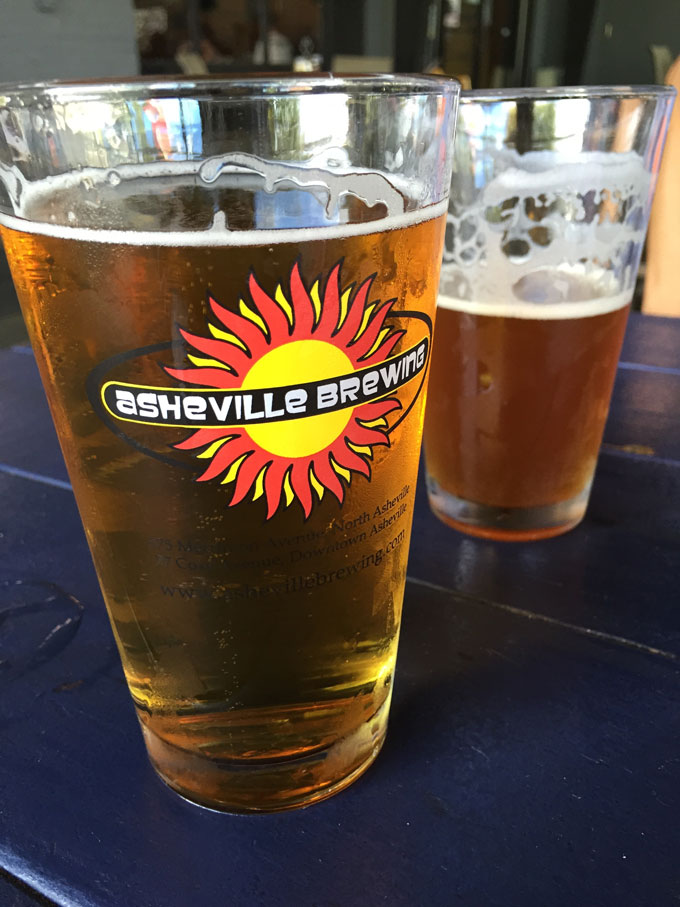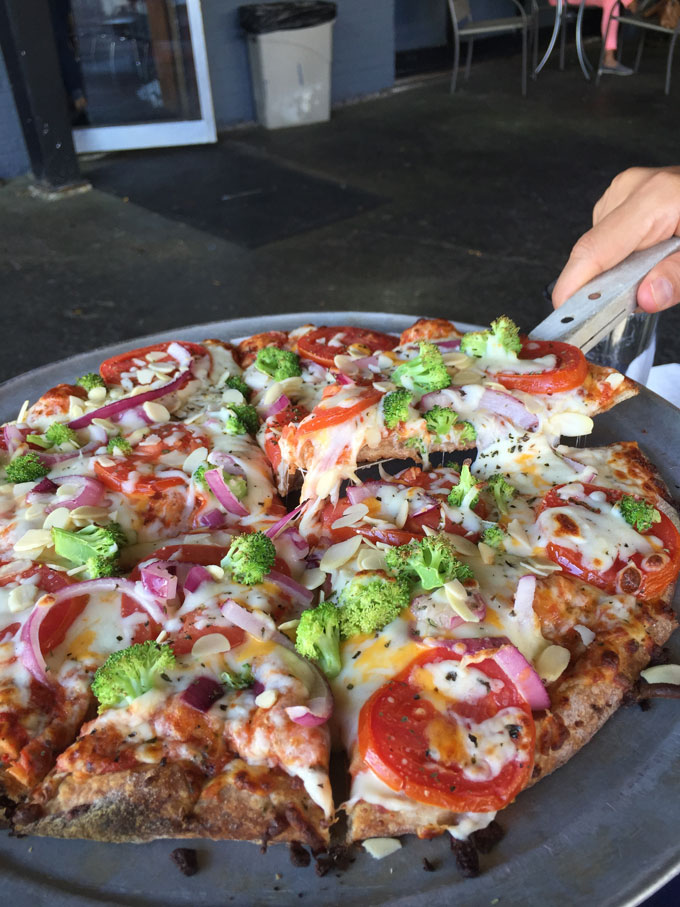 Once we were good and full, we went back up to the house, cleaned ourselves up and came straight back into town. I had been eyeing a few shops along our many strolls downtown, so this was my last chance to make irresponsible purchases! Many of the stores weren't open until late on Sunday – some not at all – so I quickly devised a plan to get Matt situated at a brewery while I went out "really quick" and shopped. Thank goodness for strong IPAs…my plan worked just fine!
The first place I ran to was C & Co, a natural skincare store that was #1 on my list of shops to browse. $75 later, it became the only shop that I would browse. But the lady inside was so nice and knowledgable, and they even had a sink where you could try all of their products out. Since I love nothing more than a good conversation about natural skincare and the freedom to try any product I want, I walked out of there with a honey-based face polish, rosemary-orange cleansing milk AND a big bottle of chamomille oatmeal-clay mask. Yes, these are the kinds of things that make my heart race nowadays.
I got back to Matt just in time to drink the rest of his beer. Then, we were off to the most anticipated meal of the entire trip: Plant.
Plant is an all-vegan, casual-but-upscale restaurant right in downtown Asheville. I had read about it before on No Meat Athlete, and had been ogling the menu on my iPhone for the week prior.
So as soon as we sat outside under their cute little patio, we immediately ordered the "s'nuts" – smoked almonds, hazelnuts, brazil nuts and cashews  – as an appetizer. (Check out No Meat Athlete's page for the homemade version!) They were SO good – between Matt and me, the s'nuts were s'gone in under one minute flat.
For the entree, we were town between, well…everything on the menu. After much back-and-forth-and-"oh my god those s'nuts" – we finally decided. Matt ordered the "Chicken O' The Wood Apricot Adobo," which included poblano stuffed tamale, spinach, olive and chili, cilantro mojo and picked onion (the server also said the "chicken" was made up of various mushrooms, but you honestly couldn't tell) and I chose the walnut-covered seitan, which came with "enlightened" cauliflower, broccoli rabe, romesco sauce and pickled radish.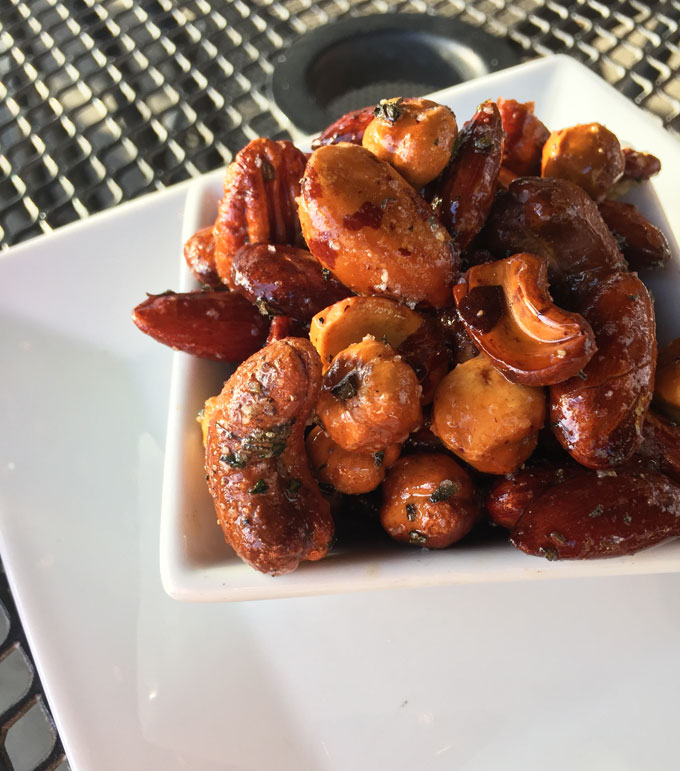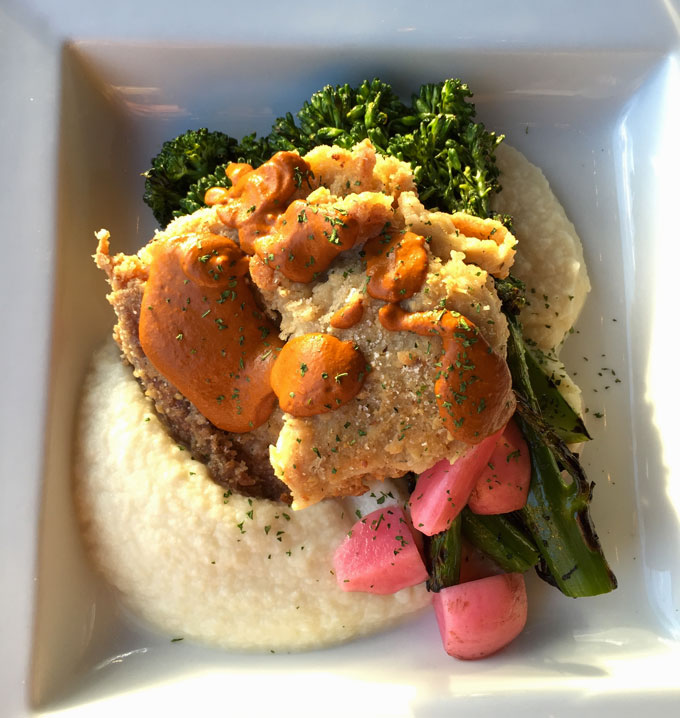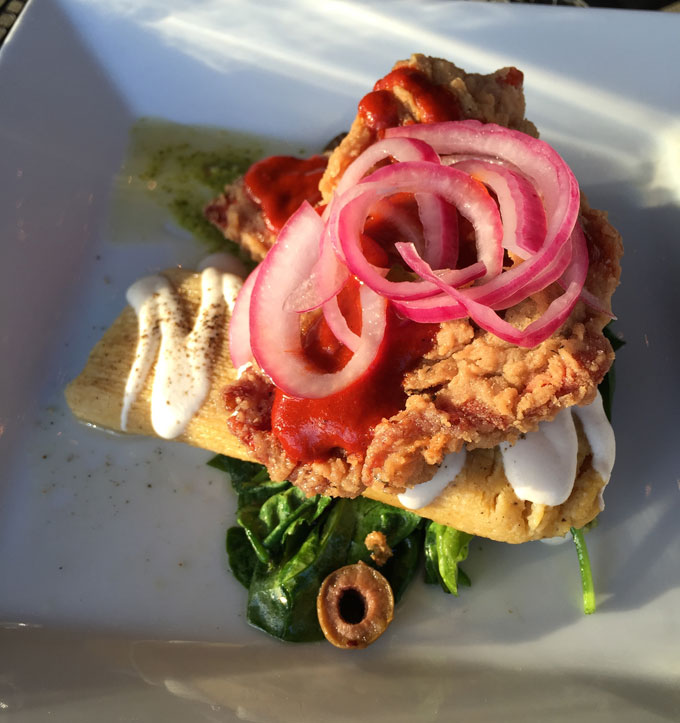 OHMAHGAH. That is truly the only way to describe what I was thinking as I stuffed my face into both of our dishes. They were both two of the best combinations of flavors, textures, concepts, etc I have ever experienced in my non-vegan and vegan life. And while my seitan was good, it was the enlightened, mashed-potato-like cauliflower that stole the entire show. I might have licked my plate clean. Not kidding.
I honestly don't know how we ever left the restaurant. After that meal, I was considering selling all of my possessions – including the oatmeal clay mask – and curling up for life in the Plant kitchen. But somehow, we managed to say goodbye and walked back up the road to our car, looking at each other every now and then in absolute awe of the meal we had just consumed. And although we had a lot more conversations back at the house that night, drinking our Biltmore wine and playing cards, we kept coming back to "THAT MEAL!"
The next morning, it was time to bid Asheville adieu. We packed up the place (well, Matt cleaned up while I took pictures and a video tour) and headed back downtown for our last tastes of Asheville. This time we headed to City Market, a bustling breakfast spot with homemade bagels and acai bowls. I hadn't had an acai bowl since DC, and since I was still so full from Plant as well as starting to feel all of those craft brews on my hips…I erred on the side of health and ordered up.
After breakfast, we stopped at the double-decker bus coffeeshop parked right on the main street! We had walked past it a zillion times but for some reason or another- it wasn't open, we were three beers deep, etc – we hadn't climbed aboard. As you might expect, it was a cute retro space filled with the aroma of fresh coffee beans and the sounds of indie rock bands. I instantly forgot about my plans to live in the Plant kitchen and planned out my entire life living abroad this bus as I waited for my pumpkin spice latte. Luckily for Matt, (or was it?) I climbed off the bus eventually.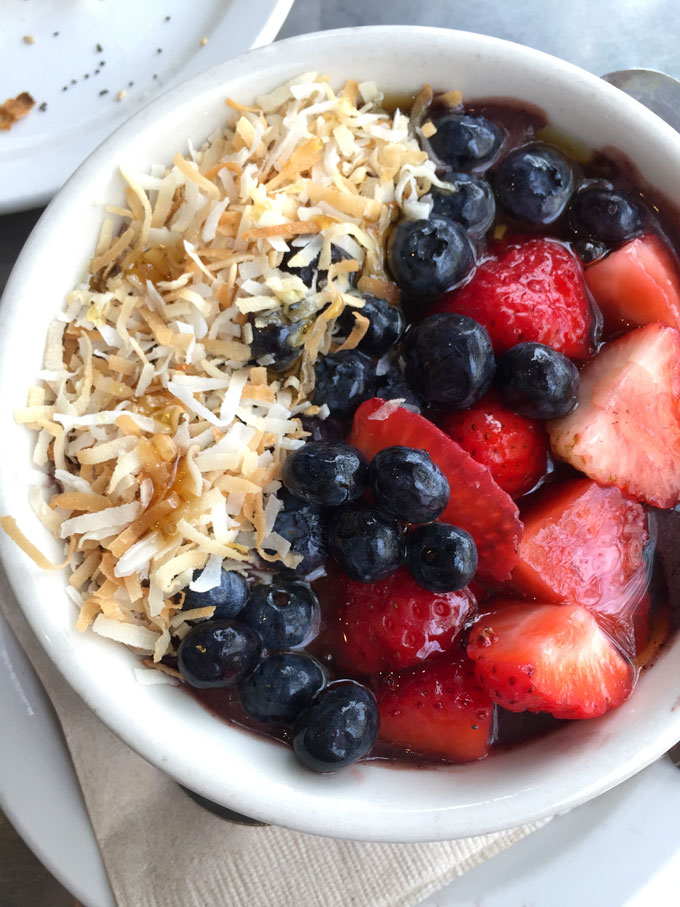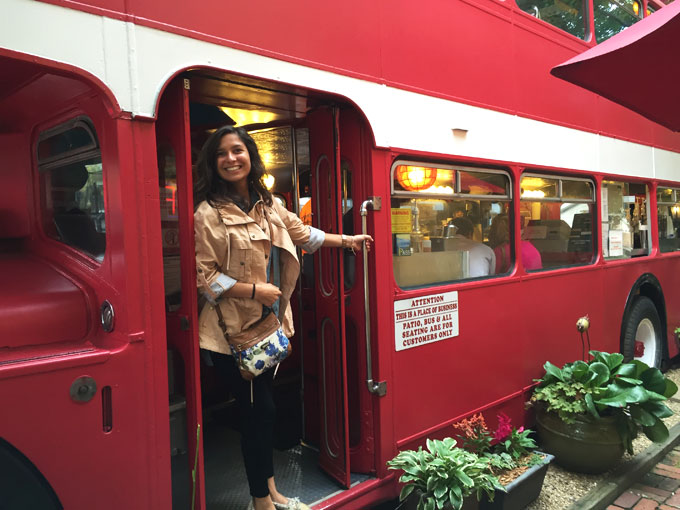 And with that (okay, and jerk tofu burritos from Urban Burrito on the way out of town) we were off on the road back to Kentucky. With three posts about Asheville here and hundreds of food pictures on my camera, it is obviously that we had a magnificent trip! It was the perfect getaway filled with all of the things we love – food, beer, music, running, outdoor adventures, etc. And no bears.
We will see you again soon, Asheville!