Last weekend, Matt and I took a little road trip down to Asheville, NC for a belated third-wedding-anniversary trip! We have always wanted to check out the area, especially since we went over the deep end on the running/vegetarian/health front. The city pretty much embodies everything we love, PLUS the most craft breweries per capita in the US.
So of course, we fell head over heels in love with the place. And it wasn't just the soysage or IPA talking.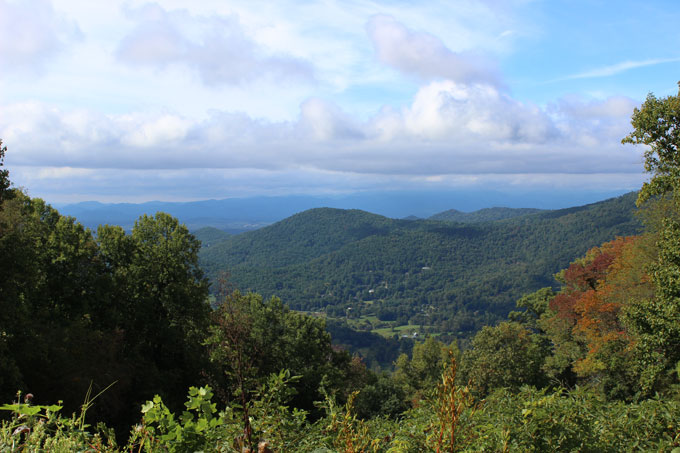 Since I took approximately 450 pictures over the course of four days, I'm going to tryyyyyyy and wittle them down and break up the trip in separate posts. But be warned: there is a lot of nature, vegan food, draft beer and old married folk pictures ahead.
Wednesday:
We arrived in Asheville around 4 p.m. and headed straight to the house we rented. We found it on VRBO and since it wound up being cheaper to stay in and MUCH more cozy than a hotel downtown, we were sold. It was way up various winding roads, which was awesome in the daylight but royally freaked me out at night! This Buffalo gal ain't used to being alone in the mountains. Especially after spending hours before the trip searching "how to survive a bear attack." Yes, I am that person.
After we settled in a bit we drove into town, which, surprisingly was only two minutes away. It was awesome how you could be in the mix of things one minute and then surrounded by nature the next!
We walked around and then ultimately succumbed to our first brewery, the Wicked Weed. Its outdoor patio, fire pit and twinkly lights – oh, and free pretzels and spicy mustard – quickly made us feel right at home. Oh, and the kettle chips…gah.
Thursday:
Thursday we woke up and headed back into town for breakfast. Unlike the night before, the town was still and quiet, just like it was in the mountains, and I loved walking around and taking it all in. But there was a certain buzz coming from Green Sage Cafe – filled with people and vegetarian goodness, we made a beeline for the counter!
Matt ordered a "Soysage" Kale Frittata (soysage is seriously my new favorite word) with sweet potato home fries. So good!! But since my stomach was still filled with beer and kettle chips, I opted to get a smoothie filled with berries, banana, spinach, avocado and chia seeds. I have never had avocado in a smoothie before, so I was a bit nervous but it was deeeelish. Especially after bites of Matt's frittata.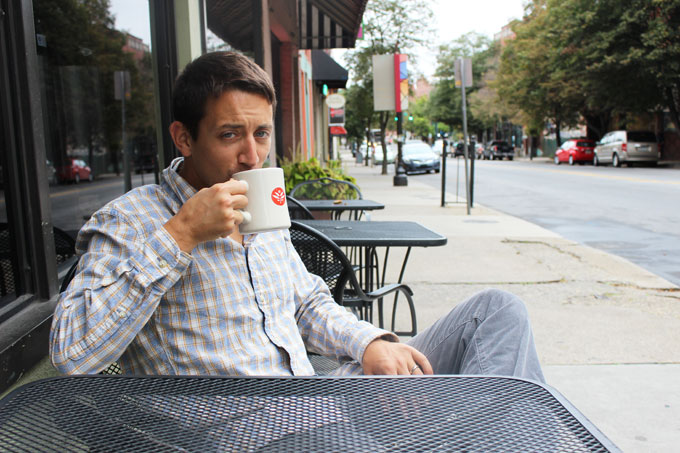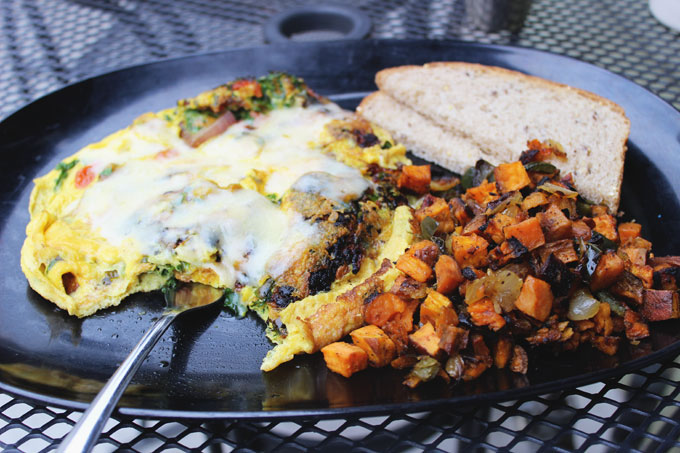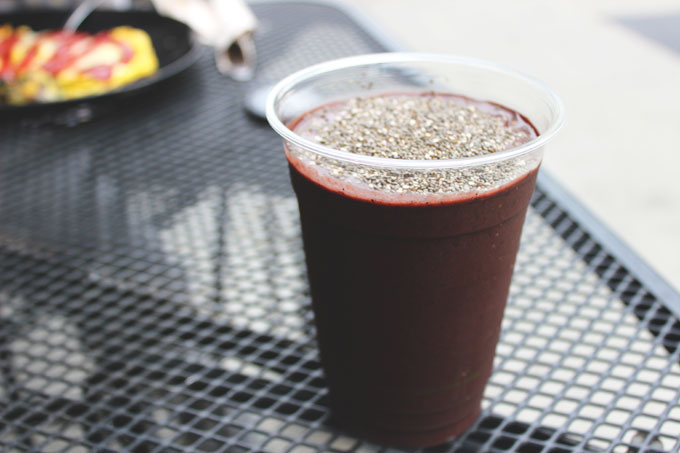 After breakfast, we were determined to find a trail run (I use the term "we" loosely). We heard about the "Mountains to Sea" trail that ran through Asheville all the way to the coast, and since we could pick it up a few minutes away from us, we decided it had to be the one.
All started out well until I realized that THIS WAS A TRAIL THROUGH THE ACTUAL MOUNTAINS TO THE ACTUAL SEA. It wasn't a nature path or a nice, ranger-supervised walkway…we were neck deep in the woods. And remember how I wrote earlier that I had done extensive Googling on "how to survive a bear attack?" All I could think about for five miles was, "don't look them in the eye, make loud noises, group together, talk in a stern voice while walking slowly backwards away from the bear…"
While it was a beautiful run – and it really, really was – I was utterly freaked out and thank goodness Matt got to be a bit too. Especially since it also wasn't a "moderate" trail. Well at least not for clumsy people like me. While Matt was breezing through like a  frigging gazelle, I rolled my ankle four different times and nearly came face-to-face with a tree trunk. Bears or not, I was clearly going to get hurt by something.
So, after five miles on that trail, we decided to drive back into the common land and venture out for another five miles through a few nice, safe, people-filled parks of Asheville.
After our very eventful afternoon, we set off for a much-deserved beer and food downtown. First up: Lexington Avenue Brewery, or "LAB." Rye beers and pastry-like soft pretzels…I could have died right there and been a happy woman.
But since there were so many things to do and so many beers to drink, we moved along to the Thirsty Monk. More great Asheville beers, more great Asheville folk. Plus with all of the beers and figurines of monks in brown robes, it reminded me a lot of Bonaventure. :)
After Thirsty Monk, we walked over to the Laughing Seed, an all-vegetarian restaurant that also serves beers from the neighboring brewery, Jack of the Wood. Since we were a bit loopy from the beers, I got a little overexcited and while waiting for the hostess, decided to pour a handful of sprinkles from the jar sitting on the counter. "These must be like after-dinner chocolates or something!" I told Matt.
Um, they were candy-coated fennel seeds. Right after I dumped the entire handful in my mouth and realized they definitely weren't chocolate and I definitely was going to throw up, the hostess came up and explained how great fennel seeds are for digestion and how they taste just like licorice as they are in the same plant family.
Ah, yes, that's it! I hate licorice.
After spitting them out in my napkin as femininely as I could (which means I spit them out as gracefully as a toddler) we sat down outside and glazed over the menu of choices, choices and choices. After my original order of the Thai Noodle Bowl was shot down by the fact that they were out of Thia Noodle Bowls, I went with the raw spinach-pesto manicotti, made with zucchini "noodles," sunflower-spinach pesto, cashew ricotta and marinara sauce while Matt opted for the Havana Cuban sandwich, made with spice-battered tempeh, black bean spread, house made pickles on focciacia. While it wasn't our absolute favorite meal of the trip, (that is to come in part II!) there is something wonderful to be said about going somewhere and being able to order every single thing off of the menu without having to mention the "uh, we don't eat meat" factor. These were our people!
After dinner, we continued to explore the town, stopping to read the insightful, inspiring and sometimes downright hilarious entries people had scribbled all over. Every time I stopped, there was no chalk so instead I just found the ones that described me. My favorite? "Go Everywhere." (Asheville, NC: Check!)
And of course, we ended the day with VEGAN ICE CREAM. We drove to this cute little place called The Hop and after I tried every flavor they had (yes, they had multiple flavors of vegan ice cream) I went with the banana chocolate. While eating my vegan ice cream and looking up at the sun setting over the layers of mountains, casting all sorts of pink and purple hues across the sky, it was clear that this was going to be one of my very favorite trips of all time. Even if I had to employ my "see a bear" tactics.
More to come! :)
(Check out Roadtrip to Asheville: part two and part three)