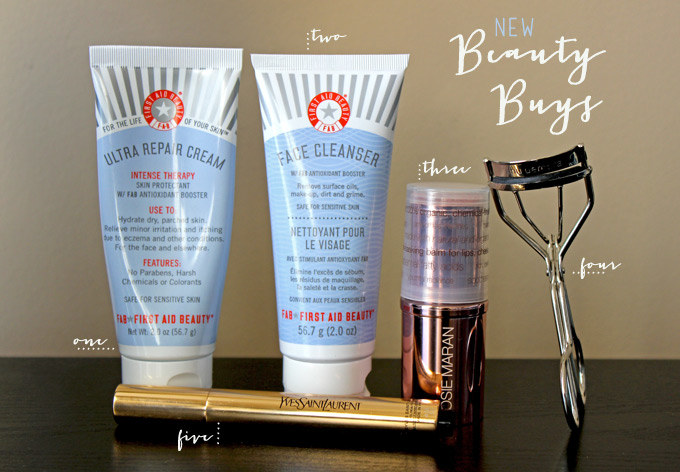 Now that my skincare scare of 2014 is over (finger crossed!) I have ventured out of my minimal makeup comfort zone/rekindled my "it's complicated" relationship with Sephora. While my husband and my bank account may not be thrilled about this, I'm going a bit gaga over the new products I've tried out in the past month.
I've always kept my skincare and beauty routine relatively simple in terms of ingredients and function (like my darling homemade coconut oil sugar scrub) and these products really pack the punch without complicating my hippie ethos or my makeup bag:
1) First Aid Beauty Ultra Repair Cream Intense Therapy: Winter always wreaks havoc on my skin, and while I had been using coconut oil and argan oil on my face and under my eyes, I was still waking up with really dry skin. I've had my eye on First Aid Beauty products for a long time, as they always come up in the "top rated" searches and its prices are crazy reasonable compared to other skincare giants. So after circling around the F.A.B. stand at Sephora for a good 15 minutes, I finally decided to just buy the small travel-size tube of the Ultra Repair Cream and give it a whirl. And from the moment I applied it later that night…I was sold. It is made without parabens, sulfates or artificial ingredients, which as you know, makes my heart pitter patter. And as you can see from the deflated tube in the photo, it's time to be a big girl and buy the full-size version now.
2) First Aid Beauty Face Cleanser: After my fabulous experience with First Aid Beauty's moisturizer, I figured I could also trust the brand with the cleansing process. I had been using this incredible cleansing milk from C & Co, a local, all-natural, small-batch beauty company in Asheville, NC, and while I had zero complaints with it, (I actually need to write a post about my intense love for C & Co!) I wanted something I could take on the road with me AND use with my Clarisonic, now that we're friends again. (I bought the smallest version – it also comes in five- and eight-ounce tubes.) While I've only been using it for about a week, my face feels so fresh and so clean without any of the dryness or tightness that sometimes comes with other cleansers. So as of this moment, it's mah new face jam.
3) Josie Maran Argan Color Stick: My love affair with Josie Maran continues. As a big fan of her pure organ oil and creamy argan concealer stick, I spend some serious time oogling over her always-evolving line of skin and beauty products. I had been tempted to buy her coconut oil cheek gelee in the past, but the coverage seemed too sheer and I feared that in the warm summer months (if they ever come) I would sweat it off in less than a minute. So when I saw this new and much more convenient "color stick," which was a bit heavier in application yet still made from natural ingredients, it was hook, line and sinka'. I bought the "Spice" color and just love how it gives my cheeks a warm, smooth, glow-y glow. Like all of her products in my makeup bag, I will definitely be buying this one again and again.
4) Shu Uemura Eyelash Curler: Okay so…I have been using the same Revlon eyelash curler since I was old enough to hold my hand steady enough to use an eyelash curler. It's the one my mom used, so I just went with it, even though it didn't really do too much for me. My eyelashes would curl beautifully right afterwards, but the second I applied mascara they surrendered to gravity and hung out in their normal, not-impressive position. And all this time, I just thought it was genetics, that I wasn't #blessed with long, curvy lashes. But no people – nuture over nature in this one!  Turns out, you just need to shell out a few extra bucks for the renowned Shu Uemura curler. (I bought mine for sale at $14 on Amazon, now it's selling for $19.) It makes such a difference that even when I'm going makeup-free, (which is most of the time as I work from home and am way past the "try to impress your husband" threshold) I still curl my mascara-free lashes. And then stare at them in awe for a good five-ten minutes in the mirror at the lashes I'd been missing out on for 28 years. (Thanks Ma.)
5) Yves Saint Laurent Touche Eclat: Along with the Shu Uemura, this concealer/highlighter pen has CHANGED MY LIFE. Like…I don't even know how to put into a short paragraph how much I love this little guy. All the hype I read online before splurging/using the rest of an old Sephora gift card on it instead of products I actually needed was worth it. Touted by makeup artists and models and people way cooler than me, the Touche Eclat works m.a.g.i.c. on under-eye circles and any other area on your face that needs brightening. I bought it a shade up in "Sand" for highlighting purposes (I use it under my eyes, down the sides of my nose, above my eyebrows and in the 'v' above my top lip) rather than all-over face concealing, but I'm sure that either way, you can't go wrong.
That said, it is more expensive than any other makeup product I normally buy AND it does contain methelparaben, an ingredient that is usually a red flag for me. But since I don't wear it every day and when I do, a little goes a very long way, I am okay with using it for now. Plus…I am just in love with it, and sometimes the heart wants what the heart wants, right?
What are your favorite beauty buys lately? I'd love to know what your skincare and makeup staples are. Plus, it's been 48 hours since my last Sephora visit and I'm starting to twitch. Spill it!