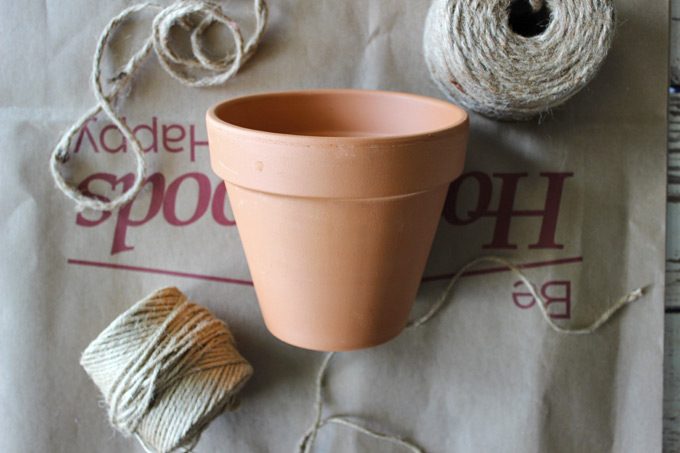 Much like the roles my white-out pen and bedazzle gun played in spicing up my trapper keeper/jeans/sneakers/life in the 90s, twine has become my new way of expressing mah style on whatever surface, object or thing I can wrap it around. Mason jars? Yep. Glass vases? You betcha. Cardboard letters? Duh.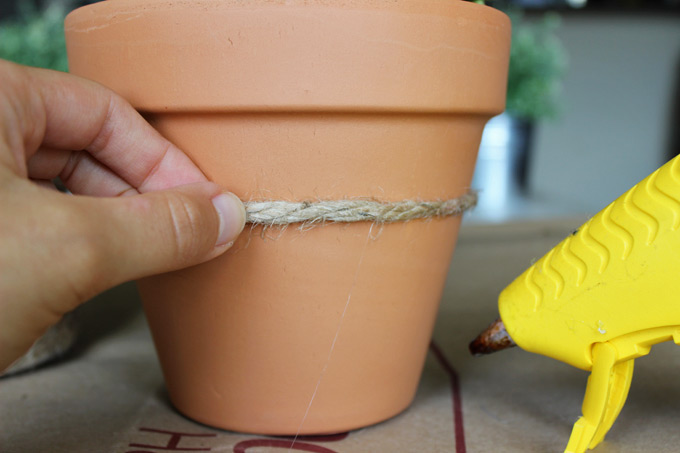 I've come to the point where, much like I did as a tween with my bedazzle gun, I look around the room, roll of twine in one and hand glue gun in another and think…what can I twine next?! Much like that New Kids on the Block fanny pack, my that Target lamp doesn't stand a chance.
But now that we have a balcony that is starting to grow (literally) with succulents, herbs and even lavender…terracotta pots are my new, natural victim. Their smooth base and warm color provides the perfect backdrop for the neutral, textured twine, and their wide surface area provides you with ample space for as much or as little twice as you want. Unlike others that I wrapped, I didn't go too crazy with this one – a few wraps around and I already felt like I was living in an Anthropologie ad.
Which is a far cry from when I just wanted to live on the cover of YM Magazine. Side note: DOES ANYONE REMEMBER YM MAGAZINE? I'm pretty sure it was the first magazine my mom let me buy, along with Teen People, (RIP to both 'zines) and the first issue I got had Gwen Stefani on the cover with blue hair and a bejeweled forehead. She was my first spirit animal.
Also, not sure if this really warrants directions, but since I just chugged two cold brew coffees, I need to burn off some energy anyways:
Twine-Wrapped Terracotta Pot
What you need:
Terracotta pot (any size)
Twine (I used a thicker variety to cover more area and avoid glue gun accidents, but if you're feeling daring and don't mind a few burned fingertips, you can go with a thinner kind)
Glue gun and glue sticks
Directions:
Wipe the outside of your pot with a damp cloth. Plug in your glue gun.
Depending on where you want to start wrapping, (I wrapped top to bottom, but feel free to reverse-reverse) dab a little bit of hot glue and press start of twine string on it firmly.
Keeping up with this technique, draw a short line of glue and press twine down. Another line, press twine down. Keep it going, turning your pot as you go, until you've reached your desired state of wrapping.
I've wrapped additional pots after this one, some with twine covering almost the entire length of the pot. I love the look of multiple twine-wrapped pot next to each other on my balcony, all wrapped slightly different. Think of them outfitted as Destiny's Child.
This one is definitely Kelly.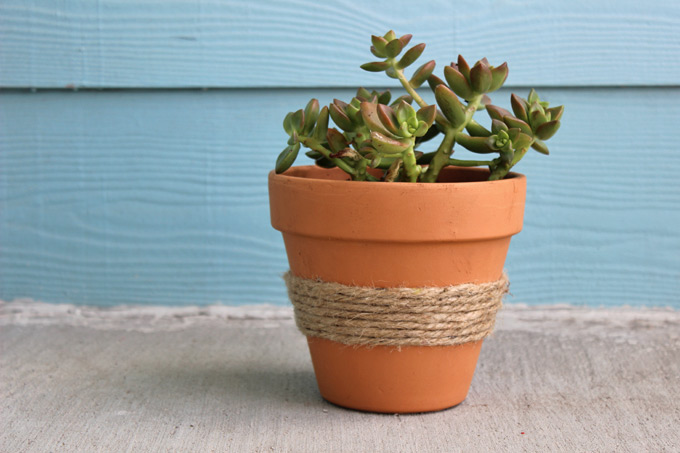 Alright…that's a wrap.