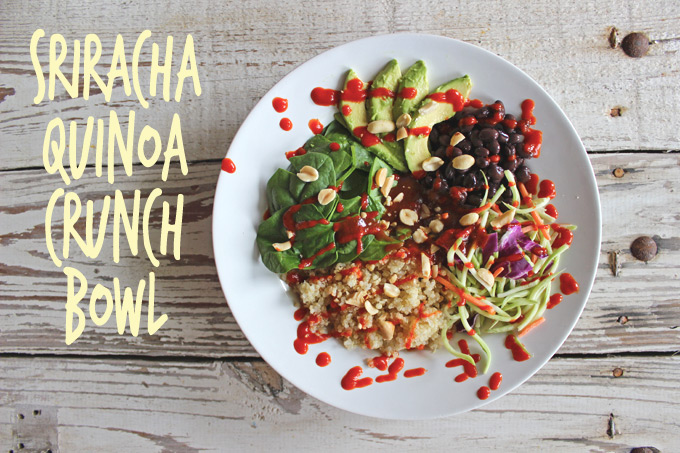 I have been known to go on many extended "food kicks." Likeeee the time in college when I carried a bag of animal crackers in my purse at all times (to all my college friends starving in the back of the bar at 2 a.m. – you're welcome) Or in the summer of 2010, when I left a trail of Life cereal wherever I went (this ended abruptly after I spilled an entire box in our car en route to Saratoga). Or that fall when I ate so many ridiculously juicy and even more ridiculously priced honeycrisp apples that they took up 40 percent of our grocery bills. And how bout that great pumpkin shortage, eh? I'm still finding an embarrassing number of canned pumpkin in really weird places.
Ah, and then there was that time when I ate Oh She Glows' vegan Caesar salad every night for dinner and therefore never bothered to take my salad spinner, food processor or Vitamix off our tiny countertop for days, much to the dismay of my clutter-resistant husband. Ohhh wait…that's still happening.
But this spicy bowl of crunchy goodness, my friends, has taken my creature-of-habitness to a whole new level:
I have eaten this sriracha quinoa crunch bowl for lunch every.single.day for the past two and a half months. That is 70+ sriracha quinoa crunch bowls,  70+ days of a very happy, very full and very hydrated Anne Marie, as I have to refill my water bottle at least three times during each blowing-my-nose-spicy chow session, and ultimately, 70+ great, delicious days of my life. I have no plans on stopping either, least until my tongue is burned off or there is just no more sriracha left on this earth.
Some call it an addiction, some call it an obsession, others, like my mother, call it extremely boring and "here, why don't I make you pasta instead?" I call it…the best freaking lunch ever. Why mess with perfection, people?
Sriracha Quinoa Crunch Bowl
Ingredients:
1 cup cooked quinoa (I make ours in the rice cooker)
1/2 cup black beans
1/2 cup (or more) broccoli carrot and cabbage slaw
1 cup/handful of spinach
1/2 avocado, sliced or diced
1-2 tablespoons bbq sauce (to your liking)
1-2 tablespoons of sriracha sauce (to your heat index ability)
crushed peanuts for garnish/more crunchy deliciousness, if desired
Directions:
1) In a large bowl, add quinoa, black beans, slaw mix and spinach. Mix well, then add BBQ sauce and sriracha. Again, add both to your liking – some days I can't take the heat, while other days I, well, like it hot.
2) If you want to actually heat it up, you can either pour bowl into a large saucepan to heat through, or pop it in the microwave for about 1-2 minutes.
3) Top with sliced avocado, crushed peanuts and maybe even another drizzle of sriracha.
4) Wash, rinse, repeat for the next infinite number of afternoons.