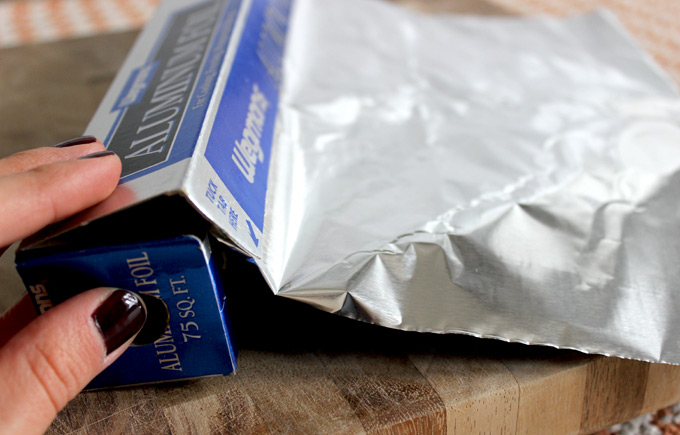 A few months ago when I was baking in the kitchen with my mom, I tried to pull a small sheet of aluminum foil to cover the baking pan and the entire roll popped out. This did not only cause me to pull out a sheet of foil five times longer than I originally needed, but also made me have to sit there and gently roll back the access foil into the box. And I hate crinkling pristine foil when I don't have to.
But my mom got weirdly excited as soon as she saw my foil fail, for it reminded her about a quick and obvious trick her friend had told her a few weeks ago. "There are actually tabs on the each side of foil box that you push in, which then prevent the roll from falling out each time you pull out the foil."
Holy shit. There are tabs. THESE FOIL PEOPLE REALLY KNOW WHAT THEY'RE DOING!
When I got home, I gleefully pulled out every foil, plastic wrap and parchment paper roll I owned, punching in the tabs on each. You will no longer get the best of me, inertia! And while I just thought that us Minnutos were just late to the party (which we tend to always be, physically and mentally), when I told my mother-in-law about this trick she was also in awe. And since then, she told me that she keeps telling her friends and it turns out, many more kitchen dwellers had no clue that these tabs exist. Except maybe people who shop at Wegmans, as the best grocery store in the world is kind enough to let you know right on the box to "tuck tab here" with an arrow. But why would I ever pay attention to a box of foil, right?
So, dear readers, I just wanted to share in case you were also in the dark on this small but insanely large revelation. Covering a casserole just may never be the same.