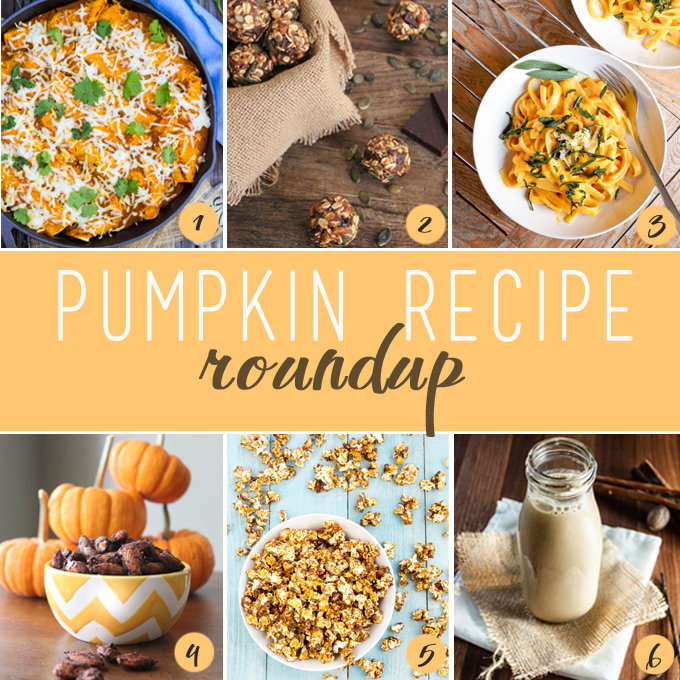 What – you thought I'd forgotten to blog about the BEST FLAVOR OF THE YEAR?
You know, just my favorite flavor of all time, the reason why the old lady at Dunkin Donuts had to call management to confirm that no, I couldn't buy the whole bottle of flavoring; the thing that makes me flail around Trader Joe's like I just won the lottery and fill our cupboards with a surplus of cereal, granola, cookies, chocolate, crackers – basically anything that can last unopened for 12 months – all injected with that signature, sweet, spicy nectar of the autumn gods?
No, no, I haven't forgotten. I've just been busy hoarding all of it before it fades into the seasonal ether of peppermint and egg nog. #thestruggleisreal.
However, thanks to canned pumpkin always being in stock (with the exception of the devastating canned pumpkin shortage of '09) and the glory of incredibly talented food bloggers, here are a few unique, pumptastic -and vegan! – recipes I will be making long after we're snowed in:
1) Veggie Enchiladas with Pumpkin Enchilada Sauce by She Likes Food
2) No-Bake Pumpkin Spice Energy Bites with Dark Chocolate Chunks by Domesticate Me
3) Vegan Creamy Pumpkin Pasta with Sage by Avocado Pesto
4) Sweet and Spicy Pumpkin Pie Roasted Almonds by Knead to Cook
5) Pumpkin Spiced Popcorn by A Dash of Compassion
6) Vegan Homemade Pumpkin Spice Creamer by Home Sweet Jones
Oh my gosh, I'm so hungry and all of a sudden, feel the need to put on leggings and an oversized sweater. Fall, don't go dyin' on me.
Tell me: what are you favorite pumpkin-ized foods/recipes? You know, one can never have enough…