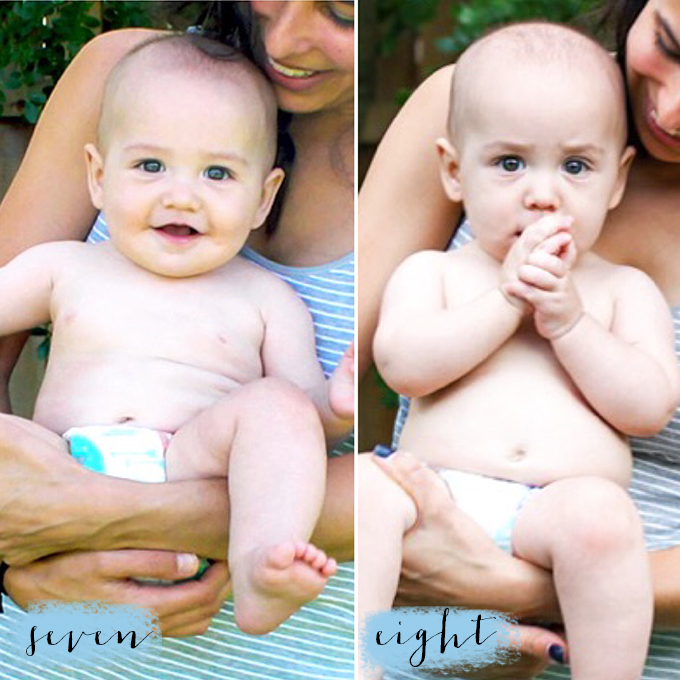 I just spent the last hour I dedicated to finishing this post watching 29,840 videos of Leo when he was first born, all itty-bitty and sleepy and slow-motion moving. And then watching 823 videos I took of him yesterday, crawling around the house and banging his toes together and tossing all of his food on the floor.
And then I remembered why Leo is almost 10 months and I am sitting here, still working on his 7 and 8 month update. Oy, and to think I was a project manager in my former life…
SEVEN MONTHS: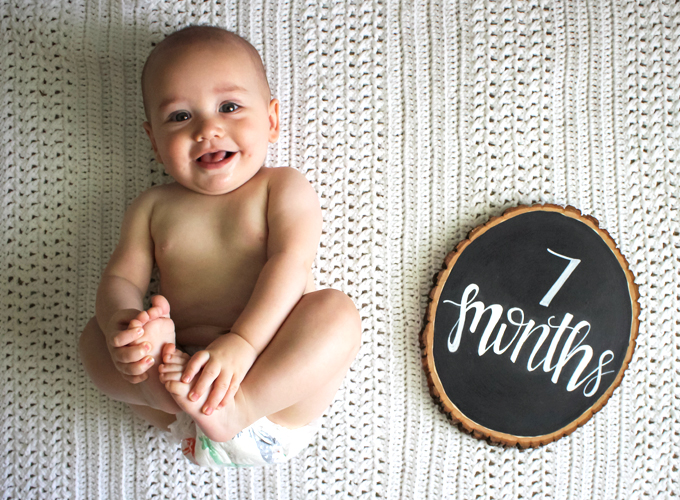 Highlights: Like all months with this little lion, this month was jam-packed with adventures, new experiences and a lot of time with family and friends both here in Austin and away in both Jacksonville and Buffalo. Leo went to the zoo for the first time, picked his first apple and met so many of his future St. Bonaventure classmates! While this month also brought on Leo's first cold/ear infection(s), he smiled and giggled through it all, reaffirming his spot as the happiest baby in the world.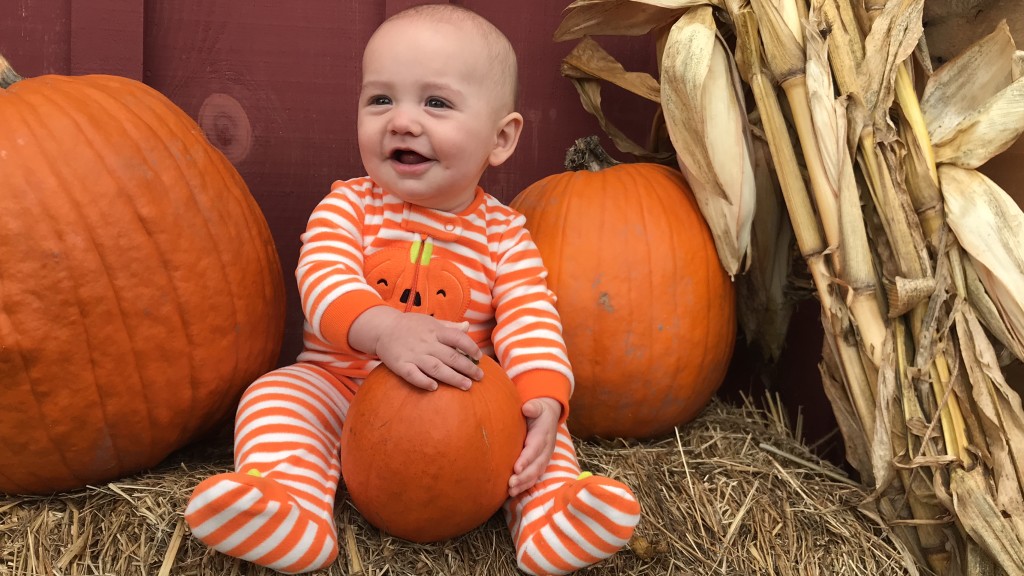 Growth Chart: At six month appointment, Leo weighed in 17 lbs, 9 ounces and stretched 28 inches long! My arms are becoming pythons.
Eating and Sleeping: Daytime sleep is still hit or miss – most days, Leo takes three to four 30-40 minute catnaps (working on cutting out that fourth nap, but some days it is impossible with how long he can stay awake vs. how long he actually naps.) I got into the habit of nursing him to sleep for naps again, because, I mean, it's like magic. We got away with just rocking for awhile, but lately he won't go down without a fight/feast. But he also started doing this thing where he rubs his head with one hand while he is eating and getting sleepy. It is pretty much the cutest thing I have ever seen.
Nighttime sleep is still dotted with a couple feedings – except for the night in the beginning of the month where he woke up pretty much every hour, lifted his little head up and stared at me over the pack-and-play. (Yes…he is still sleeping in our room. I know, I need to transition him to his crib in his nursery. I know, maybe we will both sleep better. I know, I know, I know…but I love having him right next to me at night!) I lowered the mattress all the way to the bottom the next morning, and it seemed to do the trick. He even had a night where he surprised me and only woke up once!
But thennnn we traveled to Buffalo. And Leo suddenly freaked out when I laid him down for naps and woke up 290 times a night. Hi, double ear infections! (See below.) I don't know how many hours of sleep I clocked in at the end of the month, but I know most nights I could count them on one hand.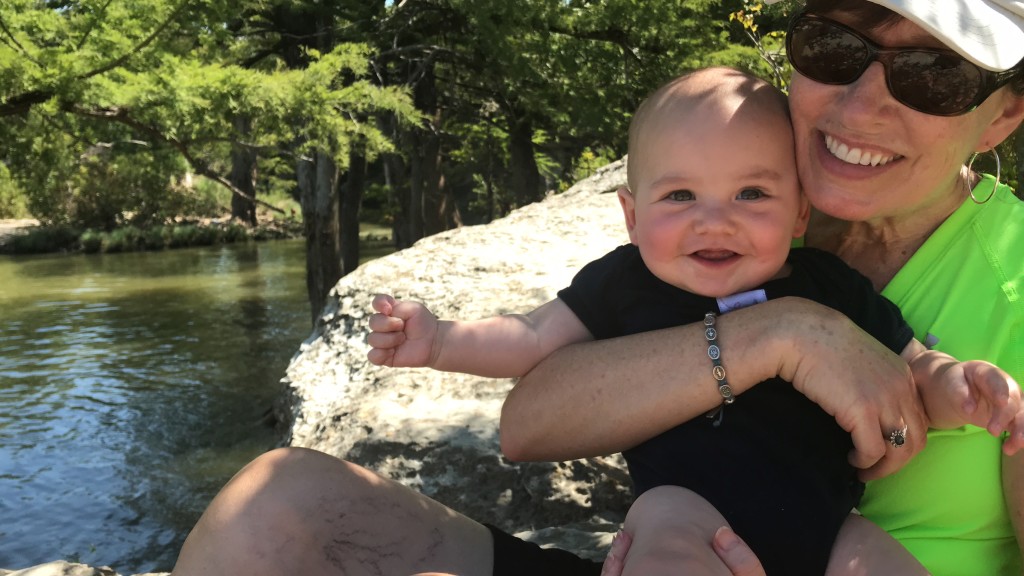 Special Visitors/Trips: Leo's Grandma Kathy visited in the beginning of the month, which was so much fun. She fed Leo his first bite of real food (avocado), took him on walks and watched him while he took a two hour nap after his six-month shots, allowing me to get out of the house and spend all the money I don't make anymore. It was glorious.
Then, we ventured to Buffalo for the third time to visit with family and friends and to celebrate the wedding of our good friends' Torrey and Sam! We headed up a a few days before the wedding and then stayed for about a week afterwards. And. since it is still 80 degrees here in Austin in October, we made sure to pack this visit north with ALL THE FALL THINGS, including apple picking, a visit to the cider mill, pictures with pumpkins and lots of leaf crunching. Leo had so much fun with his Mama Ro, Papa Joe and all of his aunts, uncles and cousins and friends.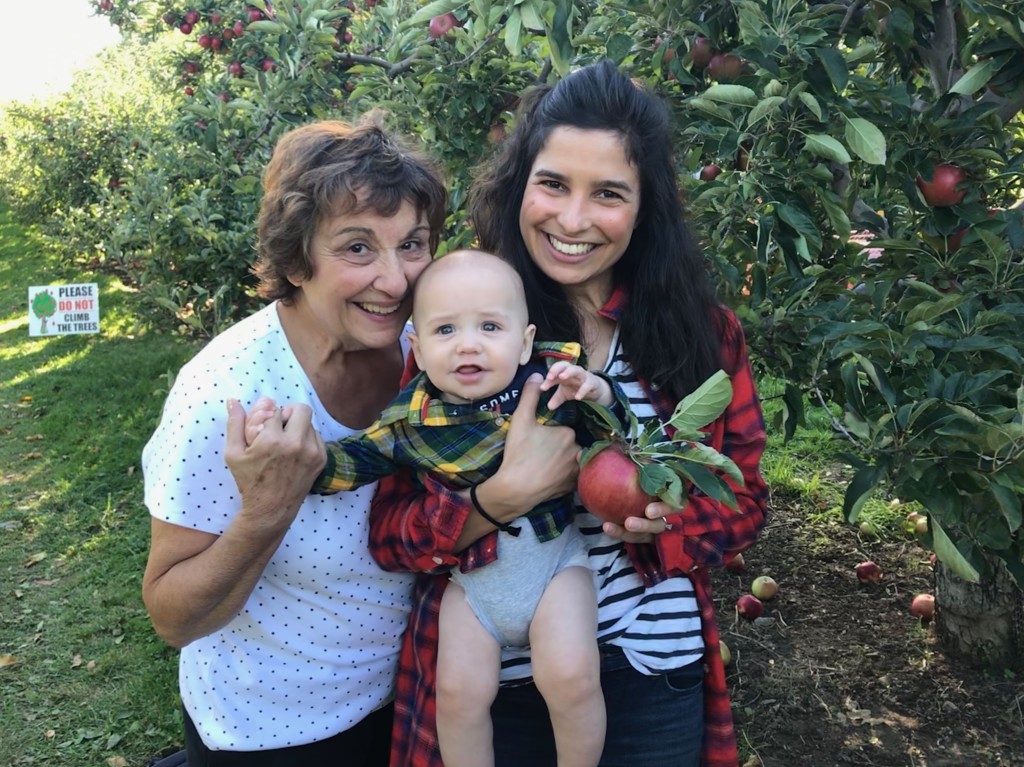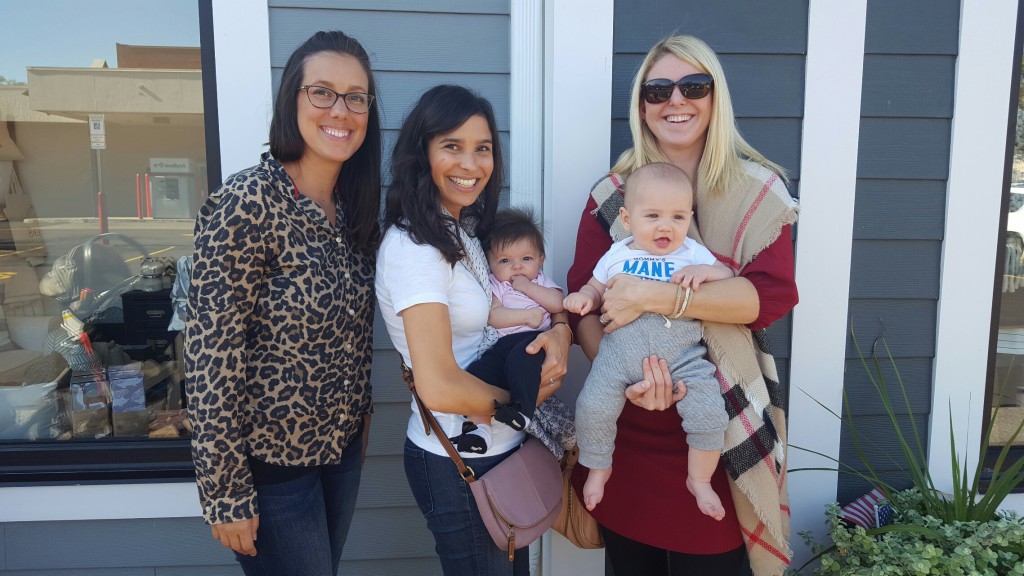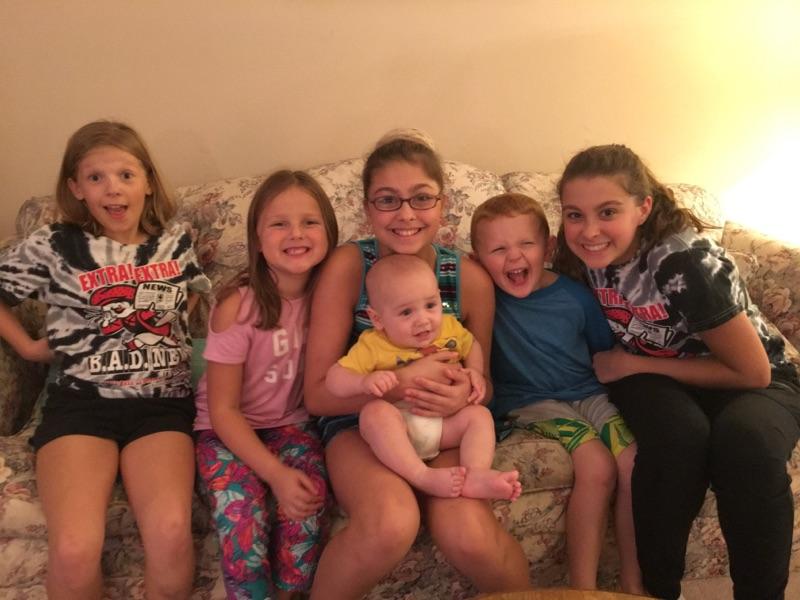 The Big Sick: In the middle of our trip to Buffalo, Leo started acting super fussy during nap time and bedtime – he wanted to be nursed to sleep and would wake up crying the second I put him down. I attributed it to various reasons, i.e. being away from home, or a developmental leap, it was a Tuesday. But then he came down with a runny nose, which led to a bad cough, which led to Leo sleeping in bed with me for the remaining days we had there. He was still the happiest baby ever, except when the snot sucker came out. (BTW, I bought the Nose Frida out of desperation and THERE IS NO GOING BACK TO THE BULD SYRINGE. Seriously, it is so gross and so unbelievably effective.)
The day we left was the worst of it, and the flight home was awfullllll. Leo had a clean record of being the best flying baby ever, and so I knew that there had to be more going on than just a cold. I felt so awful for him – poor baby was so hungry but wouldn't nurse during the flight, was so tired but couldn't calm down to sleep and on top of it, had a blowout diaper that definitely got all over my jeans right when we took off. I don't know who cried more that flight, me or Leo (or the person sitting next to us). I finally fed him in the bathroom (there was no way I was getting that boy to nurse under a cover, and let's be honest, we both smelled like poop at that point anyways), got him to sleep and gave the stinkiest of stink eyes to anyone who so much as coughed loud near him.
The next morning, we took Leo to the doctor and ding ding ding ding! He had two ear infections. No wonder he was so miserable on the flight! I felt so awful. And to top it off, he also had croup and RSV. I vowed then and there to put a can of Lysol in our diaper bag. He was given a steroid pill for the croup cough (which made him a crazy person…it basically could have been a Red Bull) , a 10-day prescription of amoxicillin for his ears and nothing for the RSV, as there is nothing but time that helps clear that up. Within a couple days of the amoxicillin and lots of steamed-up bathroom sits, the whole house was much more rested.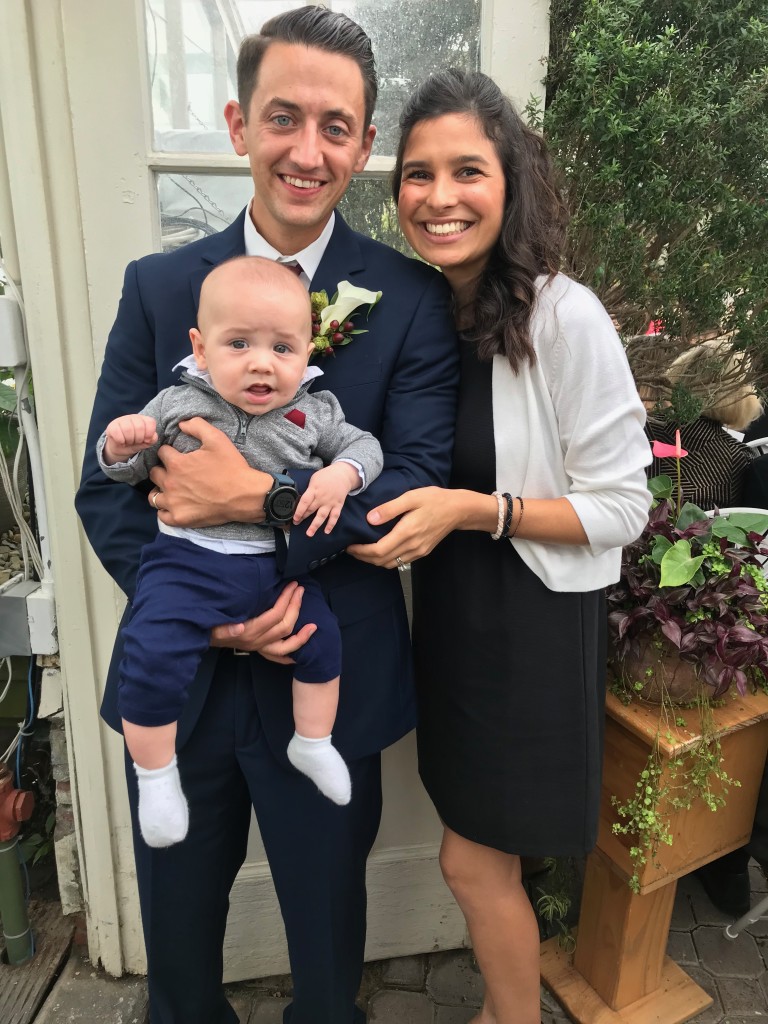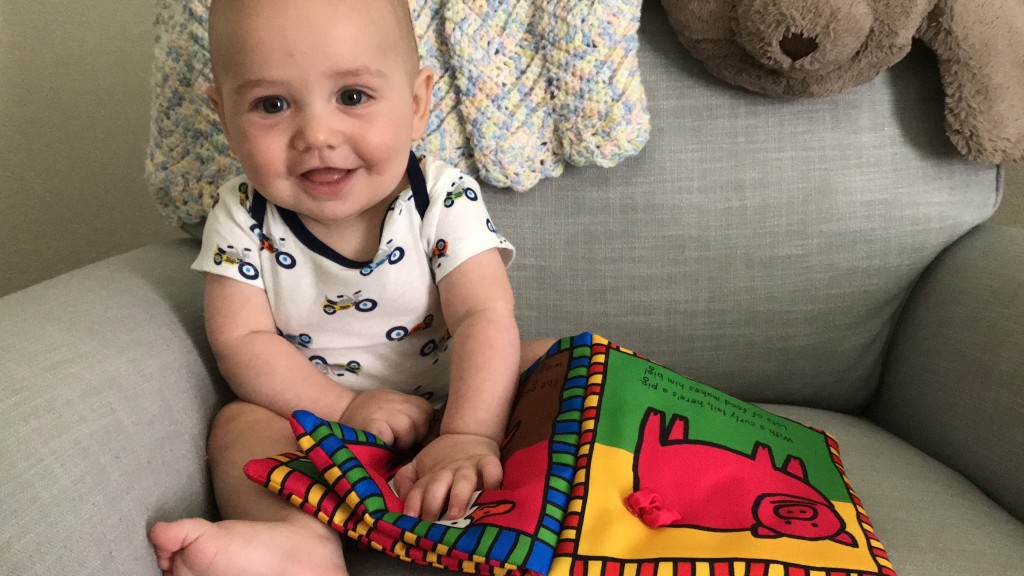 Leo's Favorite Things:
Walking around in the Ergo, facing out. He gets pretty restless in the stroller (we are still using the car seat adapter, so he is still rear-facing) and after seeing how much he loved to be carried forward-facing in the Ergo last month in Yosemite, I started taking him for strolls around the neighborhood and park this way, too. He loves it so much and kicks his little legs around.
As much as he loves to be carried facing out, he does still loveee his Ergo naps, facing in all snuggled close to me. These naps are my favorite, too. But also my favorite is when he wakes up from these naps and bends his head back to look up at me like a little smiling turtle. Gosh he makes me laugh!
When he is not in the Ergo for a walk, he can be found facing out in our BOB stroller! We ditched the car seat attachment once Leo seemed big enough to sit forward strapped in/seemed generally bored with staring up at us for all of our walks.
Sitting forward on my lap when we read books, as if he needs to get a closer look at them.
Lifting the flaps of his Dear Zoo book.
Speaking of the zoo – we went to the Austin Zoo for the first time with our friends Kristin and Emily! Leo loved looking at all of the animals, and I loved taking 2,904 selfies of him with an actual lion.
His activity center (no surprise there) and reaching on his little tippy toes to reach the swirly toys on top
Peeing in the bathtub (every.time.)
Sitting up on his own to play with his toys
Not sitting still for diaper changes. He is getting so squirmy!
THE WHEAT THINS BOX. Like…it might be the security item we put in the crib at night. I noticed him staring at it one day when we had it on the counter, so I gave it to him for him to examine closer and he started kicking his little legs and then reached out and grabbed it so tight to bring to his face. It's got to be the bright yellow color contrasted by the blue font. Whatever it is, I've considered putting it in his crib at night as a security object. Whatever works, right?
Babbling in his crib (current favorite is "ba ba ba ba ba")
Pushing up on his arms and reaching out and playing with his toys while he is on his belly- I can sense that this the very beginning stage of crawling and I am terrified.
Blowing out his diaper every.single.night! I cannot find a damn brand of overnight diapers that work. Since he is still waking up at night, I do try changing him at 3 a.m. but all that led to was a totally dry diaper and a totally awake baby. I swear he does all the peeing and pooping RIGHT before he wakes up in the morning.
The stuffed animal lion mast/head we have above his door. For a couple weeks, he was randomly terrified of it – he would start to whine and his little lip would quiver whenever we would lift him up to it (which we always do because he normally loves it!) but then woke up one day and remembered that he loved it again.
His shadow! He discovered it one day when we were walking around the backyard. I was all "Leo, look at the trees!" and he was all "WHAT IS THIS DARK THING MOVING ON THE GROUND?" It was so funny how fixated he was on it! He did the same thing to my mom when we were visiting Buffalo and she was playing with him on the front porch. Just call him Peter Pan.
Hanging out with his baby friends in Austin and in Buffalo!
Meeting so many Bonaventure ladies and their littles – two of which were only a month old! We celebrated my friend Diana at her baby shower while we were in Buffalo, and it was so, so much fun to spend the day with dear friends and meet the newest and tiniest members of the Bona Bubble! We are already planning roommate arrangement as well as wedding ceremonies for all the babes.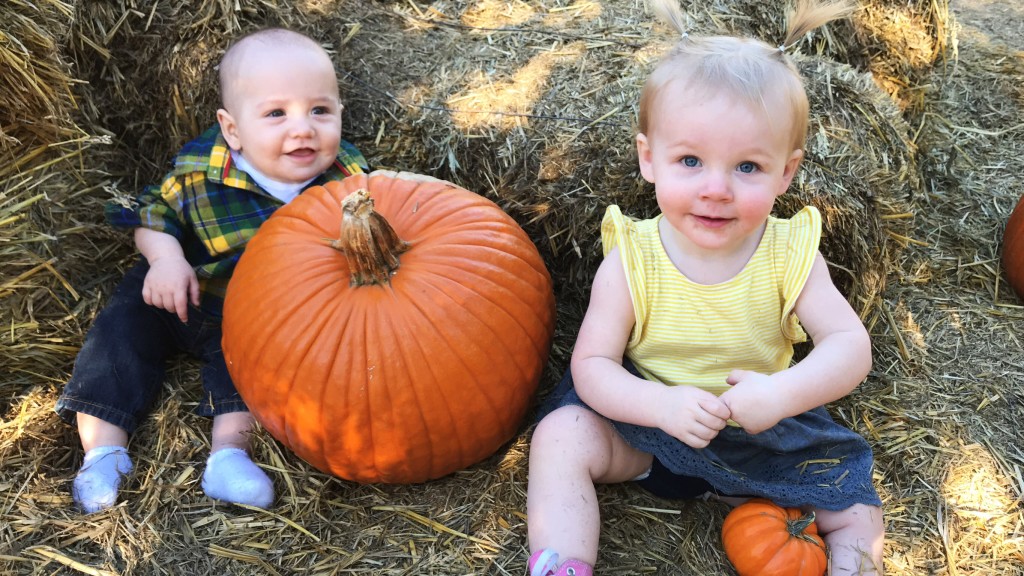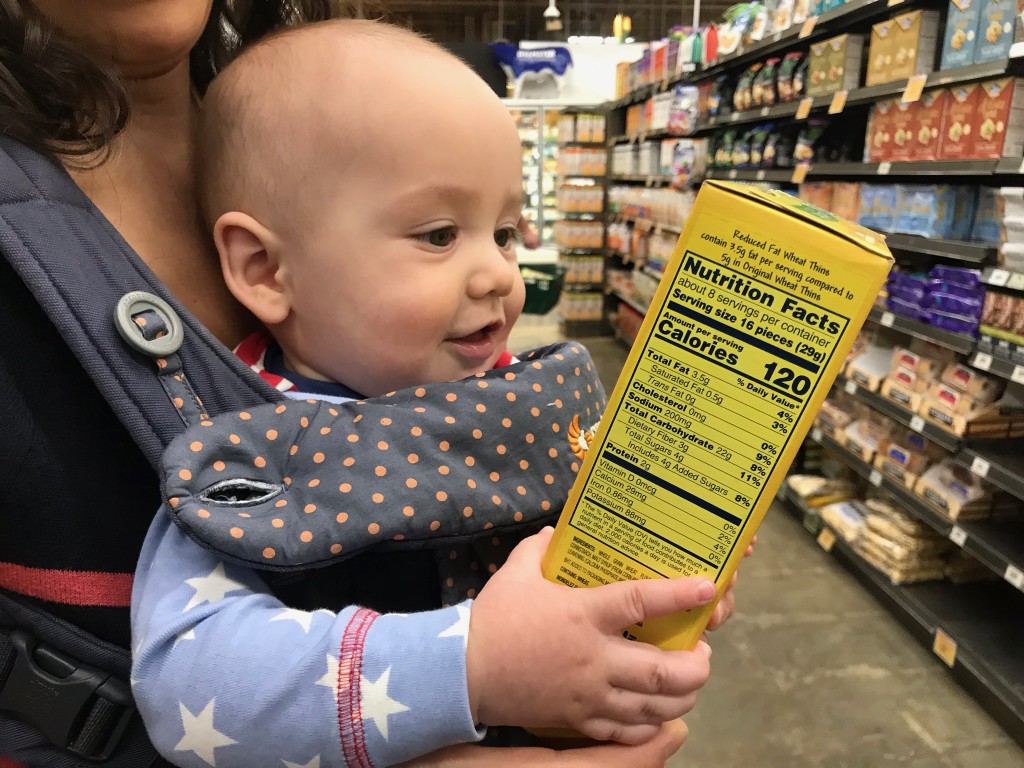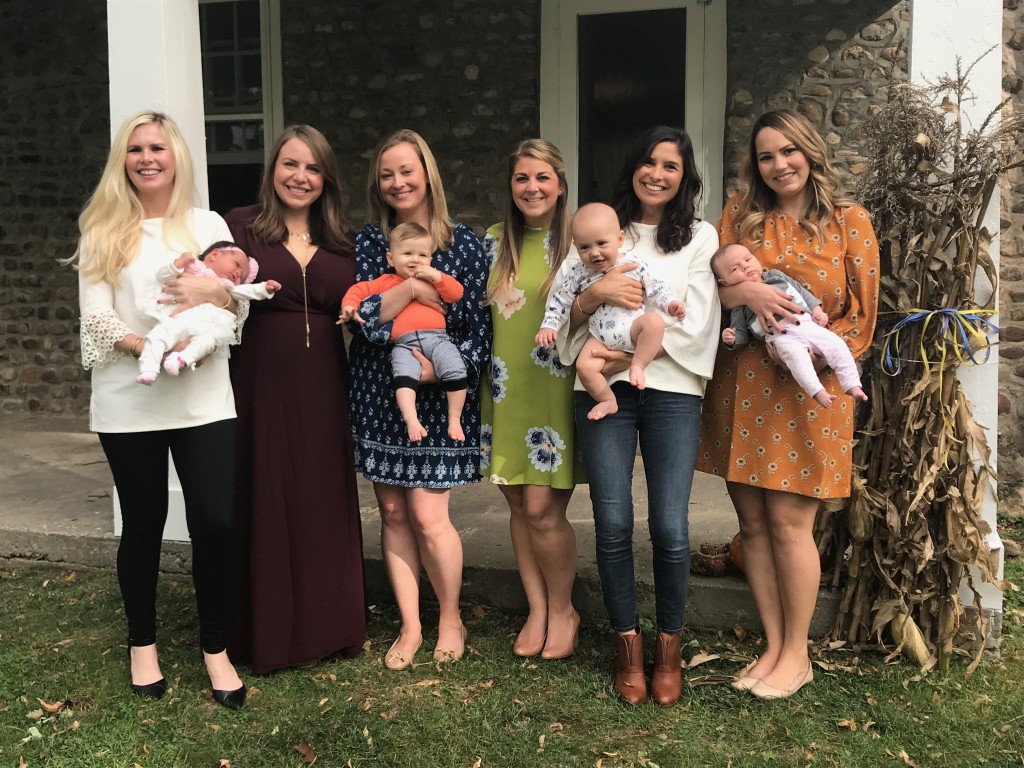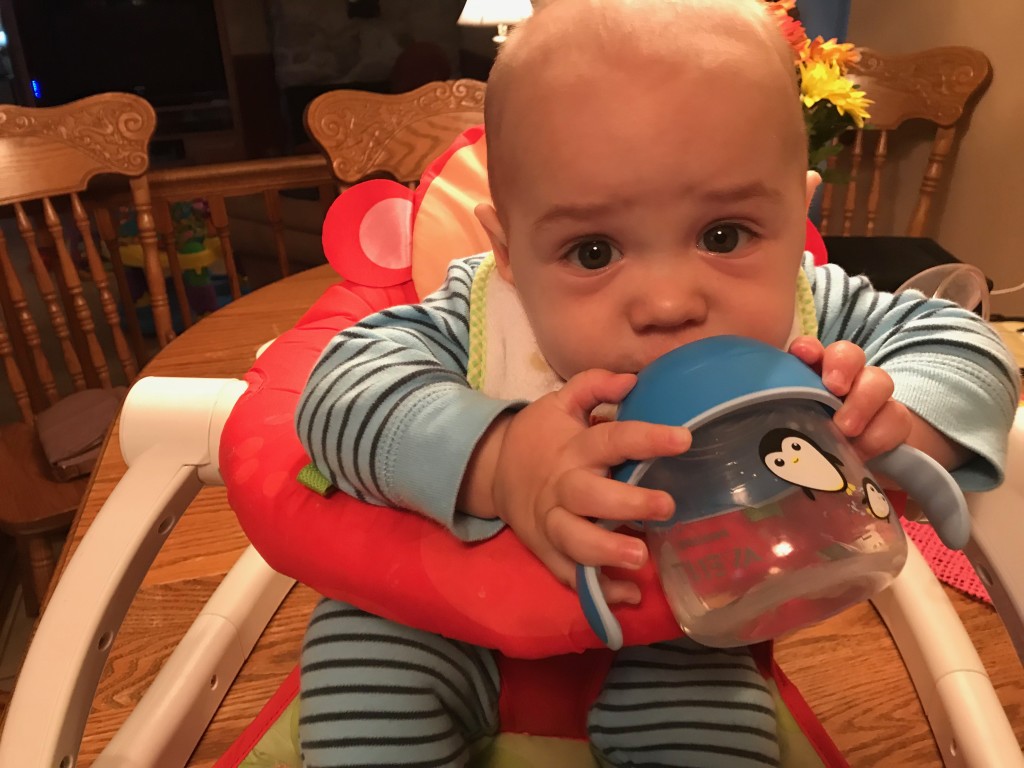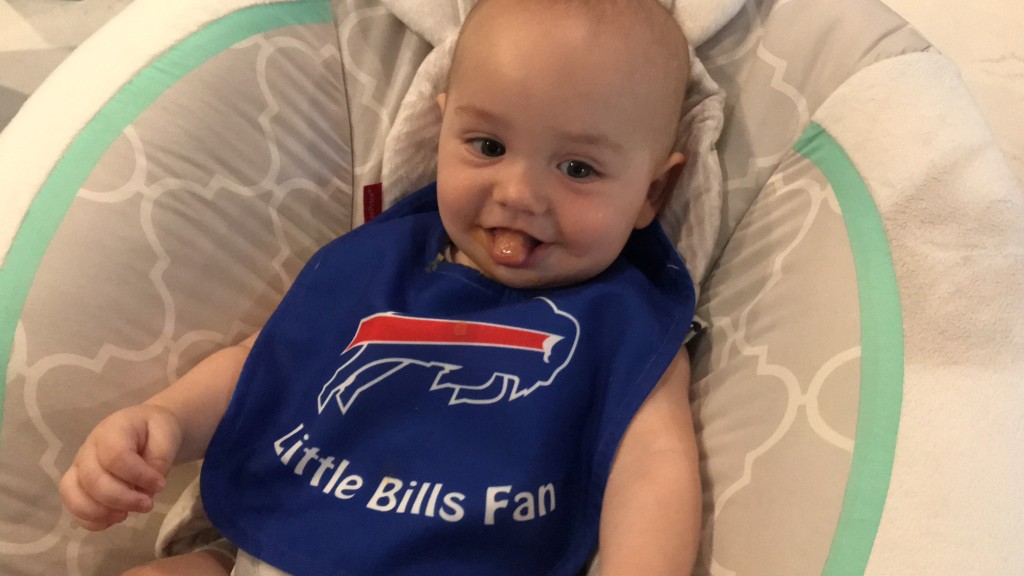 Leo's Favorite Foods:
Apples
Pears
Avocados
Peaches
Discoveries/Milestones:
Sitting up unassisted
Drank out of a sip cup (well, I'm sure he took a sip or two in between gnawing on it)
First sickness (is that considered a milestone?) with double ear infection, croup cough AND RSV.
Went apple picking – DEFINITELY A MILESTONE.
Parenting Lessons Learned:
When your baby becomes super cranky, doesn't want to lie flat and wakes up 28 times a night, it is probably an ear infection.
Get said ear infection checked out and on meds before flying.
If you don't do that: there is nothing wrong with crying in the airplane bathroom. And that goes for both baby and mom.
EIGHT MONTHS: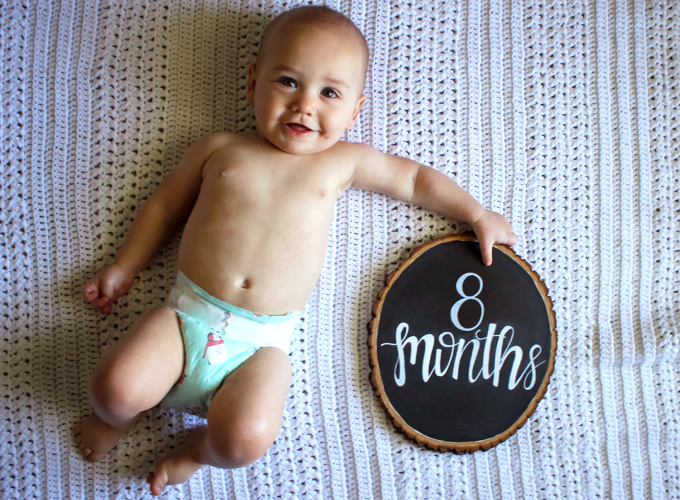 Highlights: First Halloween, first Thanksgiving and a visit to Santa in between. Oh, and his first time voting! No wonder Leo was the jolliest little baby this month! (Even more than usual, which seems impossible.) We flew to Jacksonville for the first time, then headed up to Buffalo again (I know, it is becoming a monthly plane ride), so this month was filled with a lot of cousin, aunt, uncle and grandparents love for our little lion cub.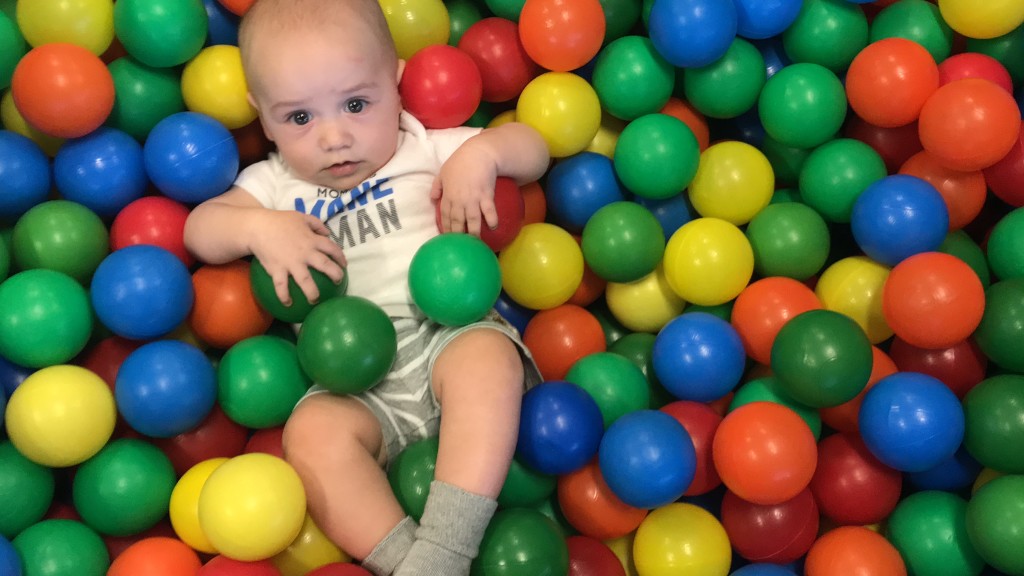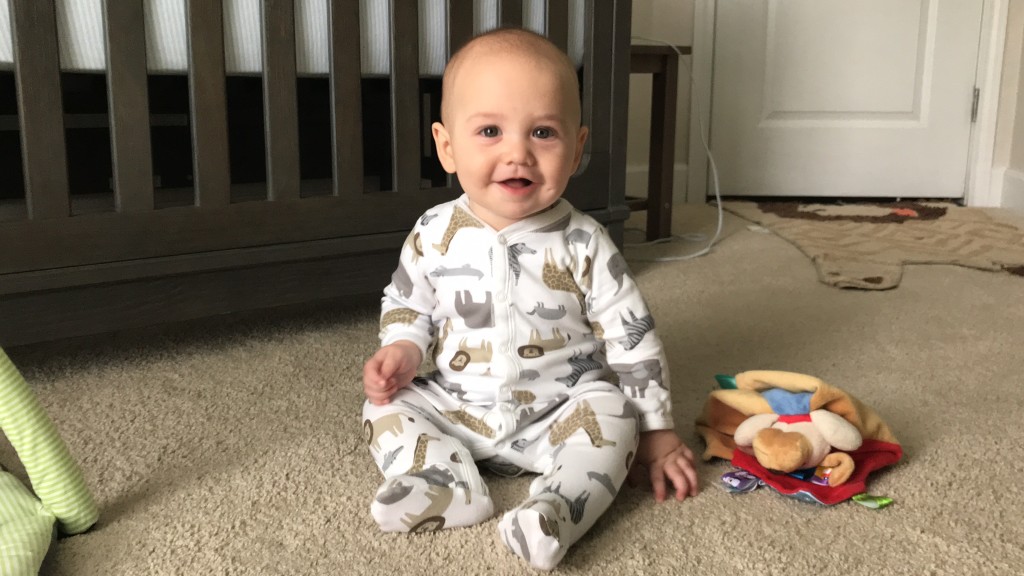 Growth Chart: 
Eating and Sleeping: The beginning of this month was a doozy due to Leo's trifecta of ear infections, croup and RSV. But after he started feeling bette, things smoothed out. Kind of.
Let's start with nap time sleep. Leo is still taking three naps a day with about 2-2.5 hours of awake time in between. Some days he surprises me with an hour nap, or even two! But most days we are looking at two 45 minute naps and then a third 30-minute catnap. I am still rocking him to sleep (sometimes nursing when rocking won't do, or he is hungry, or overtired, or I am desperate for him to sleep). I know this is why I don't get anything done but then I look at his angel face while he is sleeping on me and I remember there is nothing that deserves my time more than my baby boy. Showers are overrated, anyways.
While I have accepted the fact that I do not have a child who loves to sleep, I still spend a lot of my own waking hours overanalyzing his schedule. And so in my never-ending search of ways to get Leo to nap longer than 30-40 minutes, I figured we could try he 2-3-4 schedule (two hours after baby wakes up, first nap. Three hours from waking up from first nap, second nap. Four hours after waking from second nap, bedtime) and see if that had any positive impact.
IT DID NOT HAVE ANY POSITIVE IMPACTS. Leo was up allll that following night, most likely due to over tiredness from only two naps and the long four hours from the last nap to bedtime. The boy needs that third catnap, and since that day, he has had it! But I did start turning the third catnap into a walking "Ergo nap" as 1) it gets us out of the house; 2) it works like a charm; 3) I freaking love it when this boy sleeps on me and 4) I can actually say I exercised. So it is a win-win-win-win for both parties involved.
And on the nighttime sleep front, TWO big updates to share:
1) Leo is officially sleeping in his nursery at night! No more bedside pack and play for my little/big boy. The move was a long time coming, but I had every excuse not to move him, like "but we are traveling again" to "but he is sick" to "it is so much easier to feed him in the middle of the night when he is right next to me." But once we were back from traveling, and he was over his sicknesses, and he was still waking up a couple times a night – I figured we might as well cut the room-sharing cord.
And by cut the cord I meant "we will move him to his room and then we will commence sleeping in the guest room right next to his room for the next…ever." Our master bedroom has never stayed so clean for this long. I don't even remember what our duvet looks like.
So far, so good. He has always slept in his room for naps, so the transition to having him sleep there at night wasn't really a big deal for him. And while he is still waking up to eat 1-2 times a night, I think he sleeps a lot better in his own space, not bothered by the sounds of Matt and I tiptoeing to bed or Matt kicking the covers off 23 times a night (is it possible to be labeled a "loud cover mover?" because THAT IS MATT AND I WANTED TO KICK HIM SO MANY TIMES BUT FEARED HE WOULD AUDIBLY YELL AND WAKE LEO UP ANYWAYS.)
2) LEO SLEPT THROUGH THE NIGHT! Just once, and of course, it hasn't happened again since. But he did it – when we were in Florida towards the end of the month, Leo slept from 7:30 p.m. – 5:45 a.m.! I could not believe my eyes or the time on my phone when I first heard him cry – surely there was no way this was the first time he was waking up. I must have slept through his cries, or just been totally asleep while feeding him at 2 am? I double checked the Nest cam history and all be damned, this little boy slept the entire night! He even fell back asleep until 7:30 after I nursed him at 5:45. For the first time in seven months, I felt like a real human again. Of course, the next night/week he made up for it by waking 2-3 times every night until we made it back to Austin….but still. IT HAPPENED.
All the holidays: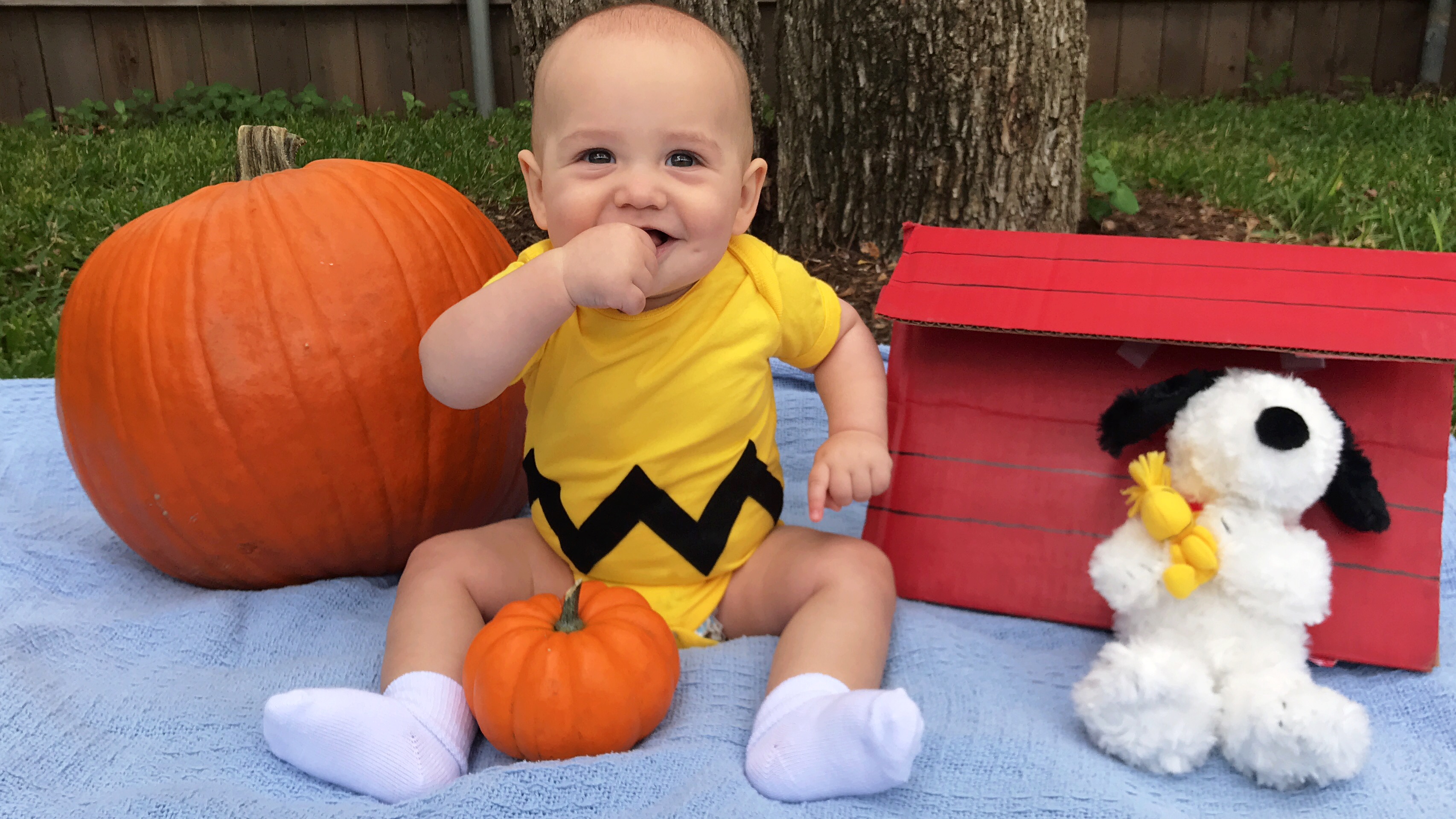 Happy Halloween, Charlie Brown! Like every normal pregnant lady, I often wondered during those nine months what I would dress my baby up as for his first Halloween. I was always a fan of those parents who dressed their babies up like Chipotle burritos or little old people.
While my original costume idea for Leo was the obvious lion, that little bald head of his made it pretty impossible to resist Charlie Brown. Or Mr. Clean. But since I have been a huge Peanuts fan since I was a wee thing, Charlie Brown obviously won out. Plus, could I have picked an easier DIY costume? Yellow onesie, black felt, iron-on adhesive….check check check. Good grief, LOOK AT HOW CUTE HE IS! Have you ever seen a more perfect Charlie Brown baby in your life?! He seriously kills me.
Santa! Leo now knows him! Christmas came early for Leo and his little friend Marlow, as us crazy moms took them to see Santa on November 4th! This little coffee shop puts on an afternoon event of Santa in front of the "Greetings from Austin" mural, and my friend Amanda and I could not resist. The line wasn't nearly as long as we anticipated, and both babies actually did okay with being put on a strange old man's lap. Leo was mostly interested in Santa's beard, to the dismay of our dance/yell/"LOOK OVER HERE AT MOMMY!" moves.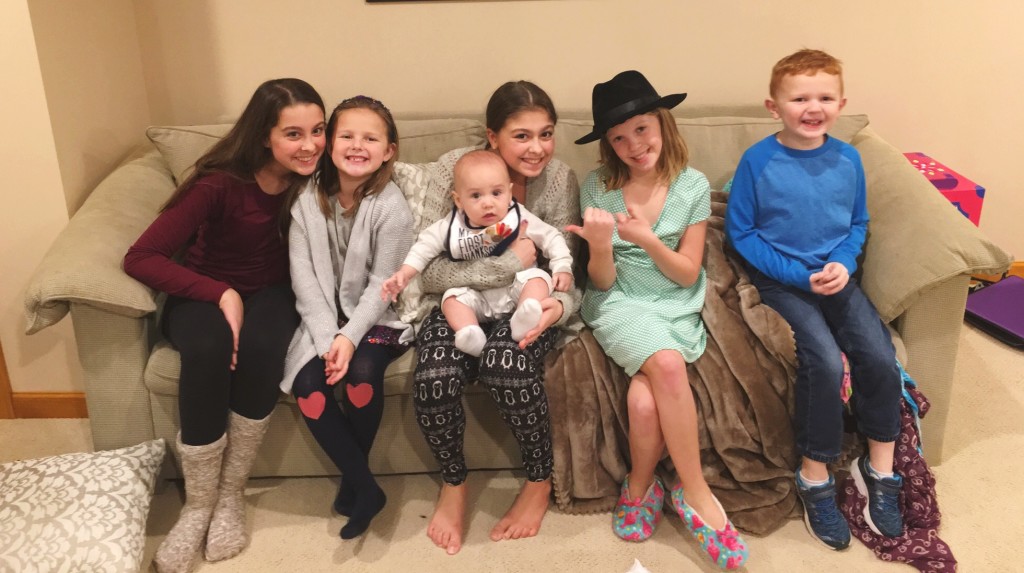 Gobble Gobble! Leo enjoyed his first Thanksgiving with all of our family in Buffalo! He had so much fun that he refused his third nap (he has major FOMO in situations like that), hung out at the big kids' table and ate a mixture of sweet potatoes, applesauce and a wee bit of mashed potatoes. Then, he pretty much rebelled against going to sleep/staying asleep, so I wound up eating my own mixture of sweet potatoes, applesauce and red wine at 11 o'clock that night. Still the best Thanksgiving ever.
We also did a little Friendsgiving with some of our best friends from Bonaventure and their little babes! So crazy that we are parents now, raising the next generation of Bonnies!
Leo's Favorite Things:
Smiling, smiling is his favorite! Seriously….he is the happiest baby ever!
His lion above the door – every morning we say "good morning, Mr. Lion! And lift Leo up to get closer to him – he kicks his little legs and smiles and basically starts panting with excitement. It is hilarious.
Trying SO HARD to crawl! He is rocking back and forth on his hands and knees and I am shaking in my Nikes.
Shaking his head "no" – we have no idea if he knows what he is doing, trying to make us laugh or if he just likes seeing the world go backhand forth and back and forth. But it is pretty funny!
Being carried on our shoulders. I did it for the first time in the beginning of the month and the giggles I got out of that boy made me want to carry him around like that forever. Until he grabbed a fistful of my hair and tried to eat it.
Library story time – we went for the first time with Amanda and Marlow, and it was so fun and funny being a part of "mommy and me" groups. We went again a couple times this month. Leo is enamored with the other babies, the toys, the songs but most of all….THE BUBBLES at the end. I'd never seen his eyes light up so wide or my fingers type "bubble machine" so fat in the Amazon search bar.
Wiggling, rolling and squirming his way around his changing table. Diaper changes are becoming an Olympic sporting event.
Wiggling, rolling and squirming his way around his room. Leo isn't crawling yet, but nonetheless he sure is on the move. One afternoon I laid him on his belly on the floor while I ran to the kitchen to grab an apple – only to come back to his room to him nowhere in sight. I nearly had a heart attack before I looked to the left and saw him basically underneath his rocking chair. I was gone for five seconds! I am in serious trouble when he starts crawling.
Speaking of crawling, by the end of the month, Leo was pushing up on his hands and knees and rocking back and forth! Only a matter of time.
His bubble-gum flavored amoxicillin medicine for his ear infections! He puts up no qualms about taking it every morning and every night.
Sitting up all by himself with his bin of toys next to him, taking one out one at a time, inspecting it, shaking it, trying to eat it and then putting it down to move onto the next one.
The Wheat Thins box, still. Nothing compares. (And nothing works better to distract him while spoon-feeding him veggies!
The sound and shape of your mouth when you whistle. It helped to keep him still for diaper changes for about two days, then he was over the initial wonderment.
Saying "ma ma ma ma ma ma ma!" and "da da da da" and only what I can described as a whisper "dis dis dis" when he is playing with his toys and/or concentrating on something.
Laughing really hard again after something made him laugh the first time. Almost like he remembered what happened and it made him laugh all over again. I can't with this kid!
Splashing in the tub. (While peeing.)
Sitting in his high chair! We were feeding him in the Sit-Me-Up to start, but this month Leo graduated to the big boy seat.
The "pull in until your windshield hits" tennis ball we have hanging in our garage. He was like a cat watching it swing back and forth, and then when I took his little fist to hit it he thought it was the most hilarious thing in the world. Thinking about installing one in his room.
Wanting to see and do and play with a million things at once. Some days I swear Leo has an attention span of about 20 seconds, then we are onto the next thing.
Loves reading all of his books, but he especially sits still for "Dear Zoo," "The Very Hungry Caterpillar," "The Very Hungry Caterpillar's ABC's," "If I Were a Lion," "You Are My I Love You (my favorite!) and "The Going To Bed Book."
Meeting all of his Florida cousins! We had the best time hanging out with Matt's family in Jacksonville, and Leo was simply enamored with all of his big cousins down there. He smiled every time they were around and were playing with him, and he loved all the special attention he got from everyone. He also loved watching his cousin Lucas crawl around – it was honestly like he was thinking, "how the heck are you doing that? I've been trying for weeks!"
Baby playground swings! We put him in one for the first time while we were in Jacksonville, and while he was a little confused at first, the second I started swinging him a wide gummy grin appeared.
The beach! We took him to Atlantic Beach with his Grandma Kathy and cousin Anna. While it was a little too breezy to spend the day playing in the sand, we couldn't help dipping Leo's feet in the ocean and letting him dig his toes into the sand. He was fascinated with the tide coming in and out, and also with how his feet stuck in the wet sand. He kept wiggling his little toes around in it and trying to bend down to grab the wet sand – it was too cute. We did let him sit and play in the dry sand for a bit, which resulted in sand EVERYWHERE. Rookie mom move.
Riding on a golf cart – also a first-time, only-in-Florida-in-November experience. We had him in a car seat strapped in, and his little legs were moving a mile a minute in the breeze!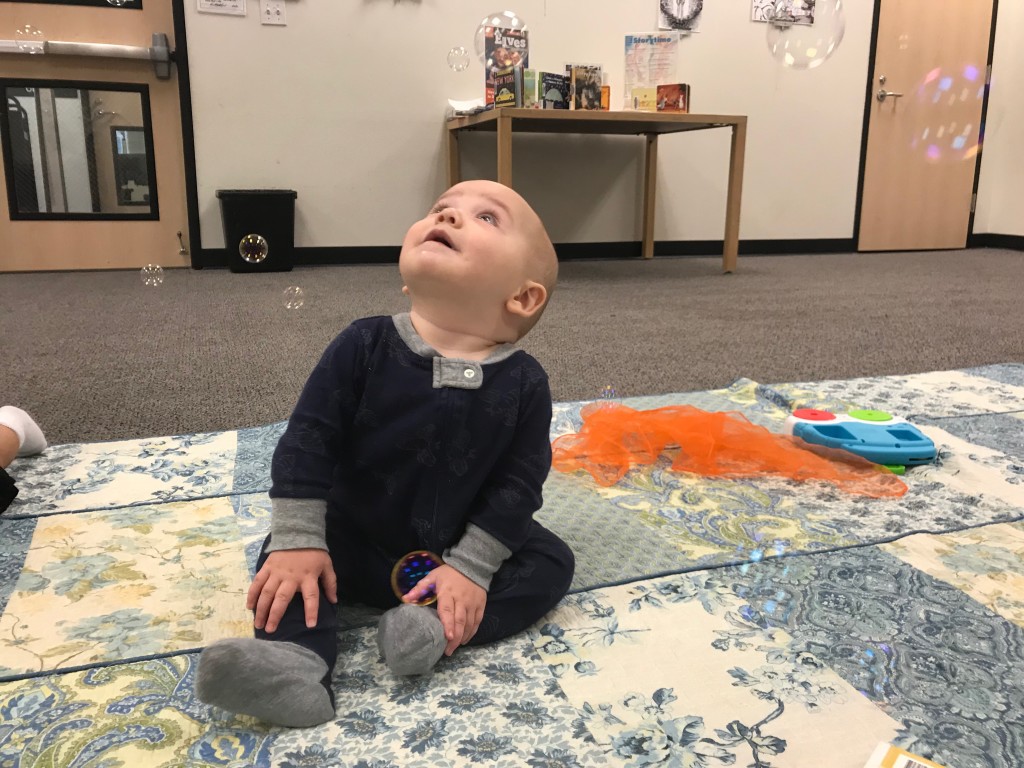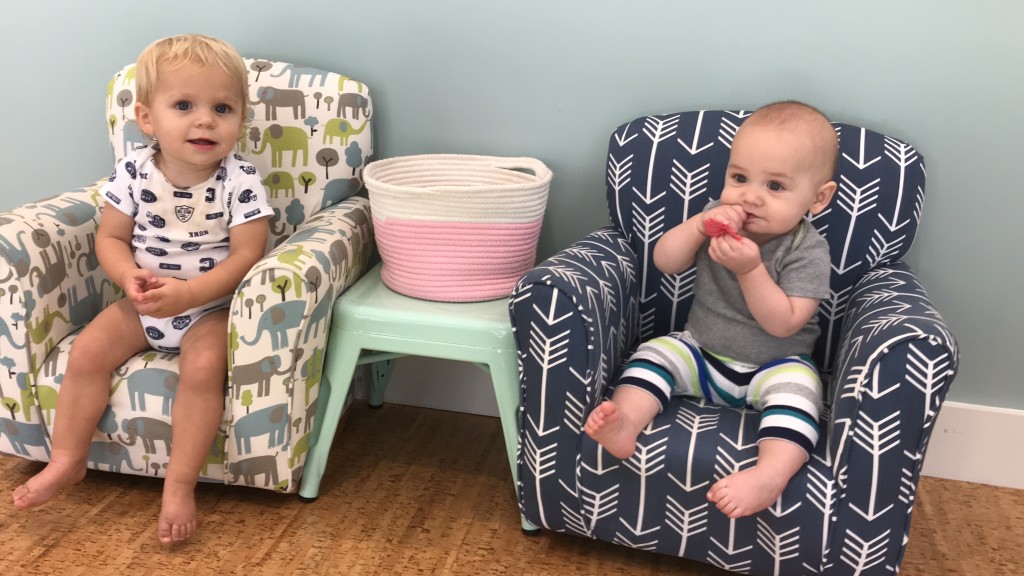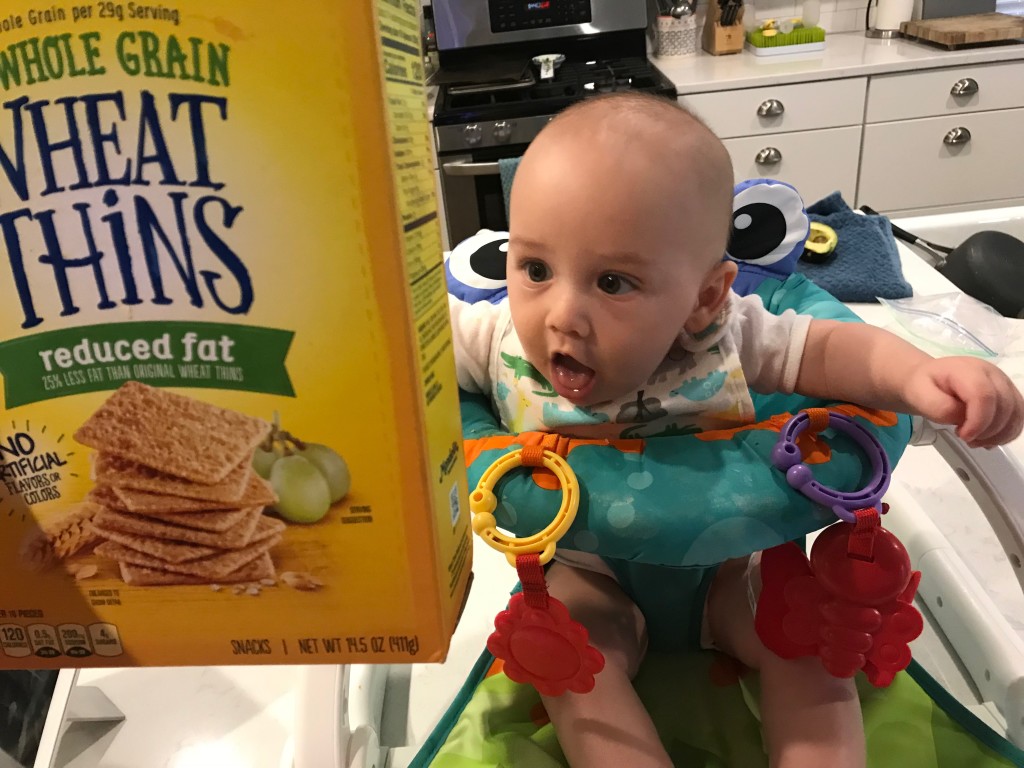 On the crawl:
This boy wants to move! In the beginning of the month he was push pushing up high on his belly from tummy time, and by the end he was on all fours, rocking back and forth and even managing to do little frog hops with his back legs. It will happen any day now, and I am so excited and so terrified. Maybe I should have listened to my pregnancy app when it told me I should start baby proofing BEFORE the baby arrived.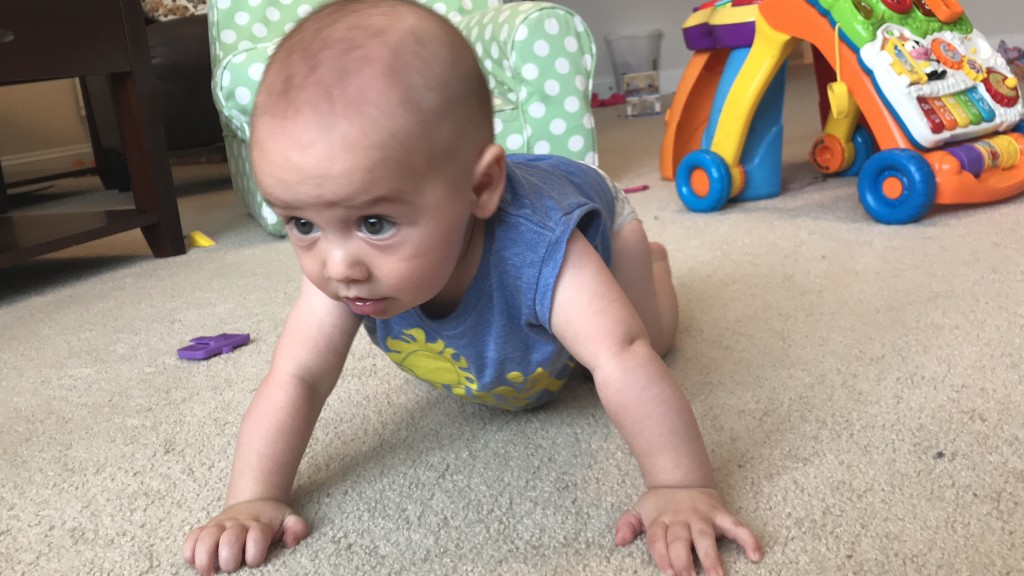 WE HAVE THE TEETHS!
This month we spotted two white lines on Leo's bottom gums – I couldn't believe that after blaming pretty much every fussy period or extreme night wakings on teething for the past four months…it was actually happening. It was pretty impossibly to take a good look at his emerging teeth, but on November 16th (yes, exact date is important) I felt a little sharp tooth edge! After that, the other tooth quickly broke through. And so by the end of the month, this little stinker had two little teeth! As if he could look any more adorable. Not that I can manage to snap a picture of them or anything to show you.
Leo's Least Favorite things:
His car seat. He is such a little drama king when we try to put him in it these days! He immediately arches his little back and refuses to sit his little butt down. Usually a toy helps, and I'm pretty sure at one point I reached for the Wheat Thins box. While he is obviously very frustrated with the process, we can't help but laugh every time we have to wrangle him in it because even when he is being ridiculous he is still so cute and funny! Once he is in, he is totally fine and loves going out into the world for new daily adventures.
Daylight savings time. (Oh wait, that was my least favorite thing this month. Who knew one hour could impact an infant's sleep so much for so many days?!)
Zucchini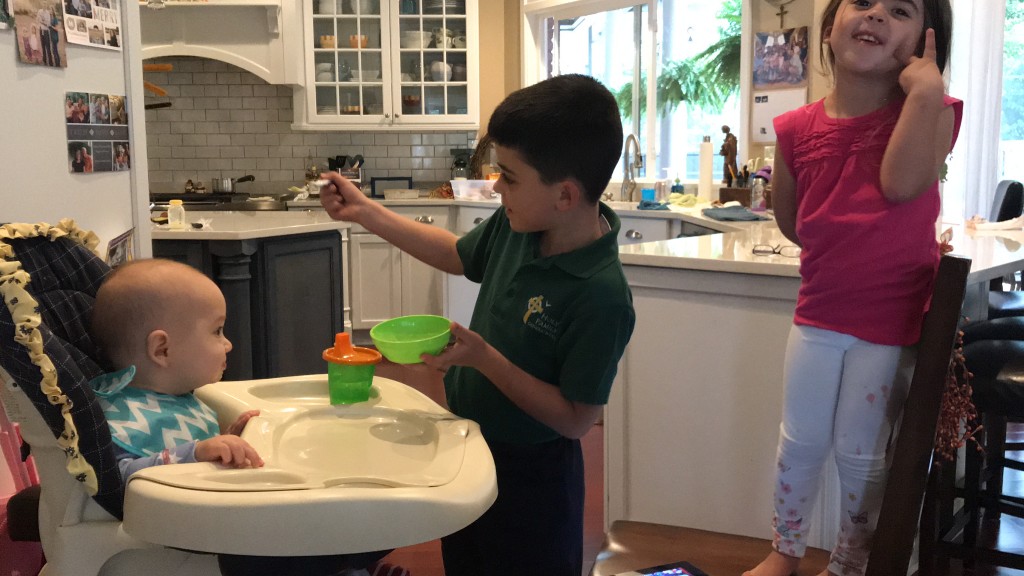 Favorite pureed foods:
Mango
Avocado
Sweet potato
Yukon potatoes
Pears
Blueberries (got them ALL over his face and hair)
Parenting Lessons Learned, sleeping edition:
Some nights, co-sleeping = sleeping
One good night's sleep = 10 bad night's sleep
While baby is sleeping on you in the Ergo, watch what you eat/drop on their heads. Leo woke up one afternoon with his head and cheek smeared with chocolate from an ill-fated granola bar crumb. Mom of the year right here!