Now that I covered the first phase of our kitchen update, let's talk about the floors.
Er…floor.
That's right: Upon walking in the door, we discovered that the entire house – ENTIRE HOUSE – was travertine floors. From the kitchen to the living room to the bedrooms to the bathrooms, hallways and closets…the floor was wall to wall to wall. And I strongly disliked every square foot of it from the instant I viewed it through my Joanna-Gaines-colored-glasses. Because, of course, my dream house had warm, rustic, hand scraped hardwood floors – not large, cold, white/yellow tile!
Photos from our first walk-through: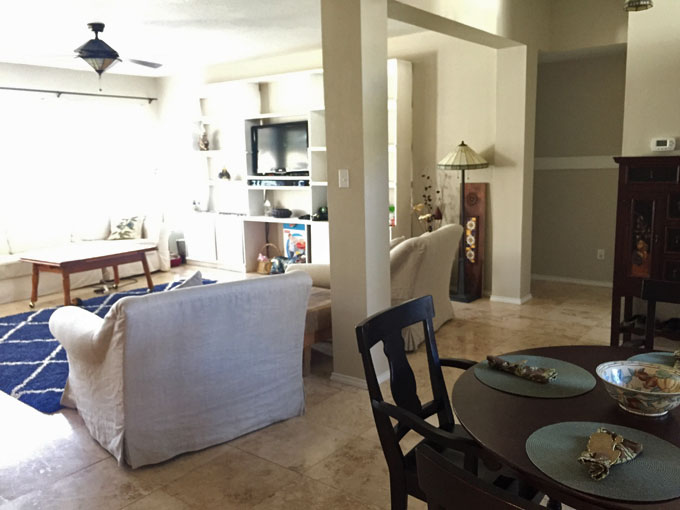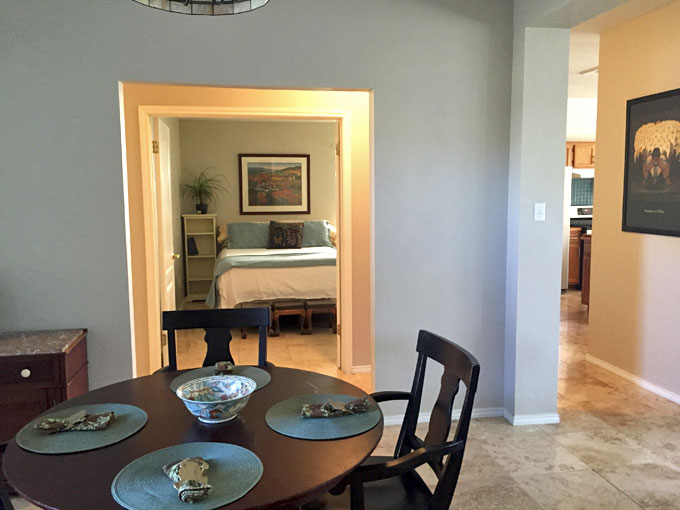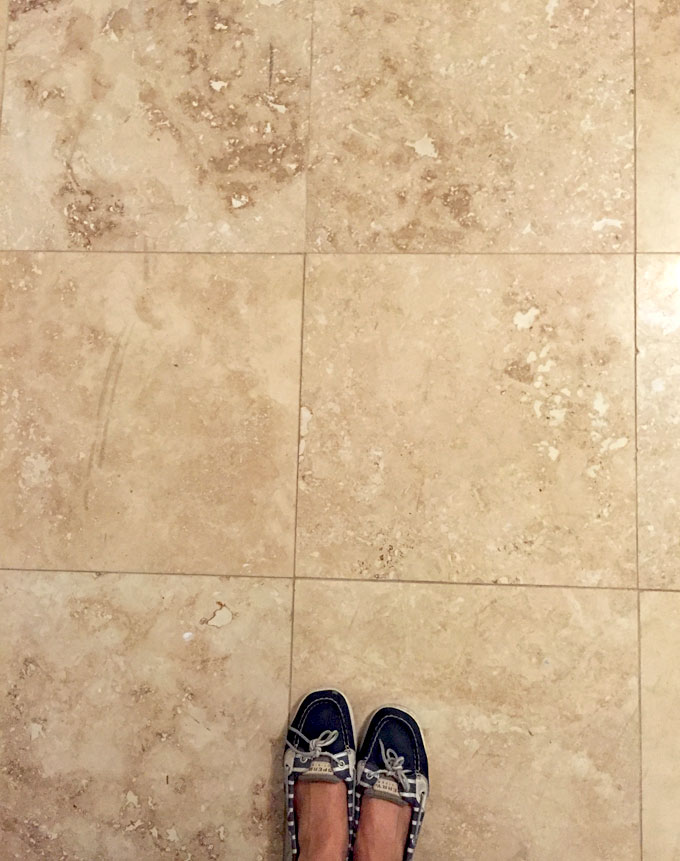 You have to believe that I tried really, really hard not to despise it as much as I did. "Oh, it isn't that bad" many people would say when I showed them pictures. "It is nice, sturdy stone" and it will "keep your house cool in these Texas summers!" they claimed. I swear I listened. I spent many mornings an evenings looking at it for long periods of time, trying to switch my mindset from hardwood floors. I attempted to convince myself that it COULD be my style. That maybe with a few area rugs it would give off a warm, cozy feeling…and that maybe wearing socks at all times to avoid stepping out of bed onto freezing floors wouldn't be so bad.
A few months after moving in: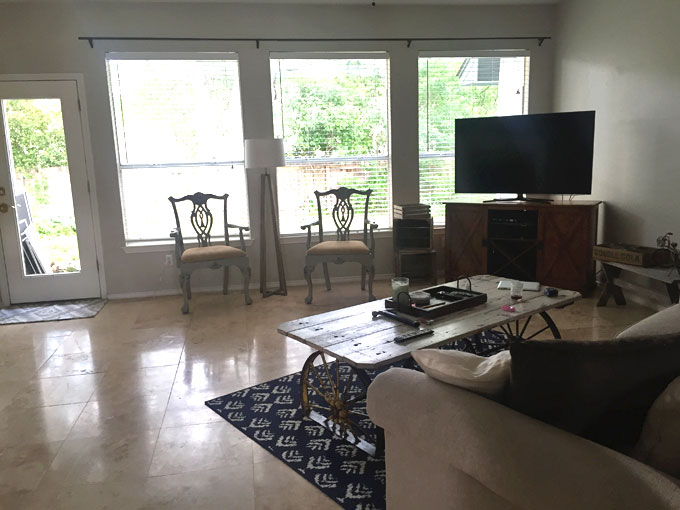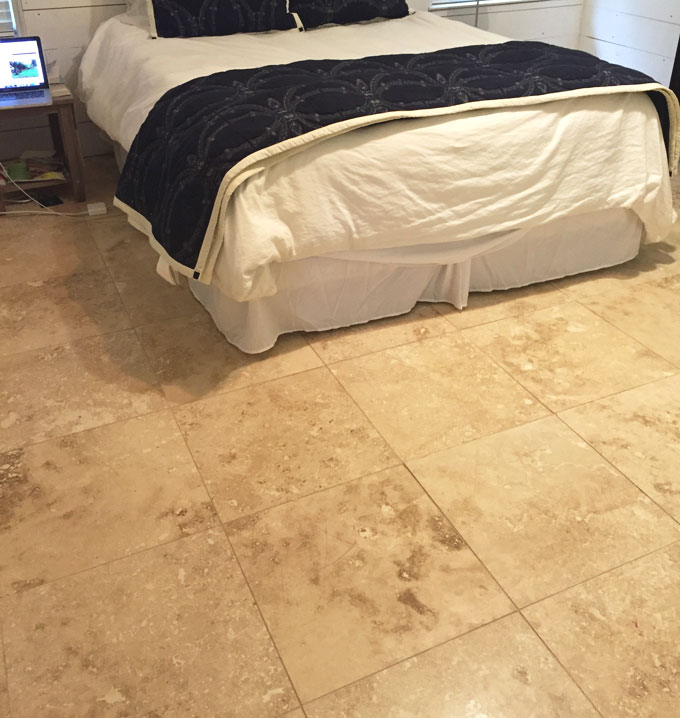 But the more we lived in and stepped on and stared at these floors, the more we realized that they were uneven in some places, chipped in plenty of places and terribly scraped up in others. As we had general contractors come over and survey the rest of our desired renovations, they all confirmed that whomever put in the tile didn't do a very good job, and that the previous owner kept that unkept trend going by not taking care of the floors as needed.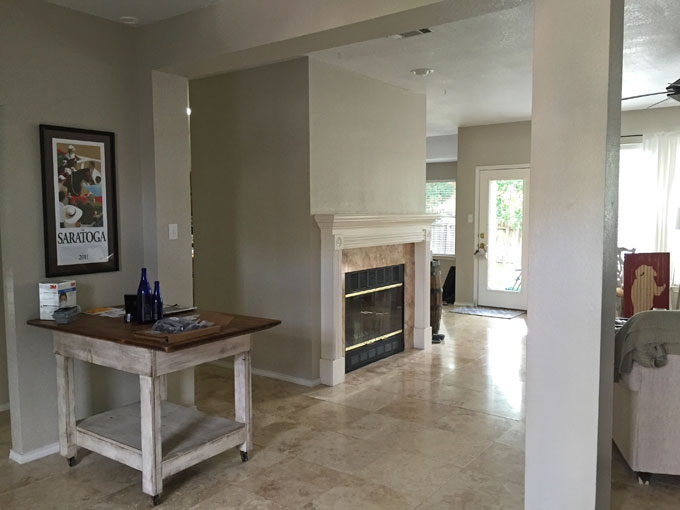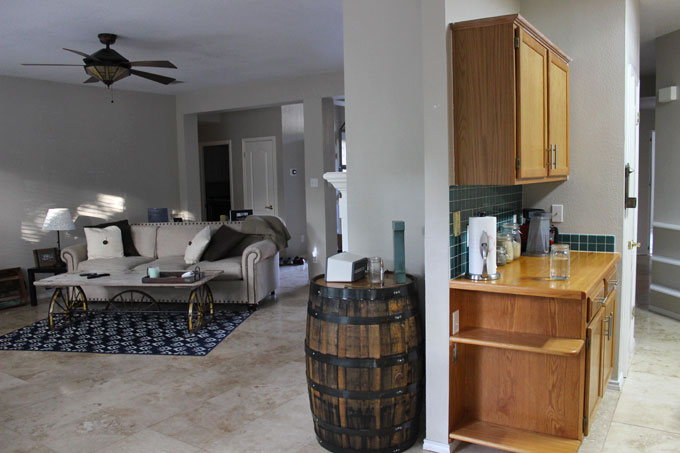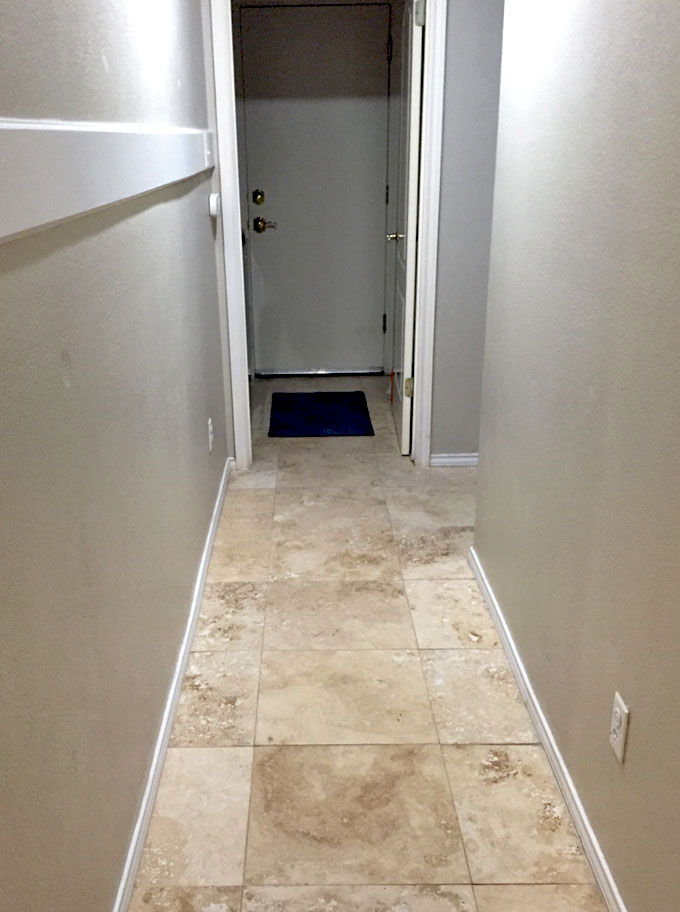 And then…I finally heard the words I had been longing to hear since we moved in. While detailing the work needed for our kitchen update, a contractor mentioned that we would HAVE to get new floors, at least in the kitchen, once we took the islands up. Because with the way the tile was laid out, you couldn't just demo a few and replace them – you'd have to take out rows at a time and replace them evenly. And since the tile wasn't put down correctly or cared for properly, the new tile we put in would be a completely different color than the rest. Making for a very unsightly floor.
Cue my Grinch smile.
You heard the man! WE HAD NO CHOICE BUT TO GET NEW FLOORS.
We were skipping around Lumber Liquidators the very next morning, gazing at the glorious wood floor options and completely ignoring (well, at least I was) the price tag on each. I needed to have my moment of endless possibilities, okay?
On our second, more responsibly visit there, we talked through a whole new world of hardwood options – solid, engineered, bamboo, vinyl , etc. We decided that our best bet for looks as well as price was engineered hardwood, which is basically a several layers of wood stacked together. It is actually  Way less expensive than solid hardwood, but without sacrificing the look or quality.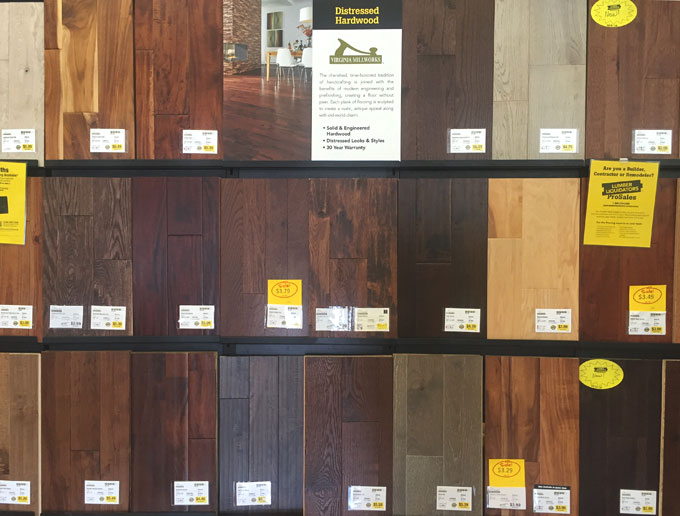 And so it goes, the wood sample we fell in love with – the one smack in the middle up there – was only displayed in solid hardwood form – not in engineered. However, the man at Lumber Liquidators assured us that the engineered version would look "pretty much exactly the same."
Spoiler alert: it did not look anything like it. As I gleefully opened one package of wood as soon as our contractor dropped it off, my face must have looked like that YouTube kid unwrapping books for Christmas. Where are my hand scraped marks? Where is the variance of color? WHY DO THE FLOOR GODS HATE ME?
We brought it back to Lumber Liquidators, who then explained that solid hardwood floors and engineered hardwood floors are obviously going to look different. To which, in my head, I was screaming: https://www.youtube.com/watch?v=gqQ99s4Ywnw
Big lesson learned: Whatever floors you are going to buy, make sure you see a sample of that ACTUAL floor. Seems pretty standard, but then again, no lesson in home ownership is too small. (I think we are going to compile a list soon or things learned thus far.)
Since we were feeling pretty burned by Lumber Liquidators, we started looking around for other engineered wood floor options/distributors. Matt somehow stumbled upon these gorgeous engineered Mannington floors, and with one trip to a supplier here in Austin, I was sold too. The color and style was much closer to our original pick at Lumber Liquidators, and the hand scraped accent made my heart flutter. Plus, with the Fourth of July sale they were running, we could get the floors at almost the exact same price as LL.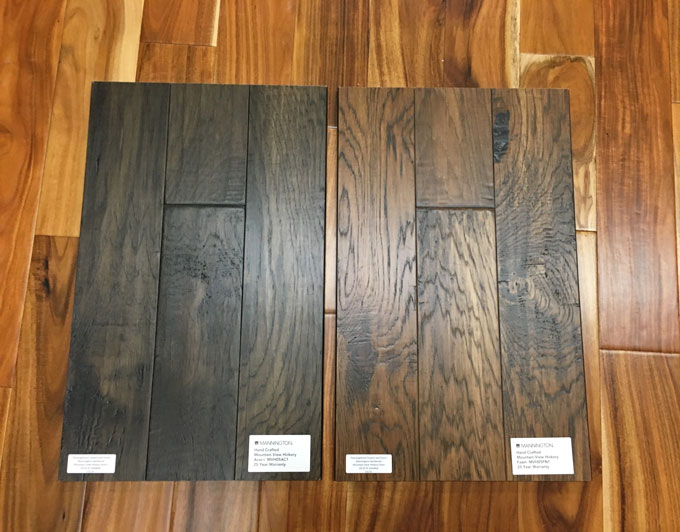 Needless to say, with this option at this price, we were….FLOORED. :) We went with the "Fawn" option on the right – it was the perfect mix of warmth, charm and of course…farmhouse.
Now onto the easy part – just the demo of almost an entire house of travertine tile, massive concrete leveling and the slow but steady install of these beautiful panels of wood. In progress post up next!