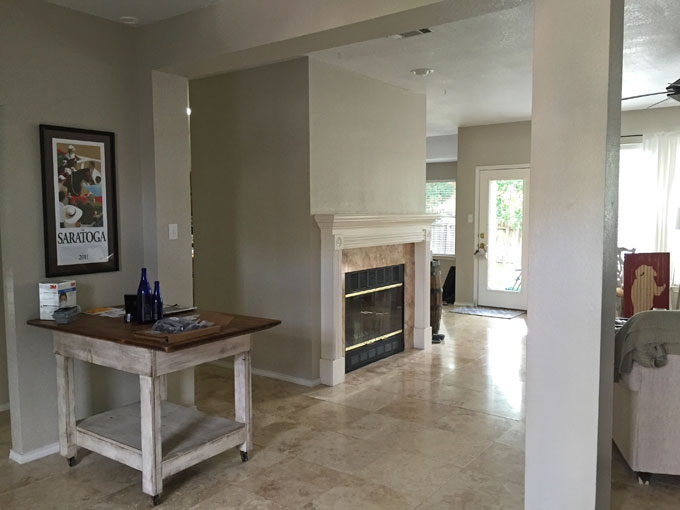 Unlike other updates, like the exterior jungle, the kitchen and the massive expanse of tile floors, the layout of the house wasn't something that immediately hit us as a problem. However, on our second walk through, two things were apparent:
The previous owner really liked to knock down walls
The fireplace, while lovely, was smack dab in the middle of the house.
Let's start with item #1. Apparently a fan of an open concept, the previous owner decided to turn what was once two bedrooms into…well, a very strange office/bedroom/open space combo.
It is easier shown than explained. Here is what the room(s) looked like on our first walk-through: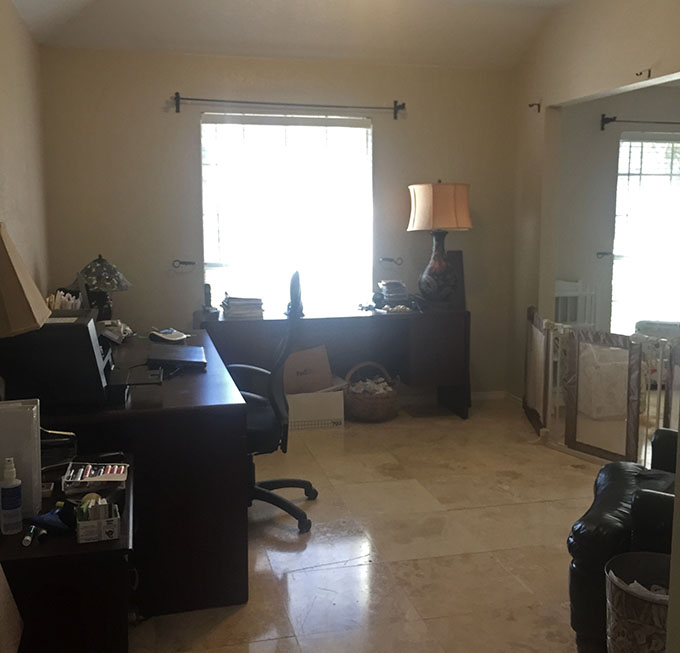 I took this shot while standing in the front living room area. You see how you can see right into the office? Yea, you weren't always able to. There was a wall right there (where we later realized a bedroom closet used to be). I don't know if she wanted to see the television or what, but there wasn't even French doors (which I wouldn't have objected against!) added to enclose the space.
Notice that cut out in the other wall and strange dog/kid fence? Well, she also watched her grandkids, and, wanting them to have their own space that was still in an eyesight from her desk…she cut out that huge square of the wall leading into the other bedroom. So instead of a dining room and two bedrooms…we were left with one weird, very awkward open space. (This was just the start of our realization that nothing the previous owner did to this house made any sense. Funny at times, extremely frustrating at others.)
After much debating, we decided that walls were our friends and that we needed to restore the glory of these two former bedrooms by calling in a drywall guy and closing the deal on two new walls, a paint job and eventually, rebuilding the original closet space. Since this update isn't as exciting, here are some in progress pictures of those walls going up: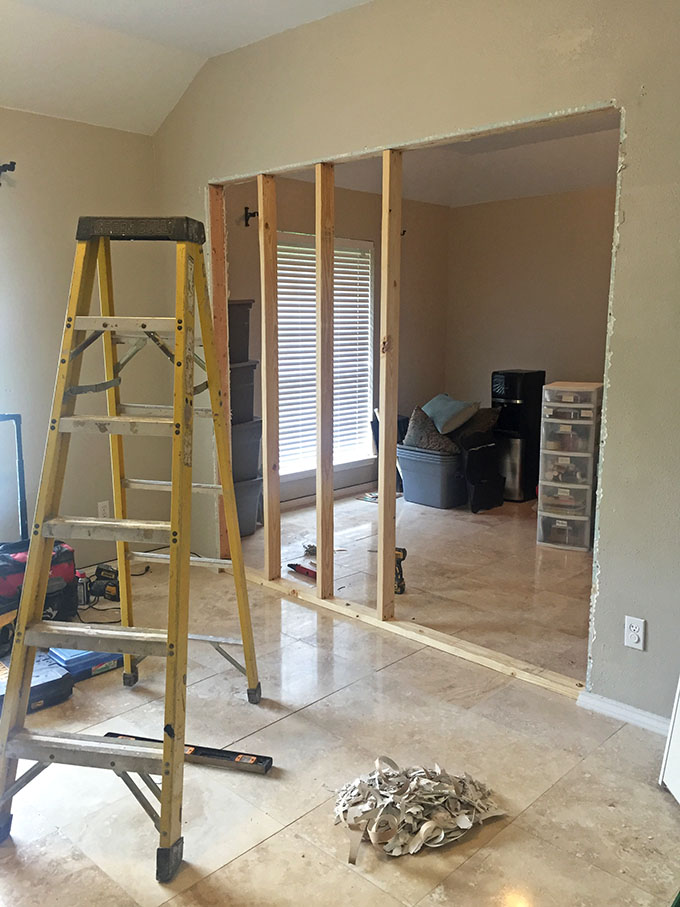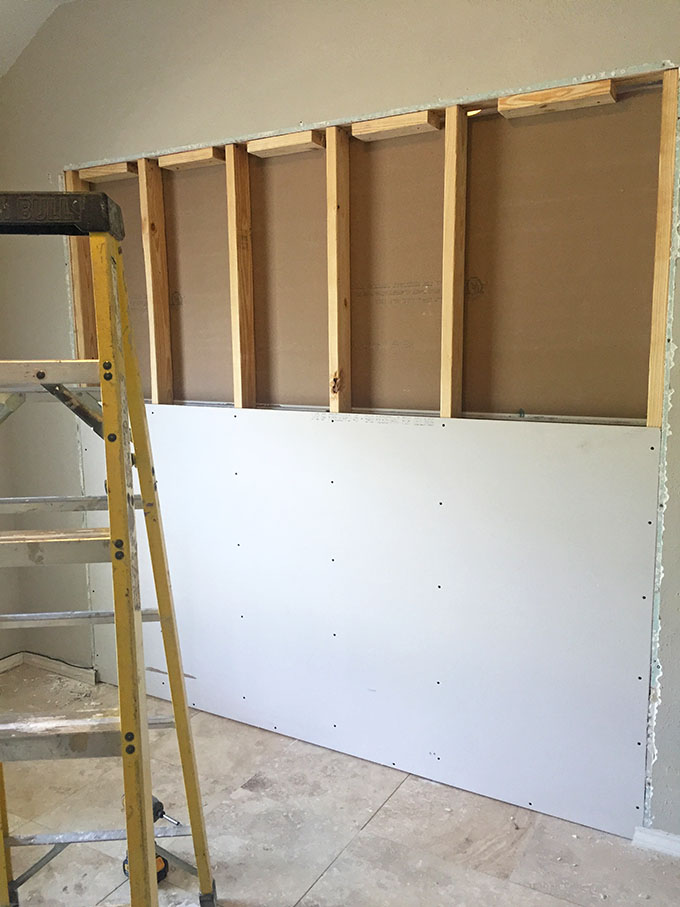 (I will have much better pictures of these rooms when they stop serving as our walk-in storage units during the major floor/kitchen reno that came immediately after we put the walls up!)
On the other, ironic hand – for the rest of the house, we wanted a big, open – yet sensible – space. Unlike our desire to close off the bedroom/office portion of the house, we really wanted to open up the kitchen and the living room area. There was just one slight, pretty cute problem, which brings us to item #2:
The fireplace/kitchen shelving area. (One side fireplace, the other side pantry and cabinets.)
Taking is out was never officially on the radar in the very beginning. But the more we talked about the kitchen and potential layouts, the more we kept running into that area as a blocker. And when Matt's cousin Chris/our personal architect and designer presented knocking it down as a solution to really creating our dream kitchen…we couldn't get the thought out of our minds.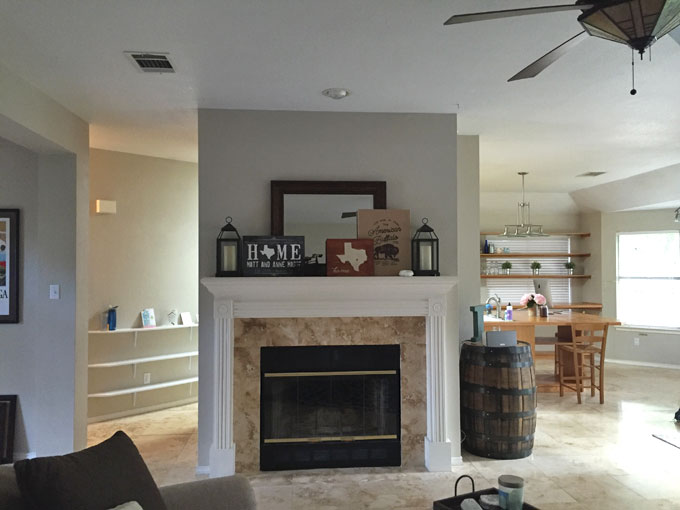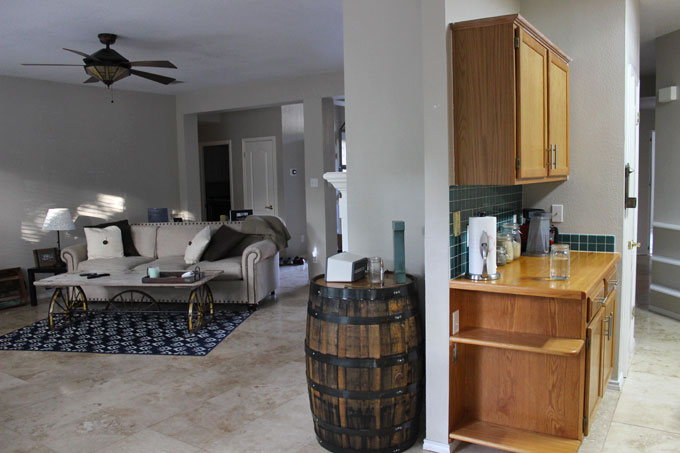 Because I like to make things difficult and was thinking more about Christmas stockings than home layout, I tried to come up with a few alternate solutions for it that didn't involve it going completely away. One being to slim it down – possibly down to its very bones, and then putting brick around it (like this Fixer Upper house). The other, my personal favorite, was to move the fireplace to the opposite wall…also done before on Fixer Upper. Of course.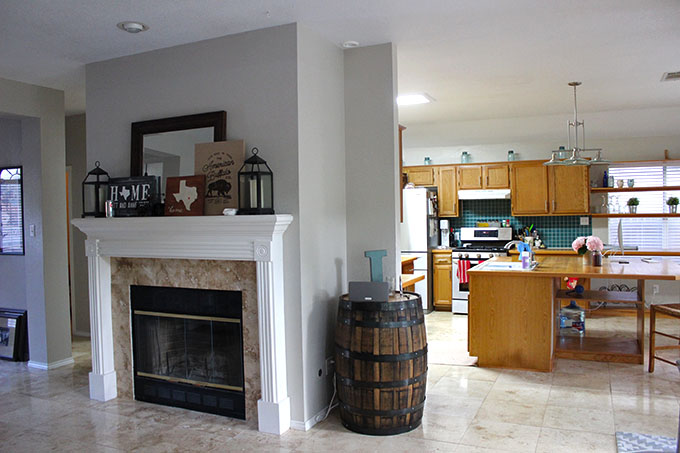 Either were easy and inexpensive, right?
Wrong. Moving the fireplace was quoted at $9k, and demoing the outside just to try and brick the entire thing seemed pretty ridiculous the more we thought about it. I really, really hated the thought of losing it, but as one contractor told me: "You live in Texas. Ain't no way you are ever turning that thing on anyways."
Touche, contractor Joe, touche. Sigh…let's bring this baby to the ground.
Get ready for it…time lapse demo video coming soon.