It is hard to believe it has only been a little over four months since we moved into our first house! Hard to believe because we have done so much since then…and yet there is still SO much more to do.
Seriously…it has pretty much been "demo day" since we moved in. But since we now have started major renovations on the interior, and spend the little free time we have roaming the aisles of Home Depot or analyzing cabinet colors and hoarding hardwood floor samples, I haven't had much of a chance to document any of our "Let's Make This House Great Again" plans or share any dents we have made in them thus far.
So…let's start with the very first item we knocked off the list – the front and back lawns! Which have already had more improvements made since I began writing this post last week. But more on that later.
Let's go back to when we first laid eyes on the house back in February. Sure, it was a cute little brick house in our desired neighborhood, but on first impression: I couldn't help but notice the very large front deck (by no means could it classify as a porch), the two crooked trees and dead tree stump, the overgrown grass and the insane amount of wild flowers in the front yard. (I had yet to lay eyes on the tropical jungle that took over 80 percent of the back yard.) Sure, it was charming, but charming in a "crazy aunt's house you visited twice a year" thing, but not so much in the "I totally love bees, falling branches and ivy spreading everywhere " sort of sense. But, ever up for an adventure, we continued our tour into the house.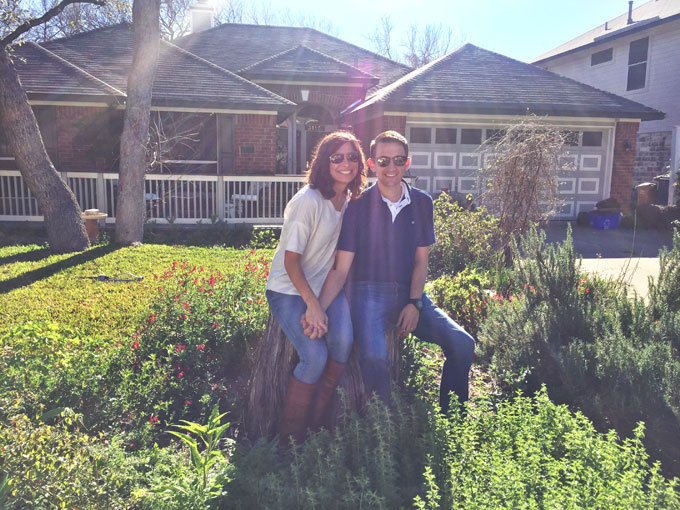 As I mentioned in my home buying post, the house had the exact bones we wanted. It just…needed a lot of love to flesh out those bones. When I pointed out all of the lawn (and house) issues and the insane amount work it would take to fix all of them, Matt, ever the darling husband, reminded me that it was I who insisted on a fixer upper. He had me there.
And that "it really won't be that bad" to take care of. Nope, totally lost me again.
However, I had to admit that I have a bad habit of looking at the negative when faced with very large decisions. But since this concern was rooted in extensive binging of  HGTV shows, I knew my anxiety was somewhat valid…these updates were not going to be easy. ESPECIALLY the front and back lawns. We never even had a lawn before, let alone ones that were covered in roadside wildflower jungles. We have lived in apartments for the last five years and have killed every house plant we've ever owned.
This was the house as we first saw it: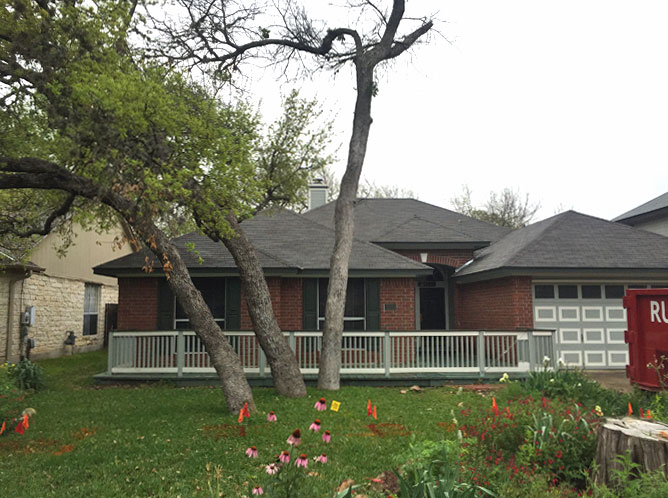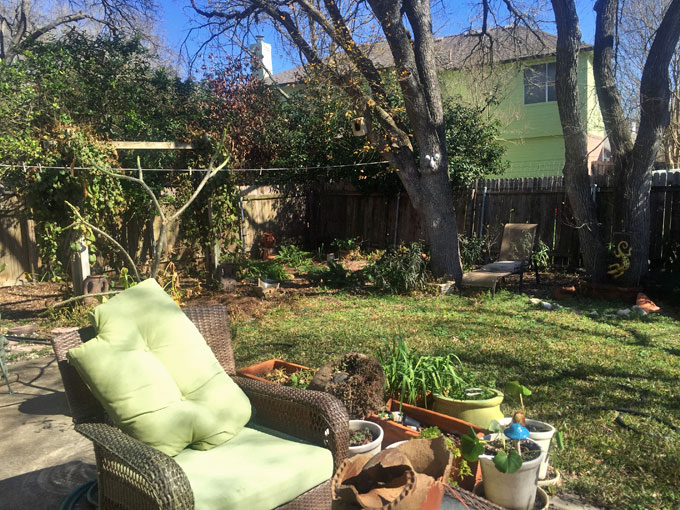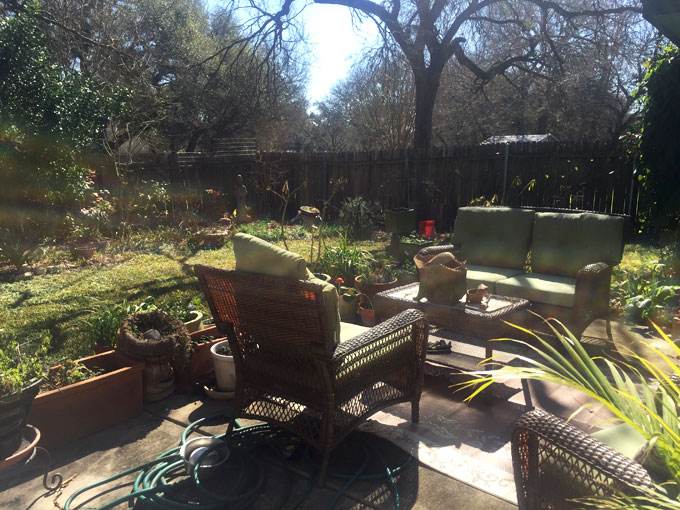 But sure, we could totally take this on.
The first week that we moved in, Matt and his dad were up for the challenge, filled up at least 50 lawn bags full of branches, leaves, weeds and unknown wild vegetation that seemed to be everywhere. For the weekends that followed, Matt and I were out there again, pulling weeds, attacking what remained of the greenhouse and shoveling pounds of leaves, cracked pottery and stones that strangely was everywhere. Oh right…did I mention the previous owner built a weird, semi True-Detective like greenhouse on the side of the house? And also installed what I can only describe as a wood alter in the middle of the yard for vines to grow on? And hung wire screens from the house and the fence for ivy to continue to spread? Yeah.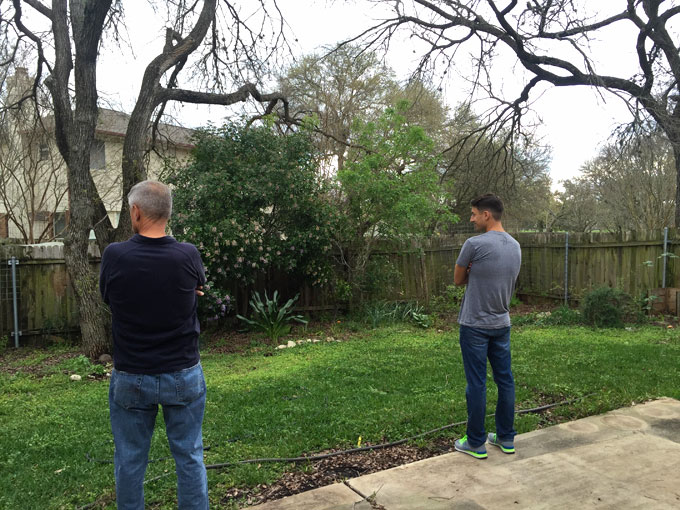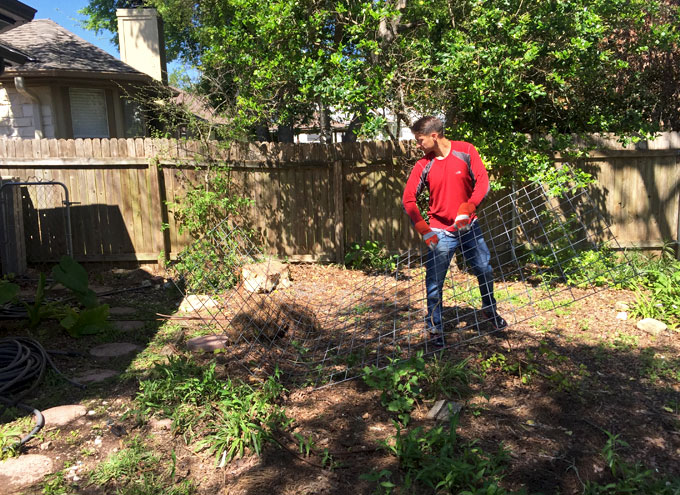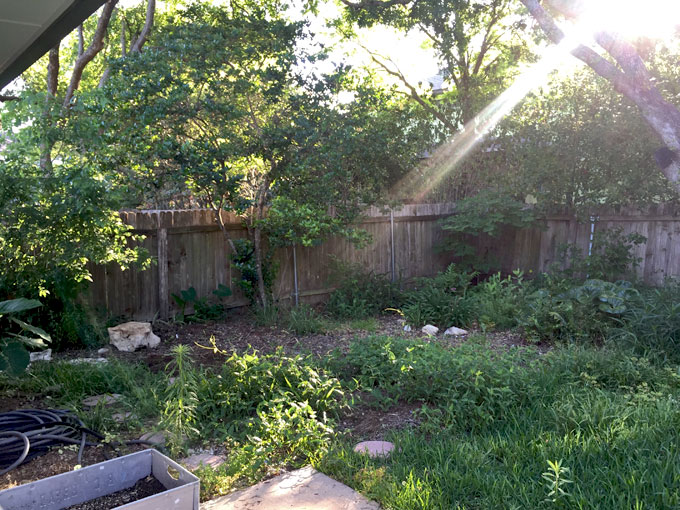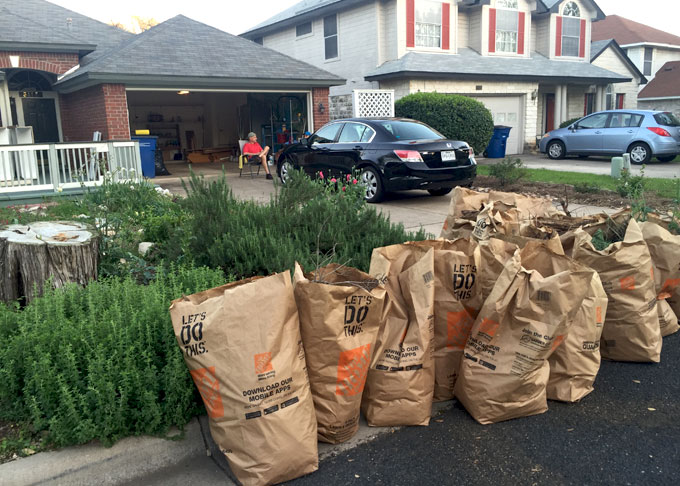 As Matt confirmed after a long day of pulling things out and down and around, "I think she wanted to BE a plant."
In the following weeks, we continued to focus most efforts on the backyard, as I was still undecided about what to do with the wildflower center that was our front yard. Because while totally overgrown, unruly and placed with no rhyme or reason, the flowers in the front were pretty. They attracted a ton of butterflies, which reminded me of my mom, and were in various states of blooming, making it harder to say "let's just rip these all up!"
We did, however, decide to take those crooked, dead trees out…along with the stump. Slight improvement?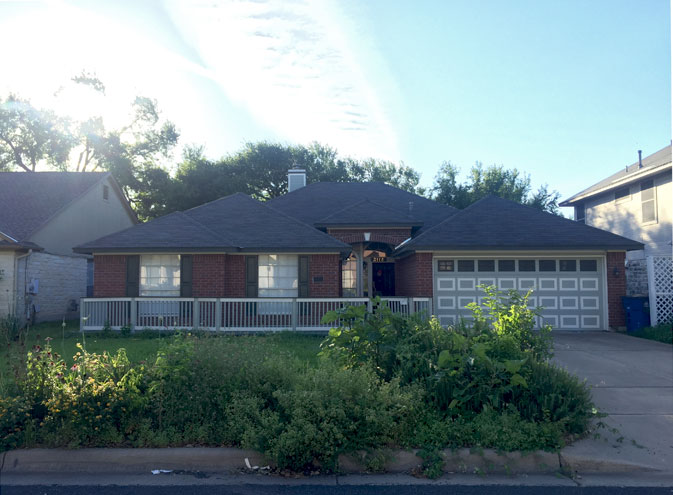 But as the weeks went on and our house list just kept getting longer, a funny thing happened…the plants and flowers and jungle trees just kept growing. All of the work that Matt and his dad did, all of the hours we spent throwing our backs out in the yard and hauling lawn bags to the curb – it began to seem like it never happened. For one weed we pulled another four would show up. The plants on the edge of our driveway grew to be almost as tall as Matt. And new plants were sprouting up every day – I will never forget Matt coming home from work, busting through the front door and exclaiming, "there is a freaking giant sunflower in our front yard!"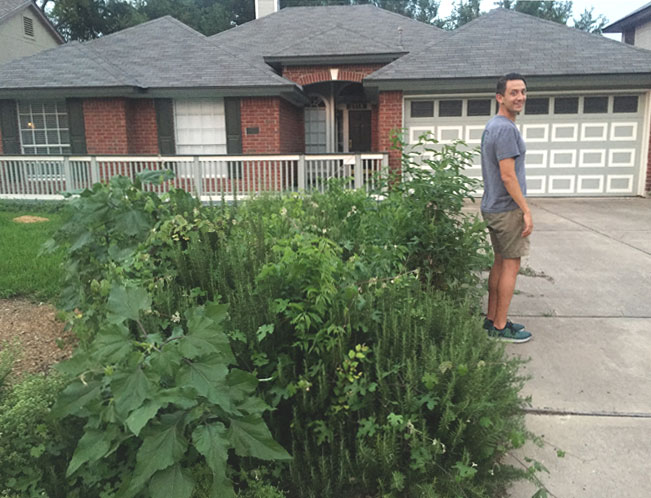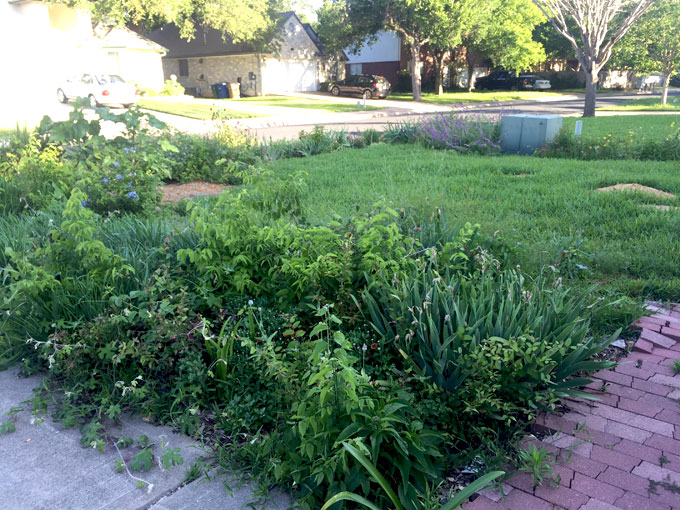 Cue our mouths and wallets opening. It was time to hire professionals to come in and do one clean dig. (For the record, before we called, I reminded Matt that he said this "wouldn't be that bad." Killing' it with the wife points over here.) After getting a few quotes, we hired a few incredibly nice and hardworking guys who came over, surveyed the workload, had a few laughs at how bad our situation was and then promised that with a a few days work  and a few pallets of sod, we would have a normal, American dream front and back yards.
Promise well kept. Even as I look at these before and after pictures for the hundredth time, it is hard to say which version is more baffling. Seriously, scroll down and then scroll up. Then do it again.
I KNOW.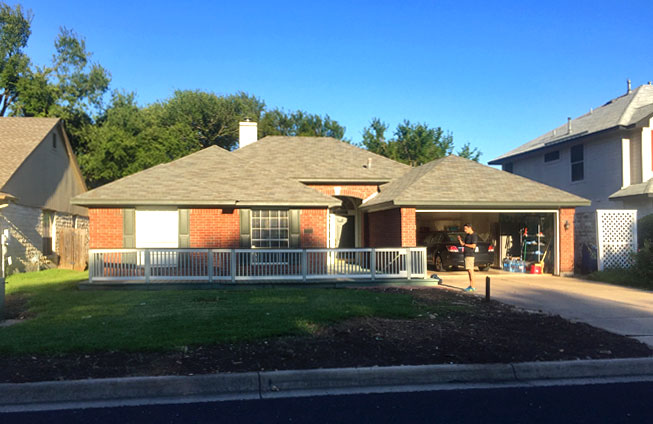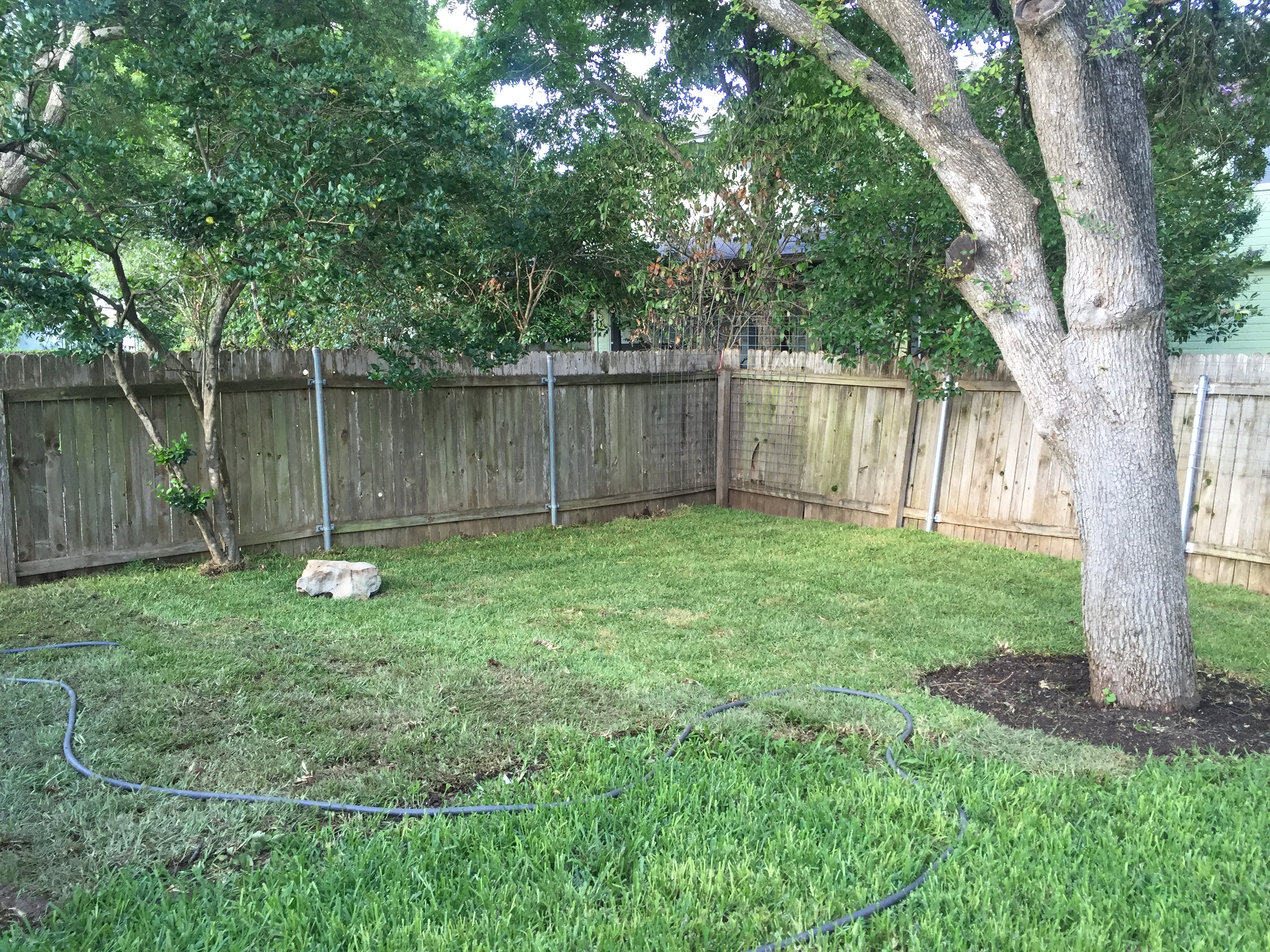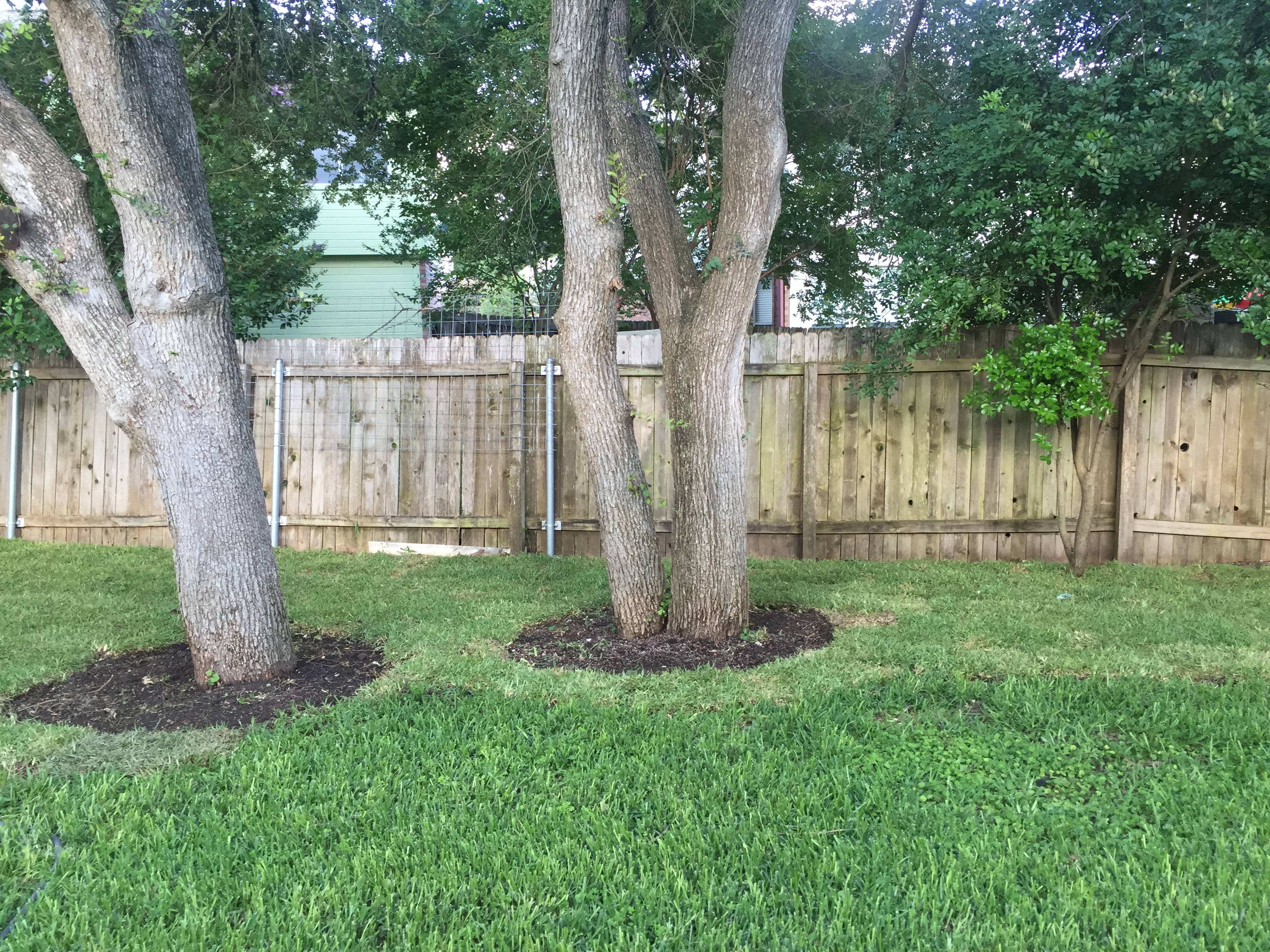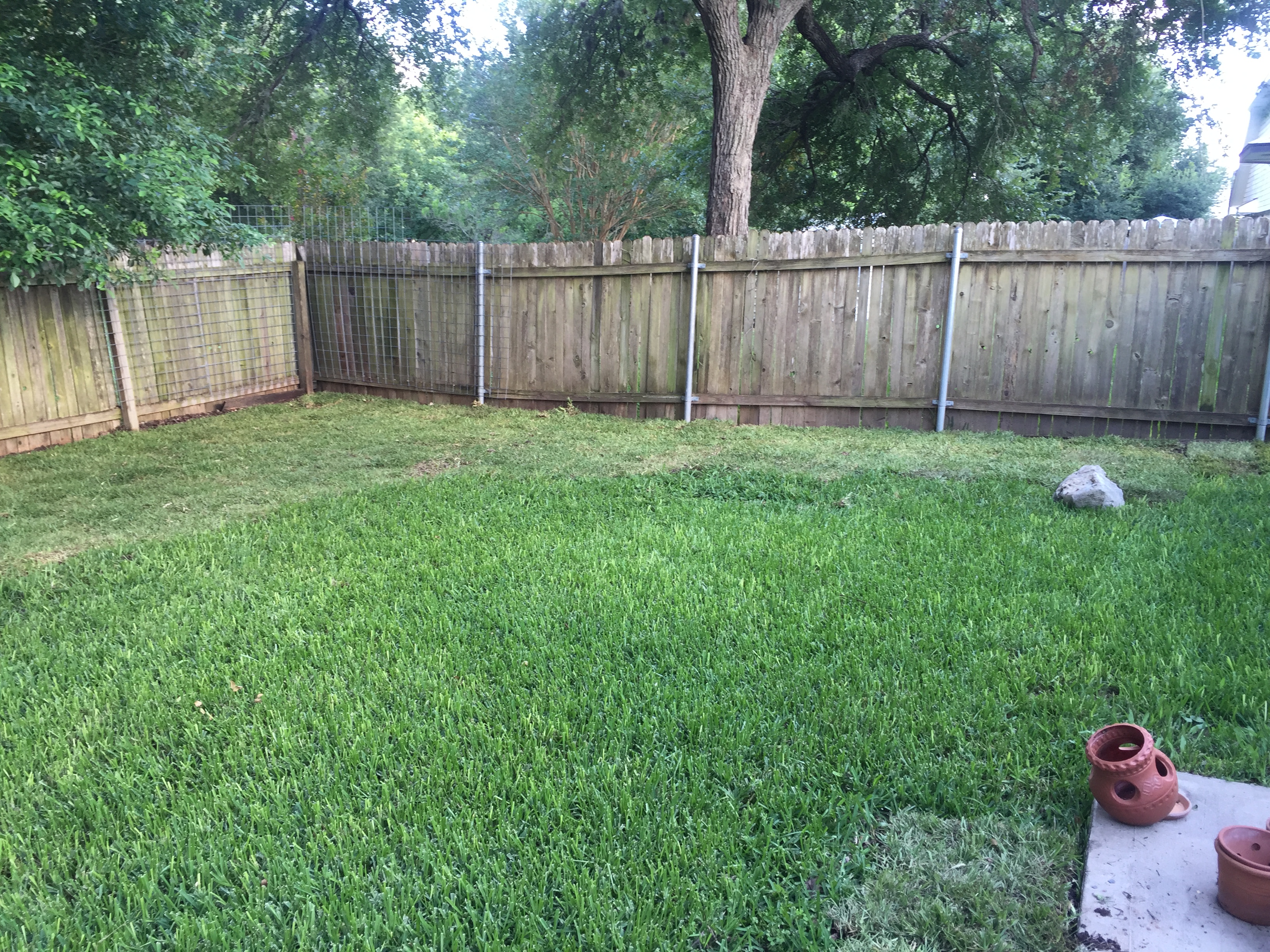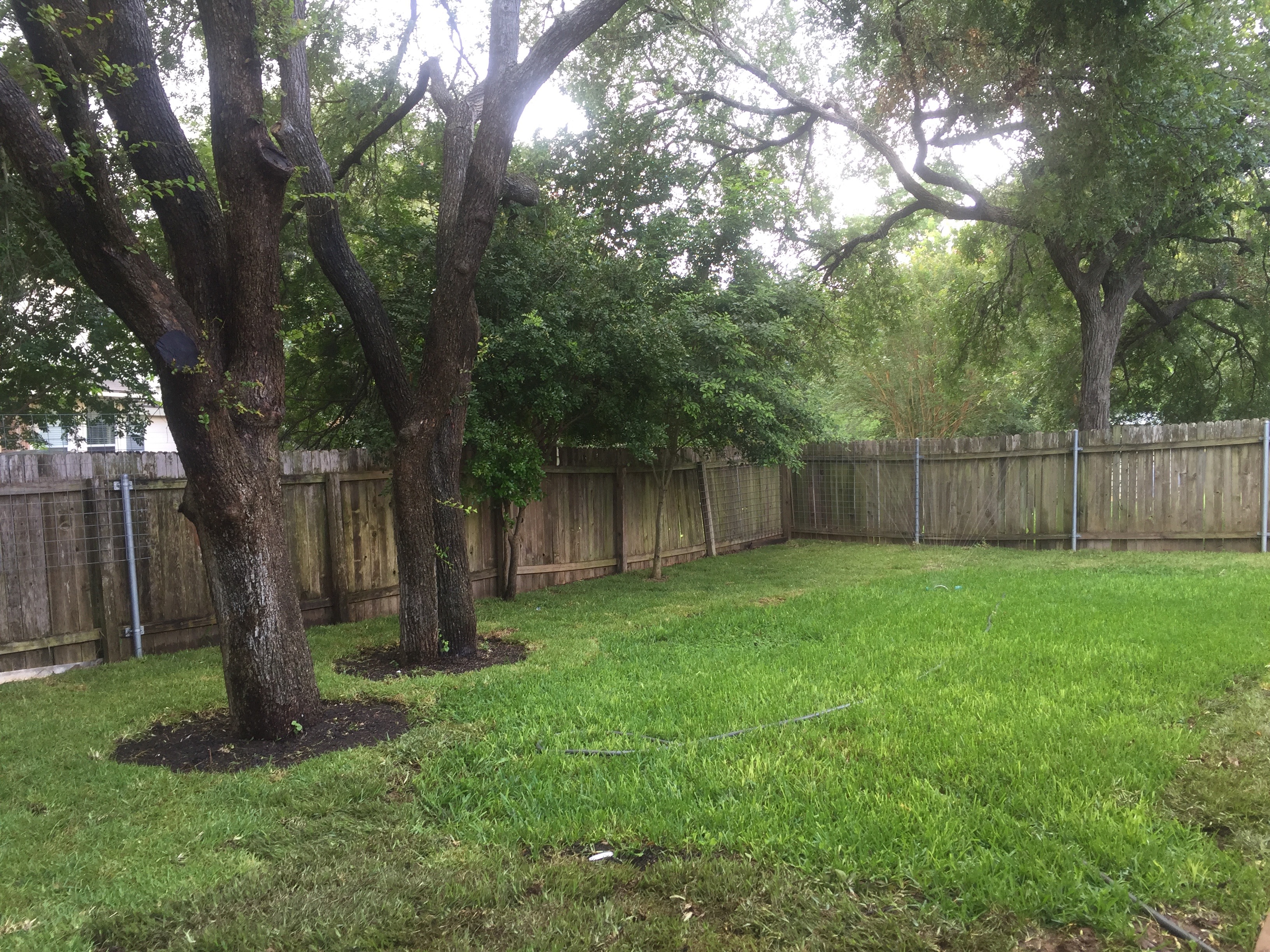 (I strangely have way more "after" pictures of the back yard than the front – I'm assuming this is because the front yard still had a ways to go before it was complete. Looking at you, front deck…I'll share those before/after pictures next!)
As bad as I felt for tearing out the previous owner's labor of gardening love, I couldn't stop smiling when I got home. Because when I pulled up next to a house I could actually park on the curb of, and sat in a backyard I was actually relaxed to be in…it was all worth it. We had finally, finally made serious progress in making this house our home.
Which made us all the more ready to say…"what can we do next?!" Front/Back Lawn Part II to come!