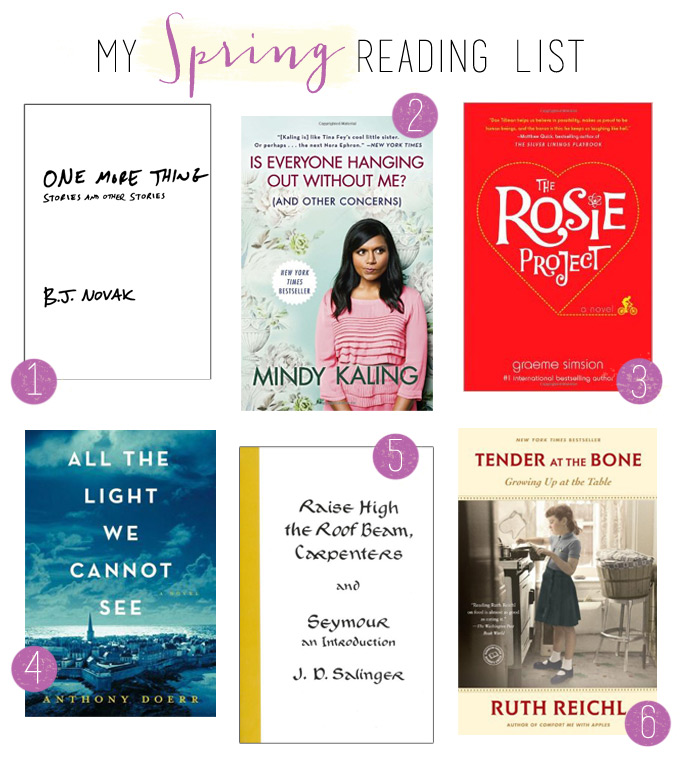 1) One More Thing: Stories and Other Stories by B.J. Novak: This book has been on my reading list for a unreasonably long time. Like most, I've been a fan of Novak's since The Office, and therefore was thrilled when word spread of his collection of shorts. Besides the work of another initial-named author below, I haven't explored many short story collections. And since stories in Novak's book cover everything from a boy who wins $100,000 in a box of cereal (my dream) to the the long-awaited rematch of the tortoise and the hare, I have a feeling I'll be doing a lot of re-reading and re-laughing.
2) Is Everyone Hanging Out Without Me? (And Other Concerns) by Mindy Kaling: What is BJ Novak without a little Mindy Kaling stirred in? And why has it taken me so long to read this book – approximately four years after all of my friends raved about it? And speaking of friends, why isn't Mindy one of my (real-life) BFFs yet? I'm hoping this book answers all the questions and includes Mindy's direct cell phone number.
3) The Rosie Project by Graeme Simison: NPR's review of this book jazzed it as "sparkling entertainment along the lines of Where'd You Go Bernadette and When Harry Met Sally." Which was all I needed to hear to know that this will most likely be one of my very favorite books. A scientist conducts a master plan to find a wife, the completely wrong candidate shows up, and hilarity and cleverness and mushy gushy feels ensue. Oh, and an upcoming movie, based on the best-selling novel.
4) All The Light We Cannot See by Anthony Doerr: My mom told me about this book awhile ago, but I thought she was just confusing it with "The Light Between Oceans," the book she recommended to me first as "The Lake Between Oceans." After she clarified that they were certainly two different books and that yes, she was sure that was the right title, I added it to my hold list at the Austin Library. Since I am number 53 on the list with only six circulating books, it might very well fall under my future "Winter 2016 Reading List."
5) Raise High the Roof Beam, Carpenters and Seymour, An Introduction by J.D. Salinger: I have gone through a-many Salinger binges, all of which have led me to read and re-read The Catcher in the Rye (my favorite book of all time), Nine Stories, Franny and Zooey, and about every other work I can get my grubby hands on in print and online. So when I saw this book on the library shelf, I snatched it faster than the last sample of berry smoothie at Whole Foods. I plan on reading it very slowly, though, since the more of the late Salinger's unpublished works may or may not be published between now and 2020.
6) Tender at the Bone: Growing Up at the Table by Ruth Reichl: A undoubted foodie classic, this memoir of New York Times restaurant critic Ruth Reichl is one book I'm both excited and hungry for, as I can assume it mirrors many aspects of my own upbringing. And just like my childhood, it is one that I will probably need to experience while sitting at the endless buffet that is my mother's kitchen table.
What books are on your shelf this season?