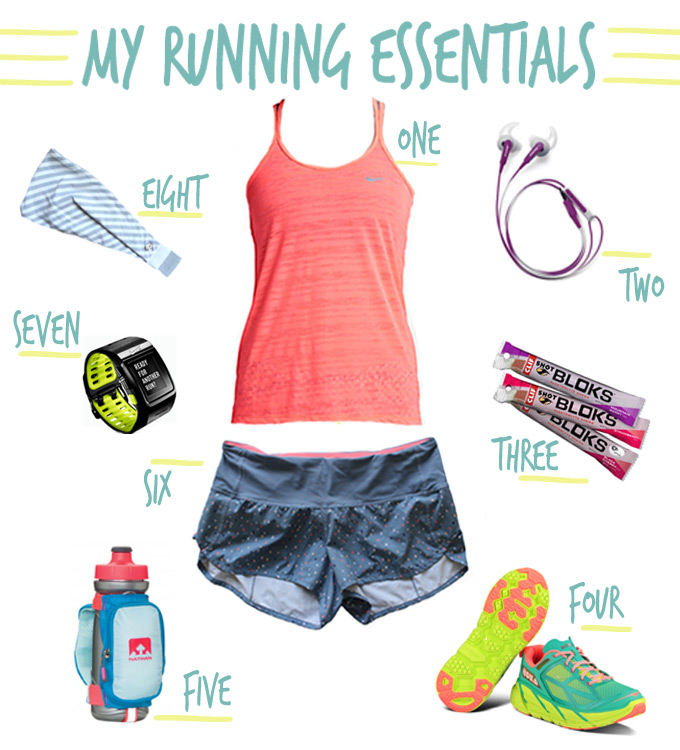 I need to preface this post by telling you all that Matt and his brothers are running the Vermont 100 Endurance Run this weekend and therefore putting a post together about my running essentials while they are laminating spreadsheets filled with line items about fuel, gear and hydration check-ins has a tinge of ridiculousness attached to it.
That said, us less-than-100-miler-runners need some good stuff too, amiright? And lucky for me, after watching Matt pick up countless Amazon packages from our mail room (head lamps, heart-rate monitors and neck ice packs, anyone?) he isn't allowed to even slightly bat an eye when I throw another Nike tank top or pair of Lululemon shorts in our cart. (And after this weekend of crewing for possibly 30 hours, same will go for craft supplies. I mean, I know he is the one running 100 miles, but how supportive of a wife am I for staying up all night in the middle of Vermont and watching him do it? Not to mention the whole pacing from mile 70 thing. Cameo Silhouette, come to mama!)
Since I began running in in 2011, here are my top tried-and-true (plus a couple new) running essentials:
1) Nike Dri-Fit Cool Strappy Tank: I first fell in love with this tank top when I snagged one at the Nike Outlet in DC last year, but now that I am running in hot, humid, almost unbearable Austin temps, the barely-there fabric is crucial for catching any bit of breeze that the running gods send my way. Which these days, isn't much. However, I am not ashamed to say that I have variations of this tank in five different colors. Why mess with a good thing?
2) Bose SoundSport Headphones: While I am still fine with my Apple earbuds, Matt swears by his Bose sport headphones. Great sound, comfortable earbuds and fun colors: check! Only caveat is while they claim to be "sweat-resistant," they oddly tend to malfunction after awhile of constant sweat dripping down them. But! Bose has always exchanged Matt's broken pair for a brand new pair, no problems. Meaning Matt has also gotten to wear every color that they offer. Minus the purple, which was my pick. (Note: I don't see the purple offered anymore directly on the Bose site, but have spotted them for sale at Best Buy and Target recently.)
3) Clif Bloks: While I used to be a GU girl – more times than not a Chocolate Outrage pouch would be the only thing that got me through a 10 mile run – I think I've officially "GU-ed" out. It started during the Nashville marathon, when I could barely get down one GU, let alone the four others I was supposed to eat during the 20 miles ahead. I thought maybe it was just the run itself, which was nothing but a lot of hills and even more whining from me, but when I ripped open a pouch of my once-beloved Chocolate Outrage a few weeks later, I couldn't even stand the smell. So, I decided to go the more solid route and try out Clif Bloks. So far, so good, although the long skinny packaging filled with two servings is kind of a pain when I am only going 10-12 miles and therefore don't need all six blocks. #firstworldrunningproblems
4) Hoka One One Road Shoe: Ah, my moon shoes!! The anti-thesis of the minimalist shoe craze of yesteryear, Hokas are all about the cushioning. Which for a long time both Matt and I resisted, but when he started to get into ultra marathons and his training runs involved consecutive 30+ mile mornings, somehow the thought of more cushion' for the pushin' (weird to use that term here?) sounded pretttyyyy nice. A few months into wearing them, he was constantly pushing them on me every time (read: every day) we walked into a running store. While I was hesitant because of my stability and alignment issues, after doing more research and understanding how the higher "gate" of the shoe can actually help with stability, I decided to give them a go. And 160 miles on them later…I'm a big footed, big shoe believer. I still wear my Brooks Adrenalines on shorter runs, but my Hokas (I wear the Conquest but am eyeing the Clifton's) officially have my heart.
5) Nathan Quick Draw Plus Water Bottle: I've had a firm grip on a Nathen water bottle since my very first whiny mile down the street. While Matt tried the water bottle belt once (total disaster) and gets hreat use out of his water backpack, I will always be a single hand water bottle gal. I love how I can fit my phone and keys in the side pocket (granted, my poor zipper wasn't ready for my iPhone 6) and the fact that it has to be re-filled along the way – meaning, much to Matt's annoyance, more rest stops for me!
6) Lululemon Speed Short: With a nice wide and comfortable waist band, front pockets and a back zip, these shorts keep my keys and mah' Burts Bees perfectly in place. The length is also perfect – not so much of a booty short I see some very brave girls pulling off on the trail, but also not the poofy ("diaper butt" as Matt calls it) skinny elastic waistband-type short that I sported throughout high school and college. Plus, while these shorts seem to be a mainstay in the Lululemon house, the colors and designs are always changing. Now if only the price tag would do the same…
7) Nike Plus SportWatch GPS: While Matt has tried to get me to switch my running watch to one that is a bit more current – apparently Nike has stopped making updates on this watch, reportedly because they are in cohoots with Apple and the Apple Watch – I love this dang thing. Yes, sometimes the GPS has a hard time connecting if you don't upload your last run in your computer first, and yes it can be a bit bulky on my bones wrists. But it is simple. And since I tend to complicate every other area of my life, running needs to remain simple. Plus, whenever my watch is being wonky, I just use the Nike Plus app on my phone, which uploads your run automatically to the Nike Plus website. If you are looking for a newer watch, this is a great option.
8) Lululemon Fringe Fighter Headband: Attention girls with bangs, side bangs or patches of annoying hair that revolts against ponytails: meet your new favorite piece of stretchy fabric. I tried many-a headbands before stumbling upon this type during my first visit to Lululemon…and realizing that it was the pretty much the only thing in the store I could buy without wincing when I opened my wallet. But since I loved that damn headband and hated digging through my damn laundry basket for it constantly, the wallet wincing soon started. But the $18 is worth it – these babies stay on your head and keep every flyaway away at ease. And just like their speed shorts, Lululemon's headbands are constantly changing colors and designs…which forces me to now walk on the other side of the mall to avoid any unplanned damage.
Whew! Who knew you could need so much stuff besides your own two feet to run? Now I need to hear about your running or workout essentials. Tell me tell me tell me!