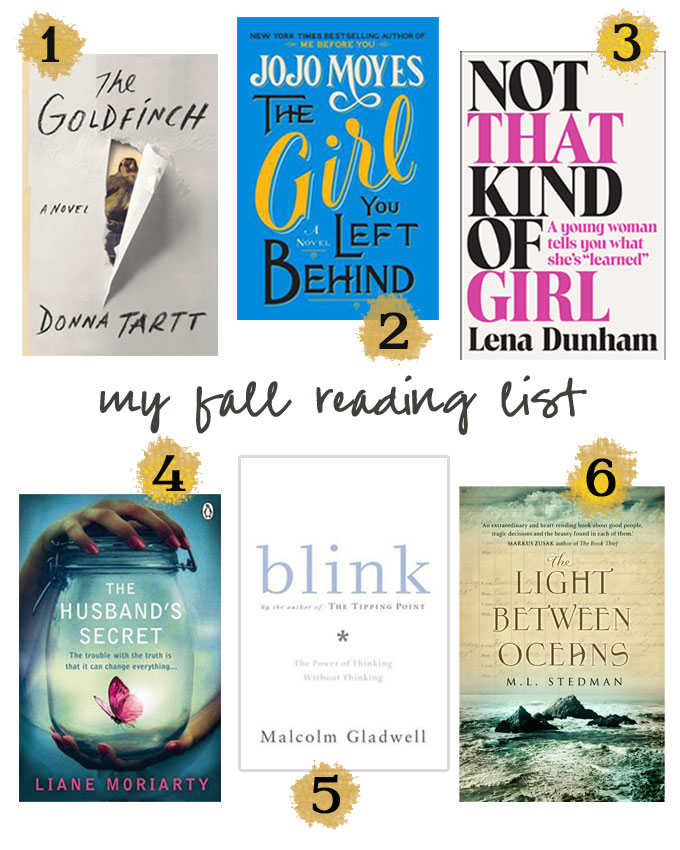 Like the majority of people on my Facebook newsfeed, fall is my very very very very favorite season. The crisp in the air, the colors in the trees, the 150 plus pumpkin products at Trader Joe's… I want to live in a world where fall is the only season.
That said, I do have a beef (soy beef?) with this time of year: IT IS PITCH DARK AT 6 P.M. Meaning my normal high-strung energy level (let's go for a walk! let's run errands! let's do anything but sit inside this freaking apartment because all sorts of non-boring activities are a-waitin!") is forced to a slow halt. Instead of galivanting around town, we've found ourselves mentally ready for bed by 8 p.m. It's really sad.
However, this lull in the earth's rotation is good for one thing: tackling my forever-long reading list. And after I pay back my $10 library fine, here are the books I'm curling up with:
1) The Goldfinch by Donna Tartt: Okay, so I just finished this book the other night but it was so good that I couldn't bear to take it off this list. Even though I had to borrow it from the library on three separate occasions because it is 784 pages long and weighs enough to kill someone if thrown…it was one of my very favorite reads as of late. The storyline is a whirlwind – making those 784 pages easy to turn – and the character development is phenomenal. I honestly miss spending my evenings with the book's characters since I've since returned it to the lib. And that is not just because I work from home and have minimal human interaction on a daily basis.
2) The Girl You Left Behind by Jojo Moyes: I read "Me Before You" earlier this year and like most, absolutely loved it. Hence why I immediately added every other Jojo Moyes book to my library hold list. I just cracked the beautiful cover open last night (seriously, I know you're not supposed to "judge a book by its cover" and all but…I am a sucker for pretty packaging) and can't wait until I dive back into it tonight. Plus, I have a feeling all of her books will become movies someday and I really like imagining who would play the leading roles. (Me Before You? Jennifer Lawrence and Christian Bale. BOOM.)
3) Not That Kind of Girl by Lena Dunham: C'mon girls…do I even need to explain this pick? As Lena puts it: "No, I am not a sexpert, a psychologist or a registered dietician. I am not a married mother of three or the owner of a successful hosiery franchise. But I am a girl with a keen interest in self-actualization, sending hopeful dispatches from the frontlines of that struggle."
4) The Husband's Secret by Liane Moriarty: In all of my "what books have you read lately" discussions with friends and family, this one always comes up, and with rave reviews. Part mystery, part romance, part "what the heck is the secret!?" (Is it that he loves running more than he loves going to pumpkin patches with her? Because guuuuuuurl, I can relate.)
5) Blink by Malcolm Gladwell: I have been a huge fan of Gladwell's New Yorker column and TED talks, but somehow I never got my paws on any of his books. No idea why. So, I'm making it one of my last missions of 2014 to read them all – so far, I've crossed Outliers (so good!) off the list, and Blink, about the power of snap decisions, is on tap. I hope it covers topics such as buyer's remorse and wearing canvas flats outside immediately after a thunderstorm.
6) The Light Between Oceans by M.L. Stedman: My mom first recommended this book to me, although she called it "The Lake Between Oceans." I searched for it on library bookshelves and Barnes and Nobles tables for months. Until one day, I decided to trust a source with a little bit higher of a resource reputation than my mother, called Google, and discovered it was The LIGHT Between Oceans. This better be good, Ro.
What is on your reading list this season? My library hold list is getting short, so I'd love to hear your recommendations!