Y'ALL. I am so late with this update. I mean….Leo will be eight months old in just a couple of weeks! Remind me again why I thought I'd have time to write these updates, take pictures, edit and upload everything every month? I mean, my future self thanks me for recording all of these tiny and big moments in the longest iPhone note ever, using all of my memory cards to capture these photographs and all my energy to slowly craft these posts own the hours in between Leo's bedtime and mine. But my current self is kinda tired. :)
But, alas, I am the best kind of tired. Because really…LOOK AT THIS KID. I get to hang out with this chubby, happy, drooly, wiggly and explorative little guy every moment of every day. And for that, I am eternally grateful. Showers and warm meals are overrated, anyways.
With our further ado because seriously, I need to go to bed…five and six month updates!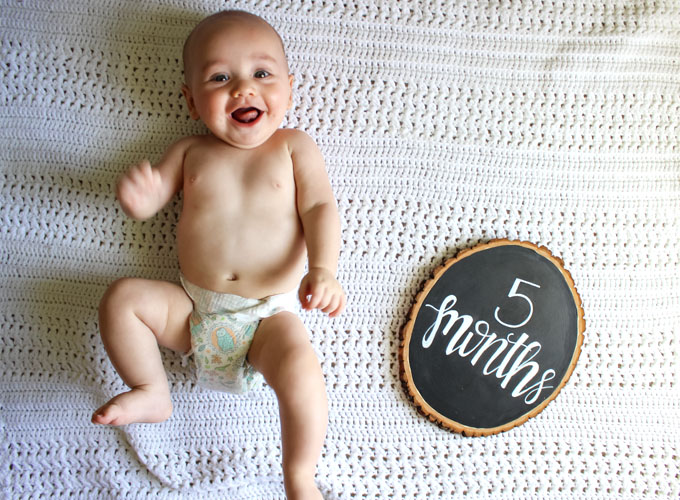 FIVE MONTHS!
Highlights:
Leo's fifth month started out with a lot of hugs and kisses, as two great loves of his life, his aunt Kirsten and his aunt Sam, visit the first weekend. He even got his first lipstick stained cheek from his aunt Sam. :) He also attended his very first birthday party, which happened to be his friend/spirit animal/future wifey's FIRST birthday! He had so much fun partying with Emily and even got to pet a guinea pig. Leonardo also discovered his big feet big time, kept us on our toes (quite literally) with the remnants of the four-month sleep regression and pooped right in Matt's face while he was kissing his belly.
Growth Chart: 
Leo weighed 15 lbs, 15 ounces at his four-month checkup (which I didn't actually schedule until mid-month) and stretched to 26 1/2 inches long. This appointment also was accompanied with shots (shots shots shots) which he handled like a CHAMP this time. I probably cried more than him.
Eat/Sleep/Pray that he stays asleep:
Leo has become such a distracted eater that I can really only get him to chow down right before naps (sleep associations be damned), when he is super tired and nothing in the room but my boobs interest him. Otherwise, he is all "oh! look at the window! Ah, my books! Yay, the blanket on the back of the chair!" I have considered feeding him in the closet. And also dropkicking Matt when he walks into the room while I'm finally feeding Leo and starts talking. Leo then immediately pops off, cranes his head back to look at Matt like, "what did you just say?" It is really funny, but sometimes it isn't.
On the sleep front, this month has been a rollercoaster! I think we are still reeling from the four-month sleep regression, which nearly killed me. Naps run anywhere from 10 minutes to two hours, and nighttime sleep is anywhere from great to HOW IS HE UP AGAIN?! At nighttime, Leo keeps tricking me by only waking up once or twice some nights, then wakes up 3-4 times the next night to remind me that sleep is something I should have enjoyed more of in my twenties. He has also had some fussy bedtime nights, where he just couldn't seem to calm down. I normally feed him to sleep but there were a few nights I had to lay him down while he was wide aware and have him shake, shake, shake his sillies out (Raffi, anyone?).
Leo is also trying reeeeeally hard to be a belly sleeper. He keeps rolling in his sleep, only to wake himself up in the process. While we stuff him into his Magic Merlin suit for naps, we have stopped putting him in it at night due to his rolling ways. Not that I don't wake up 382 times to check on him anyways.
Special visitors/trips:
Towards the end of the month, we headed to Buffalo for Leo's FIRST trip to his mama's hometown! And while it was his first trip to Buffalo, it was this kid's eighth time on an airplane! Unlike his previous flights, Leo was not a tad bit sleepy and wanted to play, jump around and eat nonstop. Which would normally be fine – except on the second leg of our flight, I was seated in the middle seat between two large men. Did I mention Leo also hates nursing under a cover? We managed to make it through with only a few NSFW moments, but I looked like I ran a marathon walking off that flight.
Which was even funnier as we rounded the corner to see my mom, who treated his homecoming at the airport like one of those videos you see of soldiers coming back from overseas. "THIS IS MY GRANDSON! I HAVEN'T SEEN HIM IN FIVE WEEKS!"
My brother Dave and his beautiful bride Hilary, who got married in Seattle last month,  threw an incredible Buffalo wedding reception/celebration during our visit for all of our family and friends who coudn't make it to Seattle. And Leo was surely the guest of honor. When my friend Lindsay came to pick him up around 8, my mom asked me if we should make an announcement that Leo was leaving. She was so serious.
We were there a week before the wedding celebration and stayed a full week afterwards. Every day of our trip was so wonderful, and Leo got to meet SO MANY PEOPLE.  Like, hard the population of the city. And when all of Buffalo wasn't at our house, we were out showing Leo all of Buffalo. We even took a ride out to Rochester so Leo could hang out with his cousin Thomas, meet a bunch of his Saratoga aunts and see Grandma Kathy, who was visiting all of them!
Leo's Favorite Things:
Grabbing his toes and trying to stuff them in his mouth – which, due to his hard work and persistence, he was successful at by the end of the monthHands swinging in the air while he is eating.
Saying mmmmm mmmmm mmmmm! Sooo close to MA-MA.
Grabbing the books we read together, or trying to turn the pages back and forth (or throw the books away from me, I never can tell)
Pat-a-cake…and the hilarious versions/steps Matt makes up (including turning the oven on, putting the cake in said oven, grabbing a plate, silverware and napkin)
Looking at himself in the mirror and stomping his little chubby legs. "Nakey dance in front of the mirror" is now part of Leo's bedtime routine!
Being distracted by everything and anything that is going on in the room while he is nursing.
HIS ACTIVITY CENTER! I swear he might love that thing more than he loves me.
Squealing and yelling -he is totally finding his voice and what he can do with it,
Surprising attacking tummy time – when I turn my head for one second – he rolls over!
Belly laughs at Daddy when Matt tickles him or kisses his belly/neck. No one can make him laugh as hard as his pops!
Giving his mommy kisses (okay, iI know he really doesn't know how to give me kisses, but he does open his mouth and try and eat my cheek when I press it against his mouth. So I'M COUNTING IT.
Wiggling around so much at night that he does full 360 turns in his pack and play.
Waking up from naps, even if they are only 20 minutes long, with a big ol' smile on his face. Even though these short naps are slowly killing me, there is nothing better than going to get him and seeing him beaming up at you. Who needs time to eat/shower/pee? I can do that in 20 years when he is at Bonaventure.
Playing peek-a-boo and "where's Leo?" thousands of times a day.
His trademarked Peter Pan move, where he starts to roll to his tummy but then stops mid-way on his side, arches his back and cranes his neck up to look at something, usually a ceiling fan.
Pooping in Matt's face when Matt was blowing raspberries on Leo's belly. Check this video out!
Discoveries/Milestones:
His feet and how badly he needs to eat them.
Attempting to be a belly sleeper.
Lip smacking (is that considered a discovery or milestone?).
Laughing in anticipation at peek-a-boo games or the ol' "I'm gonna get youuuuu" tickle game.
How exciting airplanes are, and how sleep is the last thing to do on them!
Parenting Lessons Learned:
Bring more toys/distractions on future flights.
Bring extra outfits/poop backups on future flights.
When your baby wakes up at 6 a.m., you go out to get pancakes.
Blowing raspberries on baby's belly may trigger a poop explosion.
You can blame everything on teething, even though it is a TOTAL ILLUSION.
SIX MONTHS!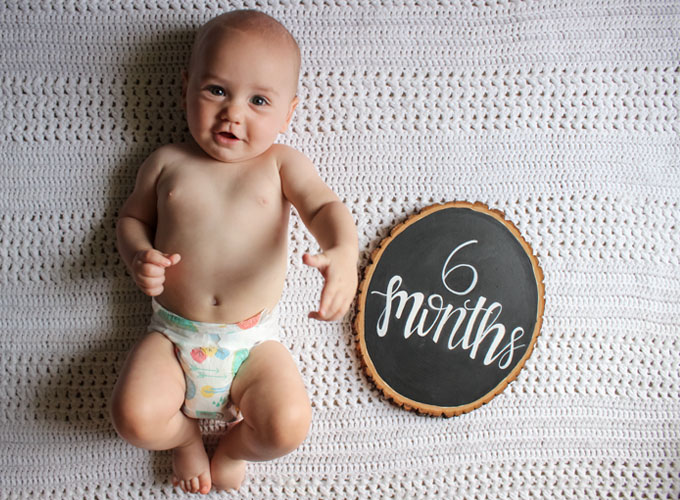 Highlights: 
During this month, our happy, curious and always energetic Leo spent more time in Buffalo with his family and friends, officially became a belly sleeper and said goodbye to the Magic Merlin suit for good. He also flew to the West coast, visited his first national park, went for tons of hikes in the Ergo (facing out!), took his first of many bounces in the Jolly Jumper AND ate real food for the first time. This was a really big month!!
Growth Chart:
At his six-month appointment, Leo weighed in at 15 pounds, nine ounces. He has officially doubled his birth weight! And while that only puts him in the 50th percentile for weight, he is still in the 95th percentile for height at 28 inches, and head circumference (17 and a quarter). :) His appointment was accompanied by six-month vaccinations and the flu shot, which sucked, but he was such a champ and only cried hard for about ten seconds before he was back to smiling again. And in bigger news…I actually didn't cry this time! I KNOW I'm growing up!
Leo proceeded to stay awake for an hour after his appointment (he usually crashes in the carseat on the way home) and then finally crashed for an unprecedented two and a half hour nap. I did SO MANY THINGS.
Leo's FIRST NATIONAL PARK TRIP (outside of the womb): 
We took Leo on a big West Coast trip this month, kicking things off in Salt Lake City for a marathon Matt ran. His brother Paul and sister-in-law Kyra also ran it, so it was so fun to spend the weekend with them in Salt Lake and Park City. From there, we flew to San Francisco, stayed there for one night/morning and then trekked to Yosemite.
Matt and I discovered our love for National Parks a couple years ago, and visited Yellowstone, Grand Teton and Zion when I was pregnant with Leo. So not only did his nursery became a National Park/adventure shrine, but Leo's future vacations are now pretty much set in stone. Who needs Disney when there are 58 national parks to explore in the US alone?! To get ahead of this plan, we started Leo off with a visit to the big kahuna of national parks: Yosemite. 
It was a bit of a further drive than we originally anticipated from San Fran to our hotel in Mammoth Lakes (east of Yosemite), and our poor little wiggly boy quickly developed much distain for his car seat. I sat in the back with him while Matt steered our ship/rental car, and with hours to go and not many rest areas available as we got closer to Yosemite, I pulled out every trick, toy and weird dance in the book. I discovered that Leo really finds the words "Baaaa-ZINGA" and "SHAZAM" hilarious, and really likes it when I cover portions of my face with a blanket. When I'd exhausted all options, I turned my phone on selfie mode and let him look at himself for a good 35 minutes. Which was really hilarious when I discovered the multiple selfies he actually took of himself during this time.
To take some time off from the car, we explored the area we were staying in, Mammoth Lakes, for the first day of our adventure before heading to Yosemite the next day. Leo went on his first of many hikes facing out in the Ergo, and LOVED IT. His little legs kicked while he looked up, down and all around at the trees, water, rocks, birds and shadows. Then, when he got tired, we put him facing in and he snoozed while we explored. The scenery out there is somewhat unbelievable – I just kept thinking, while all of us get caught up in our day-to-day stresses and busy city life…Yosemite is here. The rivers are flowing over rocky terrain, the trees swaying high on top of graphite mountains, the yellow fields basking in the sun. So serene, peaceful and completely mind-boggling at the same time.
We fell hard again for our country and our NPS, and were so grateful to explore such an incredible place with our little Leo. We can't wait to take him on our next national park adventure!
Leo's Sleep Chronicles, Volume 6:
While we were in Buffalo, Leo began rolling onto his belly during the night. He was always a side sleeper, so I knew that the full roll to his belly was just a matter of time. I also was greatly anticipating this change, it as many other moms had told me that once their baby started sleeping on his/her belly, they started actually sleeping!
In true Leo fashion…this was not the case. Not yet at least. He would be fine once he rolled on his belly, but then throughout the night he would wake up in a "I'm stuck!" sort of panic. So I'd pick him up, feed him, put him back down on his back…then he would immediately roll over and I would just wait for the next cycle to occur a couple hours later. Mind you, I didn't really sleep much anyways those first few nights of his belly-sleeping ways, as I was constantly checking to make sure he could breathe! As the month went on, he became more and more comfortable (quite literally) with sleeping on his tummy.
Oh! Which reminds me – Leo's rolling ways also started happening during naps, which meant the Magic Merlin marshmallow suit had to go! We had been using it only for naps, in hopes that it would make Leo's micro-naps of 30-45 minutes last longer (some days it worked, others it totally, epically did not) but knew that its days were numbered as it it totally not safe once baby can roll. In trying to put himself to sleep (which he COULD do magically in the Merlin suit) Leo would attempt rolling, but never was able to overpower the fluffiness of the Merlin suit. However, I started noticing more and more that Leo would try to roll in it WHILE he was asleep, which broke my heart because it was clear that he just wanted to sleep on his damn belly. And then, a few days after we came back from Buffalo, I was folding laundry and watching Leo on the monitor when BAM – he did it. He kicked his legs high and hard enough around to fully overpower the suit and roll completely on his belly. If he didn't wake himself up enough in the process, my high-speed, panicked nursery fly-in surely did. While I was hoping we would have a longer, methodical transition from the Merlin suit, I vowed then and there that it would be the last time he would wear it.
He transitioned out of it quite, well, magically – he took great naps the rest of the week, all on his belly – but his ability to put himself to sleep in his crib alone disappeared with the suit. We are still working on it, but for now he is back to being nursed/rocked to sleep. The Merlin suit helped to calm him down enough to sleep, but without it Leo is one rolling, wiggling, fidgety and "is it still playtime?!" little babe. So, I figure we will work on one sleep crutch at a time. :)
Special visitors:
After our Yosemite trip, our good friends Brett and Corri came to visit from DC! It was their first time meeting Leo, and we had an awesome time hanging out at home and around town. We also went to the Zac Brown concert on Sunday night, thanks to my great friend/neighbor/fellow baby mama Amanda coming over and watching Leo while he was asleep. Because he obviously could smell that I left to go have fun, Leo woke up twice while we were out. Because Amanda is pure magic, she was able to get him back to sleep with ease. I had three beers, wore my cowboy boots and almost got in tiff with a crazy lady who sat in front of us who didn't appreciate when we cheers really hard and drops of my beer fell on her shoulder. It was glorious.
Grandma Kathy also visited at the tail end of the month and extended into Leo's seventh month. We had so much fun exploring Austin, going for walks and – to segway into the next section… feeding Leo avocado!
LEO EATS REAL FOOD:
While we toyed with the idea of giving Leo real food at four months, I decided to wait to the six-month mark. Partly because I was fine with exclusively breastfeeding, partly because I wasn't ready for him to grow up and partly because I couldn't decide what food he should eat first! (You know I'm bad with decisions.) But the poor boy was showing signs of being more than ready for real food, especially his looks of longing when we would eat in front of him. I hd been tempted on multiple occasions to give him a little bit of what I was eating, but I knew that he probably couldn't stomach Frosted Mini Wheats just yet.
After talking to a lot of other moms, I decided to skip the traditional rice cereal and start Leo off with one of our favorite, easy-to-eat and incredibly nutritious foods: avocado! Our lovely friends Tanya and Scott also gave him an adorable avocado bib a few months ago that was just WAITING for this occasion. So, duh.
Grandma Kathy did the honors of giving him his first few bites while Mama Ro watched on FaceTime. While Leo willingly opened his mouth for the first spoonful, he was bit skeptical at first. The faces he made (and still makes when he tries new food) killed me. Once he got a few bites down, he gladly accepted more before his attention diverted to grabbing the spoon and shoving it in his mouth himself. Choking hazards aside, his first feast was very successful!
LEO SAYS MAMA: Okay, so I knowwww this was just baby babbling and it can't count as his first word. But I AM COUNTING IT.
Leo's Favorite Things:
The Jolly Jumper! Our friends Kristin and Matt let us borrow theirs, and putting Leo in it must have been the equivalent of when you take your little kid to Disney for the first time. HE WAS SO HAPPY. And bewildered. And here I thought putting him in his activity center for the first time was awesome. No, no, THIS was awesome.
Forward-facing in the Ergo. We started wearing him this way during our Yosemite trip, and now
Being upgraded to first class (well, taking Matt's first class seat). And of course, while they may not have been sold at first, Leo became a reluctant favorite of everyone else sitting in first class. Probably because he either was so quiet they didn't hear him OR he stared them down until they looked and smiled back at him.
Sleeping on his belly, now that he finally is okay with it.
Hands! His hands, your hands, everyone's hands. When we fly, I can fill up 10-15 minutes increments of entertainment by sitting him in my lap and let him examine/try to eat my fingers and wedding rings. He also reaches back to grab my hands/fingers with his back hand when he is eating, even in the middle of the night.
Feet! Mainly his feet. But he probably would be interested in yours, too.
Water bottles! This discovery may have come out of desperation on our long car ride from Yosemite to San Fran. Bonus points if there is water left in the water bottle to swoosh around.
His car seat! NOT. I swear he now has car seat PTSD from our Yosemite road trip.
Mumbling ma-ma-ma-ma-ma, which melts my heart even at 4 in the morning.
Speaking of melting my heart – while he is an established distracted eater, this month he has stopped eating just to look at me, smile and babble. Which, of course, makes me cry. (Those pregnancy hormones never quite went away.)
His activity center. No surprise there, but after being away from it for pretty much three weeks while we traveled it was like love at first sight, all over again. He especially lovesssss the little frog teether that is a part it. He eats that thing nonstop, which reminds me that I probably should clean it at some point…
Up down up down – he has been practicing flailing both his arms and his toys up and down and up and down
Pooping/peeing through his diaper every night.  The kicker is, he doesn't poop until like 6 a.m. (I know from trial and error/changing him/waking him up at 2 a.m. only to discover NO POOP.)  I'm now on my third brand of overnight diapers, as we've tried Honest, Huggies and now Up&Up. Any suggestions here would be much appreciated, from both me and our washing machine.
Trying to roll belly to back in an unconventional way. He keeps putting his arm by his side and then trying to roll over it, which isn't working out for him too well. I keep trying to put both arms in front of him and showing him how to roll that way, but…he's not comprehending this logic yet.
Milestones/Discoveries:
First National Park trip outside the womb!
Finally got his feet to his mouth. Still hasn't discovered/remembered that they do not taste very good.
No More Merlin Suit!
Officially became a belly sleeper.
Sooo close to rolling from belly to back, though still can't quiteeee figure it out.
SAID HIS FIRST WORD, "MAMA" (Video above. See, I am totally not counting it.)
Parenting Lessons Learned, Travel Edition:
Your baby will always take a long nap when you actually have to go/be somewhere. Like the airport.
 Always check your seat assignment before traveling with a baby, especially one that doesn't want to nurse under a cover. The window seat will do wonders for when you need to turn your whole body so no one sees your boob.
Buy a washable pad for your car seat, especially on long road trips. Sorry, rental car.
When your baby despises the hotel crib and was up 392 times the first night you're away, you immediately get up, get coffee and drive to the nearest Wal Mart to happily drop $50 on a pack and play.
Phones on selfie mode will easily buy you 20 minutes of baby awe/distraction on road trips. And if you're lucky, a ton of hilarious accidental baby selfies.
Traveling with a baby is not always easy, but it is always worth it. Least that is our story so far. :)