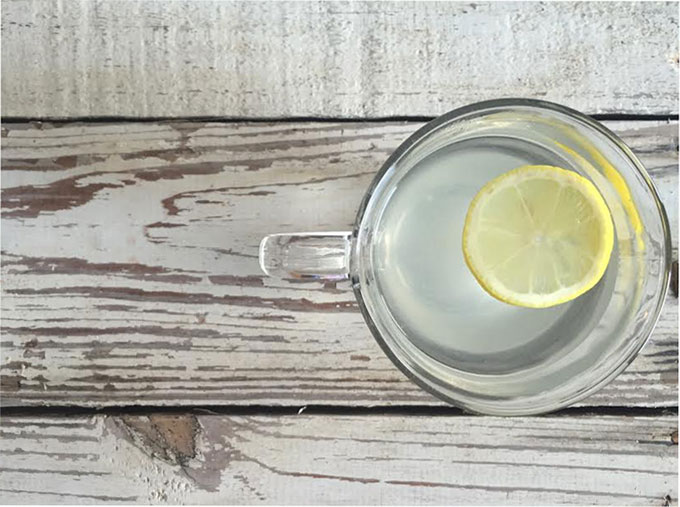 I first read about the benefits of a morning cuppa lemon water from the brilliant and always-glowing Sarah Britton.  I was feeling sluggish and on the hunt for a simple way to detox my system without having to starve myself/drink nothing but cayenne pepper juice for two weeks. Since I always turn to her site for holistic and delicious ways to fuel my body and mind, her "simple detox" highlighting a warm cup of lemon water first thing in the morning immediately grabbed my attention.
Upon further investigation, lemon water seemed to be a miracle in a mug, and one that health magazines, bloggers and celebs alike were gushing about. Among many other benefits, it helps to balance your pH levels, flush toxins, boost energy, clear skin…yada yada yada. It seemed like an easy enough change to my morning routine, and all those benefits attached? Squeeze me in, please.
For the first few weeks, I was committed to this lemon water thing. Since I read somewhere during my serious "lemon water benefits" web surf that you should boil the water first and drink it warm for the highest impact, every morning for the following two weeks went something like this: Wake up, clumsily throw a pot of water on the stove to warm up while I showered, totally forget about it until the water was nearly evaporated, pour whatever was left into my mug, and squeeze a giant lemon wedge over it, inducing a burst of tangy freshness into the air and all over my hands and work clothes.
Then, I would wait. Unlike a fresh cup of coffee that you can sip pleasantly even though an accidental mouthful would burn your tongue off, lemon water – in my case at least – wasn't something to be savored. I needed it to cool down so I could chug it and eat my damn breakfast because I was starving and late and rushing for the Metro and did I mention I was starving? I tried desperately to speed up the cooling process, even balancing my mug on the frozen heaps that was our freezer, but it proved unhelpful as I would just end up totally forgetting about it. But other days – man, you had never seen someone down hot citrus water so fast in order to stick her hand in a box of Cheerios. The struggle was real on the colonial streets of Alexandria, Virginia, folks.
After chatting about my lemon water mission with my good friend and cube-mate, Torri, she decided to try it too. We were BOTH going to do this lemon water thing if it killed us and/or made us have to leave long meetings interchangeably to pee every 20 minutes (the "flushing out" part is no joke). While we both felt a bit inconvenienced by lemon water's new chokehold on our morning routines, we couldn't argue that we both were beginning to feel its magic powers. Personally, I felt more awake, more refreshed, more vibrant and even a bit more lean, mainly due to the whole I-have-to-pee-constantly thing. Above all, lemon water had helped me inch one baby step closer to being a holistic goddess like Sarah Britton, and if it meant that I was now a slave to it, so be it.
But then a month passed and there came a morning I didn't remember to boil the damn water. Then I forgot to buy lemons. Then I went home for a long weekend and was forced-fed pancakes by my mother who thinks my healthy eating habits are really weird and unnecessary and why don't I just have some french toast, too? Somewhere along the way, my lemon water phase phased itself out. While I've thought about it longingly as I pass lemons at the grocery store, I haven't been totally ready to, well, "squeeze" it back into my life.
Until last week. While chatting with one of the guys at Buzzmill about my sudden head cold (who gets a cold in 102 degree heat?) he handed me a gorgeous mug of chai tea and told me "you should start drinking lemon water." I smiled and dutifully agreed, then cursed it under my breath as I dipped my nose into my perfectly warm, deliciously frothy, cinnamon-laced mug.
Afterwards, I went directly to the store and bought a box of tissues and a bag of lemons. I was stuffy, I was sneezy and dammit, who couldn't use a second chance? I'm now on my fifth day back into the lemon water grind, this time just focusing on "warm water" and not boiling (read: microwave on high for 30 seconds) and I'm feeling, mentally and physically, pretty darn good about it. Time will tell if the habit will stick this time, but for now, I'm feeling like another Lemon:
What about y'all? Have you tried this lemon water thing? Give me the juicy details. (If nothing else, it is definitelyyyy making me punnier.)