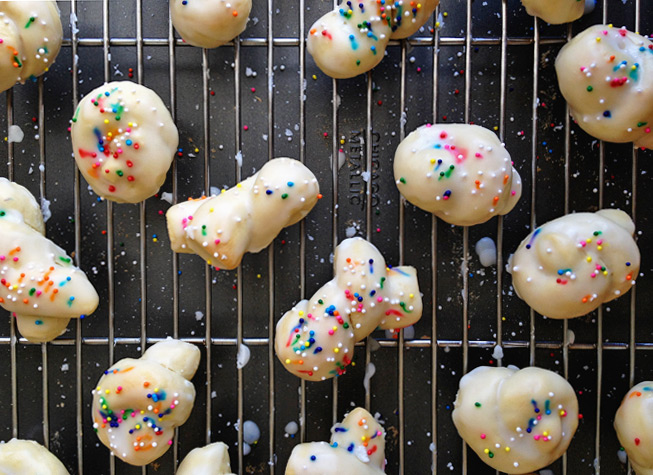 I swear I have written this post before. Like, had to check all published and draft posts because I was convinced I already wrote it. But nope, nada word written or photo edited. What the heck – this recipe is Minnuto family gold!
So much so that it really only comes out twice a year, which is kinda nuts in my book. But considering how many batches my mom makes at Christmas and Easter – there is really no need to make them before or after each holiday. I've seen her pull out a plate of them from the freezer in the middle of July.
That said, I could eat these cookies every day of my life. Although I am usually a chocolate-on-top-of-chocolate type of cookie person, something about these plain, thinly frosted twists of dough that I can never get enough of. Especially when accompanied by a large mug of coffee. And my mother and grandmother, replacing every eaten cookie on my plate with another.
This dough is also the "mother dough" for two other Italian cookies that I've never been so fond of: Cucidati's, more commonly referred to by non-Italians as the "fig cookies" and Giuggiulena's, more commonly referred to by me as the "ones rolled in sesame seeds that should be considered breadsticks and not cookies." Seriously…they are breadsticks and only people over the age of 65 like them. Trust me – I have a very observant eye on all cookie platters during holiday parties.
Because it is the mother dough for these three famous Italian cookies, it was the first dough that I ever mixed, rolled and watched puff up through the oven door. Baking Italian cookies in my house has always been more loud assembly line than leisurely quiet baking, and I loved every second growing up. I was the youngest of the Italian mamas, with my mom, my grandma and my great aunt holding reign above me. I watched in awe as my Aunt Libby mixed pounds of flour and eggs with her hands, knowing exactly when it was the right consistency, and then handing to my mother who would roll it out and give to my grandma who would cut and twist each piece and throw them on industrial sized baking sheets. (And I actually mean throw – "delicate" is one word that certainly doesn't apply to her cooking or cleaning demeanor.) While they were baking, I would proudly whip up the frosting – just confectionary sugar and milk, maybe a splash of orange juice – making sure it was "just right." And when it came time to frost, I would slather my tray while my grandma would thinly cover hers and shout "not too much, no one likes them that sweet!" across the table. I actually remember putting another coat of frosting on hers when she wasn't looking. If no one liked them that sweet, it would simply mean more for me. I also had a very heavy sprinkle hand.
While my Aunt Libby is no longer with us and my grandma is now 95 and can no longer stand for too long or reach the top of the stove (kidding, but seriously) making these cookies in my mom's kitchen still brings me back to a place of total love and content. I don't know if its the practice of making a recipe passed down through generations or how lucky I was (and still am) to be able to make them alongside multiple generations, but nothing makes me feel more like home quite like these sprinkled white cookies do.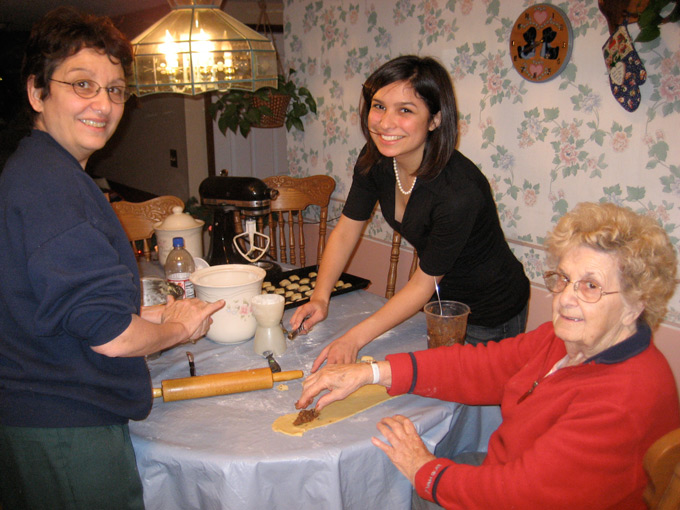 And now that I'm a hungry, sappy mess – Ma, will you please send me a few batches from the freezer?
Italian White Cookies – the Mother dough
This dough can be used to make three types of Sicilian cookies: the basic white cookie, Cucidati's (fig cookie) and Giuggiulena's (sesame seed cookie/breadstick, according to me). This recipe has been passed down so many times through various mothers and sisters and aunts that there is always debate on ingredient tweaks (for instance, my aunt puts a little orange juice in her dough). But this, according to my Ma, is the recipe she follows. I apologize I don't have step-by-step photo instructions, but do you really think my grandma would allow time for food photography?
Ingredients:
Dough:
8 eggs

1 cup sugar

2 cups melted Crisco, cooled,

half teaspoon salt

1 cup milk

two tbs vanilla

ten cups flour, sifted

ten teaspoons baking powder
Frosting:
1 cup confectioner's sugar

1 tsp. vanilla

1-2 tsp. milk
Directions:
1) Melt Crisco in a saucepan on the stove or in a microwave-safe bowl. Set aside to cool.
2) Using a standing mixer or handheld, mix sugar and Crisco until combined. (Or, go the old Italian way and mix with your hand! No better way to get a feel for the dough.)
3) Add eggs, one at a time, mixing until combined. Then mix in milk and vanilla.
4) Okay, now the tricky part: Add one cup of flour and one tsp baking powder at once. Mix, then add another cup of flour with another tsp. baking powder. Mix again, then add another cup of flour and another tsp. baking powder…
5) Keep adding one cup and one tsp at a time until the dough reaches desired consistency. You may not need all ten cups! When dough is no longer sticky – perfect to roll with your hands – you are done. Do not add any more flour or else it will become too dry!
6) Take piece of dough and rub between your hands back and forth so that you create a long string of dough, about 8 inches long and an inch wide.
7) Place rolled dough on table and cut into two or three–inch pieces. Take each piece and twist however you'd like! I'm a big fan of the fold and twist, but my grandma always ties them in a knot.
8) Bake 350 about 10 minutes, or until the top starts to turn golden. (Note that my mom and grandma could not give me an actual time frame…typical Italian cooks. "Just bake them till they are done.")
9) Transfer to wire tray to cool.
11) Once cooled, either dip top of cookie in frosting, or use a spoon to slather it on… or do it the old Italian lady way and frost them with your finger. Add sprinkles while frosting is still wet.
12) Mangia!