(Before I document our home improvements, repairs and things that have re-drained our savings account, (our garbage disposal died this morning) I wanted to go back to the time when we thought that merely buying a house was stressful):
After seven years, six apartments and five cities later (did I do that math right?), Matt and I finally, FINALLY decided to settle down in just one place for a little while. And that one little place being a cute-little-brick-semi-fixer-upper in Austin, Texas.
Welcome to our home, y'all.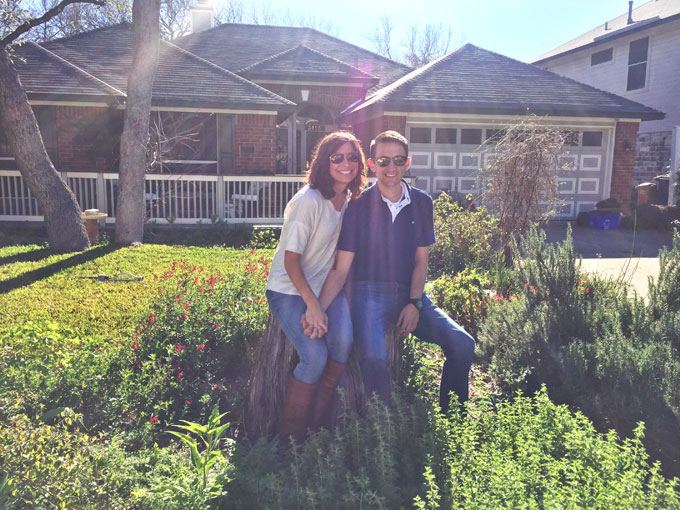 But first…let's back it up a bit.
Our house hunting journey began late last year, with us at first just dipping our toe in the crazy housing market here in Austin…and eventually getting swooped up into it. Our weekends became flooded with open houses, our computer filled with MLS listing tabs and our daily conversations stolen with house talk.
Years of apartment living, city hopping and excessive HGTV-watching caused our "ultimate wish list" to be a bit long and our expectations to be just a weeee bit high. Since we had never truly had a place of our own, the hunt alone was exhilarating – but the actual decision on what and where and when to buy was exhausting.
For the most part, Matt and I agreed on what we wanted. But after house after house after house after house, we started to become that couple you see on House Hunters – he wants a new, updated house in a developed community, she wants a charming old fixer in a cozy neighborhood. I could see his side and he could see mine, but somehow we found ourselves debating in the car over how much work needed to go into the second house we saw that day, or how the last neighborhood we drove through was way too "Pleasantville" for me. Mind you, we could also barely decide what to have for dinner that night, and here we were arguing like we had a down payment in the glove compartment.
As Matt would love to tell you, it was my dislike of major decisions and big commitments that caused a few additional bumps in the road. Sure, I liked looking at all these places and pretending I was Joanna Gaines ("I'd knock down this wall, put in new hardwood floors and update the lighting") but to actually move there, for a really long time? Eeeep!
Finally, after looking in North, South, East and West Austin, we narrowed it down to a neighborhood we both could agree on. I had visited a few friends' who lived in this area over the winter, and fell in love with just how neighbor-hoody it was. It reminded me a lot of where I grew up in, and so amongst the stress of house hunting, this little 'hood in Austin set heart and my mind at ease.
Only problem was –  this area seemed to have the same impact on other people's hearts, minds AND wallets – houses were flying off of the market within days of being listed.
Here is one example: One Saturday in January, we went to yet another Open House, this time in our ideal neighborhood. We hadn't even shut the front door behind us when the realtor for the property informed us that there were already three offers on the table, and therefore any others would need to be in by 3 p.m. that day.
Did I mention it just went on the market the day before? While I wasn't crazy about this house anyways, I immediately felt a mini panic attack coming on – what if I did like it? How would I ever make that quick of a decision on a house?! Don't you need to see it a few times, drive by it on weeknights, sit in the middle of the empty living room and picture your future there? Apparently, you are not afforded that luxury in the fastest growing city in the country. Hrmph.
As we walked out of that house feeling pretty defeated, I noticed "for sale" signs on the house two doors down as well as the one across the street. Both were more my style: brick, country-looking with big trees out front. But before I could even open my mouth, our realtor told us that both had gone on the market the week before and both were already snatched off it.
My mini panic attack became a full-grown beast. I also immediately developed a pet peeve development for people who did not remove the "for sale" signs off of their yards. Did these people have no heart? What kind of sick game is this?
The following weekend, I spent my Saturday morning totallyyy not getting ready for our usual long run and instead, partaking in my new favorite activity: cruising MLS listings. Since I was checking MLS so regularly at this point, any "new listings" icons became a contact high for me – I clicked each one diligently, picturing my future in each house's pop-up slideshow. "Nope, nope, definitely no…oh maybe! Wait…too expensive. Matt, you sure we can't drop one mil on a place? Look at this freaking kitchen!"
Then, I clicked on an icon and was hit with a familiar image. It was the house across the street from the last Open House we walked out of – the one our realtor said sold the very day it came on the market. Yet here it was, back at it again with the "for sale" listing. Was this another joke the housing gods were playing on me? Or was this really back on the market?! I quickly emailed our realtor to find out…and then finally put on my running shoes and obliged to Matt's request to get ready to run already.
When we got back from our run, I had a reply sitting in my inbox, confirming that yes – the house WAS back on the market. But if we wanted to see it, we needed to move fast. After all, it sold within a day last time…and although there weren't many pictures on MLS, I could tell the house already had the top things we wanted and most importantly, checked all three boxes in the location, location, location category.
Because of this magical twist of fate, Matt was convinced from the moment I told him it was back on the market that this house was "the one." I on the other hand…I like to play out big decisions for as longggg as possible and then just get really upset when the opportunity passes by and I don't have a decision to make any more. So although I was very excited to see the house, I was pretty nervous that I would be facing an actual contender.
As fate would have it, we walked in the front door to a brand new experience. Instead of that immediate "eh, no" feeling we had with all of the other houses we had seen so far, this was more of a "hmm… yes" reaction. While there were a few things that I wasn't crazy about, my Joanna Gaines impression actually held weight. We could move this wall, we could re-work this kitchen, we could install new light fixtures…this could in fact be our own little Fixer Upper. (Minus the Waco price tag.)
Just as we were getting comfortable in our dream world, there was a knock on the door. As we peered out the window, there were three – count 'em, THREE – other couples waiting outside to view the house. What the hell – you mean other people are MLS listing stalkers, too? This sight, combined with the fact that the house had sold within 24 hours a week prior, made my excitement morph into panic. That same fear I had the week prior, standing in the Open House across the street, had become a reality.
If we thought we wanted this house, we needed to think – and act – fast.
Luckily, the house stayed on the market long enough for us to see it again, a whole 24 hours later. This time, we blocked a longer appointment – meaning I could do 73 laps around the house, stand in the middle of every room and analyze the crap out of every detail out loud. Matt was still sold on the house – yes, it had everything on our list, yes it was in the neighborhood we wanted, yes it was at a price point where we could still renovate and make it ours…to him, it was a no-brainer. But I still couldn't settle easily – was it the absolute one!? (You should have seen me trying to decide on a wedding dress.)
We left the house knowing that we needed to put in an offer immediately if we wanted it, or stop thinking about it altogether. The ride back to our apartment had me sitting with clammy hands, eyes staring out of the window, tuning in and out to Matt's thinking-out-loud analysis of our decision. As much as I wanted to have a house, I loved our apartment. I loved living close to the city, I loved running on the trail every morning, I even loved taking the bus in and feeling like I was living out my teenage dreams of being a big girl in a big city. And of course, I loved the freedom that one-year leases gave my vagabond spirit. A house is a commitment. And I hate commitments.
It's true that I hadn't really committed to anything else in my life that held a long-term deal, besides marrying Matt. And even sometimes I question that. (Kidding! Except when he eats all the good cereal. And puts tupperware away.)
So we went home. We continued to talk about it. My brother came in town. We continued to talk about it with him. We grabbed beers. We talked briefly about something else. And then we talked about the house. Did we want it? Should we just put the offer in? Do you think other people have already put offers in? How much would we offer? How much can we put in for down payment?
Also, "do you really think our antique table will look okay in that kitchen?" (That was the type of question I threw into the mix, because I like taking really big conversations down to irrelevant points when I can't handle them anymore.)
Ultimately, we decided (I, nauseously) to put an offer in. Then, after alllll that talk and alllll those details….we waited.
For days.
And days.
Apparently, the woman we were buying the house from was not only out of town on business, but she also was very indecisive about who to sell to as the last people she sold it to dropped out after a few days. While I had no right to judge someone else's indecisiveness, by the end of the week both Matt and I were pretty frustrated. It's like you tip your whole world until it is teetering on its axel, and just as you are about to let it flip someone decided to put a big boulder underneath it and secure its unbalanced state for awhile.
To make our offer seem sweeter, I decided to write a personal letter to accompany it – yes, this is how real it got – that explained why we loved the house, why we were the right ones for it, why she should take accept our entire life savings as down payment, etc. (I have to admit…it was a pretty great letter. Sample line: "Looking around your house, I could picture little feet running from the bedrooms to the living room and back around to the kitchen, with plenty of areas to play, laugh and grow." BOOM. St. Bonaventure University, Jandoli School of Journalism, Class of 2008.)
Long story short (totally not true, because this has been a really long story so far), we got the house! Cue happy but actually really nervous, kinda dumbfounded dance in our apartment kitchen by myself. Our realtor called me at 10 p.m. on Thursday night to tell me the news, and I called Matt immediately after and did the whole serious "Well, she made a decision, and after looking at our offer…" stint before yelling way too loud into the speakerphone that weeeeee GOT THE HOUSE. Gah!!!!!!!!!!!!!
A turning point in the seller's decision?  MY FREAKING LETTER. Well, and because of the money. But according to our realtor, the other offer was actually higher…but after reading about our future children's feet pattering across these floors, she felt that we were the better couple to pass the 1995 single floor torch to. Holy crap…what had I done?
A few weeks, a few hundred emails and a few thousand documents scanned, signed and delivered (might have signed my first born away in the process, still not too sure)…we were official home owners.
And as Matt and I lugged moving boxes across Lowe's parking lot, there was an obvious deja vu of all the other moves we had made to get to this first really big move. I thought of the last time we moved, from Kentucky to Austin in the middle of an ice storm. Then the time before that when we moved from DC to Kentucky and I sobbed as I watched the Monument disappear from the skyline. And the time before that, when we moved from Old Town Alexandria to DC and we almost had our moving truck towed because it blocked a teeny one-way street (damn those little DC streets!). Before that, from the 4th floor of our apartment building to the 1st on a whim to save on rent and win Matt's war with the really slow elevator.
And then to the very first move, from my janky apartment in Olean and Matt's set up on his parent's couch to our first, brand new apartment together in Old Town. We didn't have any furniture or really any idea of what we were doing, but that first night we ordered pizza, set up our sleeping bags as a bed on the floor and drank champagne out of Solo cups. And we were so, so happy.
While I shoved the not-nearly-enough moving boxes into our trunk, I became just as giddy as I had been on that first night in our first apartment together six years ago. Because while a lot had changed since then, really, nothing had. We were still just two crazy kids, a bit older but albeit just as clueless (and now just as broke!), moving forward to a new and even more "grown up" adventure together.
To be filled with even more Champagne wishes and Pinterest dreams.  And barn doors. And shiplap. And hardwood floors. And pergolas. And front porch swings. And white kitchen cabinets. And subway tile…(is Matt shaking his head yet?) And butcher block islands. And reclaimed wood beams…