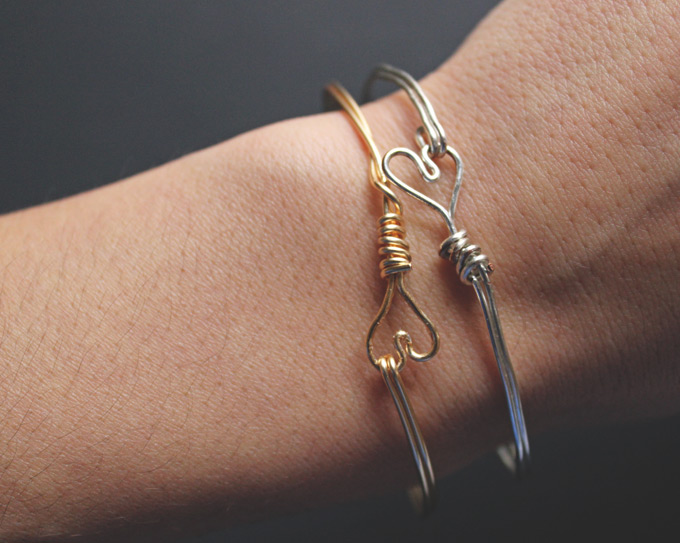 I had big plans to get crafty this Valentine's day, but then our world kinda turned upside down with the whole "oh let's move to Austin in two weeks" thing. We're actually headed there this weekend to find an apartment, and for any of you that know what apartment hunting with your significant other entails…let's just hope Matt and I are still looking for an apartment together come Saturday.
Anyways…I saw this tutorial for a heart-clasped wire bangle bracelet on Happy Hour Projects a while ago, and I immediately freaked out. Like stopped everything that I was doing (read: browsing craftgawker), grabbed my keys and bolted to the nearest craft store. I had never made any sort of jewelry or worked with wire shaping before, but the project looked relatively easy and basically…I just had to learn right that very second. I threw in packs of gold and silver wire in my cart along with two kinds of pliers and wire cutters. MAMA'S MAKING BRACELETS!
I came home, quickly spread out my materials and got to work. It took me a few tries (glad I bought extra wire) but eventually…eventually…I made a bracelet that somehow resembled a heart. Of course, in comparison to Adrianne's bracelet, it looked like a kindergartner's version of a heart, but nonetheless….a heart-clasped wire bangle bracelet.
These would be the perfect gifts for all of the female loves of your life (to all my lady loves…please act surprised when I give you one), or even just a little gift for yourself. Because I promise, after your first successful bracelet…you'll be pretty crazy in love with your crafty self. <3