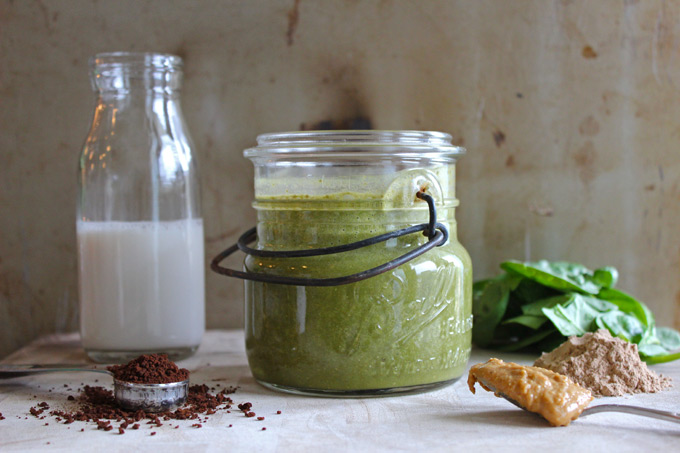 AKA your new reason to jump out of bed in the morning.
Because of all the decisions you have to make during those early hours – which snooze alarm is the one you actually have to get up to, what to wear that doesn't involve scavaging through your summer work dresses still stuffed in one of those air-vaccuumed bags under the bed, whether or not it's worth it to straighten your hair with the current hourly humidity levels – caffeine vs. health shouldn't be one of them.

Despite my best efforts, I will never have enough time to make a pot of coffee and a Vitamix of green shake and drink multiple mason jars of both down without leaving the house frazzled with mismatched shoes or the incredibly urgent need to pee. When I worked in DC, I tried bringing the shake to work, (which included walking a petrified mile to my office, worried that it was spilling all over the contents of my bag) but had to endure the constant "whoa that looks gross" comments from most people that passed by my cube. Then, I tried waiting to have coffee until I got to work, but then had to endure the constant "whoa you look gross" comments. (Okay, that actually never happened, my former coworkers were to lovely to ever say that, but you catch my gist, no?)

Anyways: THERE WAS NO SOLUTION. Well, until my smarty-pants, mix-masta-sista-in-law figured it allllll out.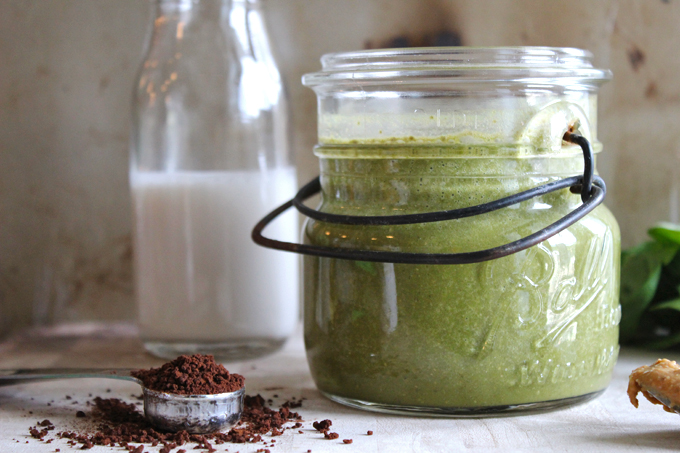 She put the coffee in the shake. With the spinach. And the protein. Then added peanut butter because when given the choice to add peanut butter, you add peanut butter. Splash of almond milk and a couple ice cubes tossed in for a cool down, mixed on high while you dance around the kitchen…One blend, one glass, one joyous, one minute chug. (Just try to put it down between sips. Not.doable.) One helluva healthy, happy, caffeinated lady.

Janice, I freaking love you.
Green Peanut Butter Mocha Protein Shake
The smoothie that makes every morning a freaking fantastic morning, courtesy of Janice Minnuto
Ingredients:
1 banana
1-2 cups spinach (if I'm feeling crazy, I do a mix of spinach and kale)
1 teaspoon instant coffee*
1-2 teaspoons peanut butter
1 rounded scoop of chocolate protein powder (we use this one and LOVE it!)
3-4 ice cubes*
1 cup almond milk
**Instead of using instant coffee, Janice freezes leftover coffee in an ice cube tray and throws in a few to replace the coffee and the ice cube aspect. I told you, she is a genius.
Directions:
Add all ingredients to your blender. (I add everything in order of the ingredients list, as Matt insists there is a science behind a good blend.) Mix on high until smooth and try not to dribble any on your work clothes while chugging. Not that that has ever happened to me before.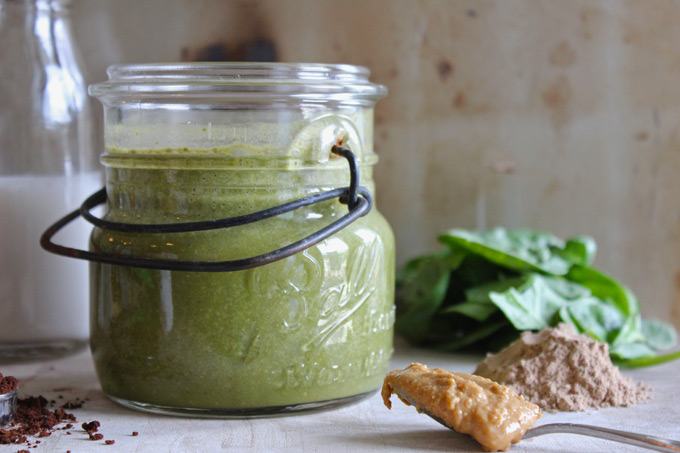 Now Janice, if you could just ahead and solve the rest of my first-world problems, I'd really appreciate it. Starting with those damn vacuum-sealed bags…