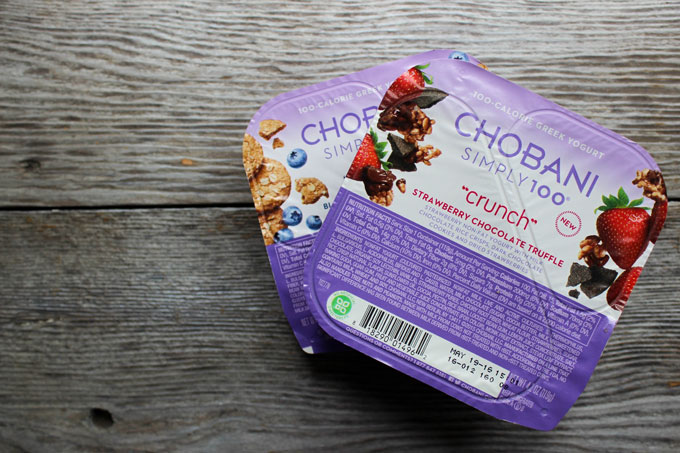 Y'all…has the time change messed anyone else up? I normally love daylight savings time for the extra hours of sunlight it tacks on to the end of the day, until I remember where that additional sunlight is being taken from: the mornings. Since I normally run before work, I usually am good about only hitting snooze once (okay, twice) before lugging my self out of bed and into my running sneakers. But the past few weeks? My snooze button has gotten more of a workout than my legs.
With the feeling of lost time, I have been trying to focus on all of the little things I can do throughout each day to burn extra calories without burning too much daylight. So when Chobani asked me to help celebrate the launch of its new Simply 100 Crunch line by sharing a few ways I "crunch the numbers," I did a little happy dance (30 calories, check!)
In addition to morning runs and evening yoga, I do my very best to stay active in between, which sometimes can be very hard with an office job, a to-do list a few miles long and not enough coffee – or hours – in the day. However, even just the teeny, tiny things you do can make a big difference to your health, inside and out.
Here are a few ways I try and move it move it every day:
Walk and Talks: I tend to have a lot of meetings fill up my calendar, so any chance I get to turn a meeting into a "walk and talk" around downtown Austin, I jump! Luckily I have great coworkers who are happy to oblige – and who can keep up with my semi-weird fast walker pace. 
Standing desks: Speaking of work, I am lucky enough to work in an office that offers adjustable standing desks! I hate what hunching over a computer does to my back and shoulder muscles, so being able to stand up tall and work really helps my alignment…as well as my burgeoning yoga practice. :)
Going the extra mile at the store: Any one who knows me knows that I loveee to put in serious mileage at the grocery store. (Probably why no one ever wants to go with me?) On nice days, I park very far away from the entrance (because I love ot walk AND because I am a terrible parker) and once in the store, zoom around like I'm on super market sweep (because in my head, I am). If I have extra time, I'll try and get extra steps in by power walking through aisles…and of course, b-lining it to the dairy section to pick up my stock of Chobani 100! 

Note: this method of calorie burning may cause a serious increase in your grocery store bill. Consult with your bank account before seeing if racing through aisles 5-27 is right for you).

Dancing when nobody is watching: When I was in college, my friends and I used to take short breaks from studying for final exams and have a full on hands-waving, feet-jumping, may-knock-into-the-wall dance party to de-stress. Not only did it allow us to behave like the weirdos we were, but it released all sorts of negativity, bad vibes and clouded thoughts out of my system. Fast forward a few years and those dance parties have stayed with me way longer than any knowledge buried in a textbook. (Which is a really great thought to have when I am paying my student loan bill every month.) So, when I am home doing normal things like making dinner, folding laundry, brushing my teeth…I freaking dance. Nothing crazy like my younger self, but just your general side-to-side sway, step-ball-change, mom-type dancing. Nevertheless, I'm shaking it as well as shaking off stress and calories. 
Thank you Chobani for kicking my lighter living ways back in gear this Spring…and for making these dark early mornings a whole lot brighter. And along with Simply 100, here are a few more ways to burn extra calories throughout the day: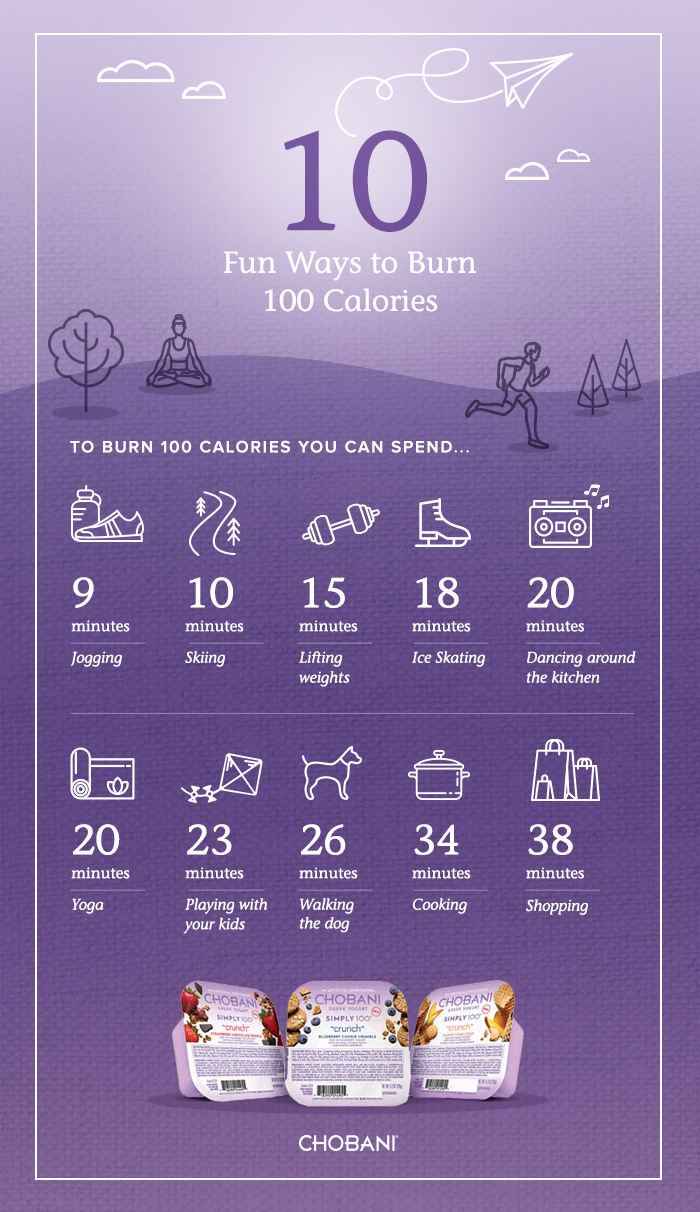 Want to try Chobani Simply 100? Visit their cute little site thelightthatsright.com for more info and for a printable coupon. And in the meantime, I'd love for you to exercise your digits and tell me all the ways you "crunch your numbers!" It can't be more foolish than dancing while brushing your teeth.