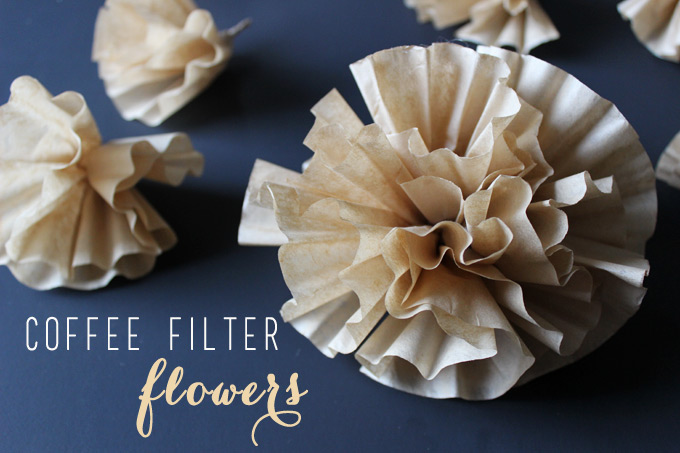 Quite like my grocery shopping habits, my craft store shopping tends to get a little out of hand. I go in with a set list of items, a clear idea of what I'm going to make and which item will get the bestowed honor of my  "40 percent off one single item" coupon, and then somehow, within five minutes and three aisles, it's like open season. GIMMIE ALL THE CRAFTS. Call it crazy, D.I.Y A.D.D., call it I'm becoming a senior citizen at 28 and swear I really don't remember what I came in here for, but somehow, someway, I walk out $50, ahem, $25 poorer. (Shhh…my husband reads this.)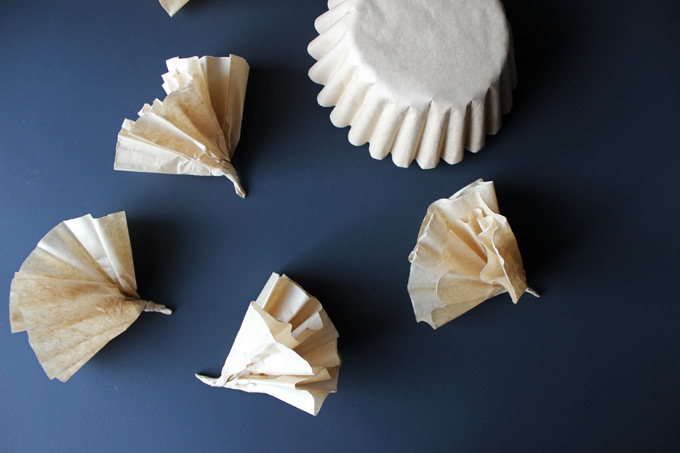 But seriously…how the hell did that jewelry stamping kit jump in my cart? And what the hell am I going to do with these knitting needles? I don't know how to knit! I think there must be some hallucinatory chemical in the cinnamon-laced air of Michael's.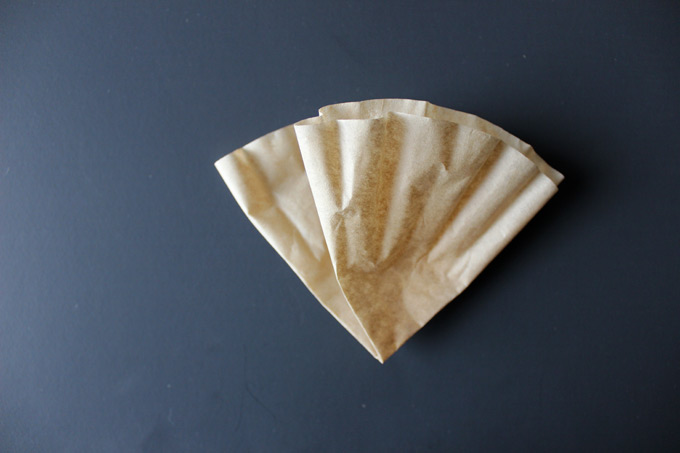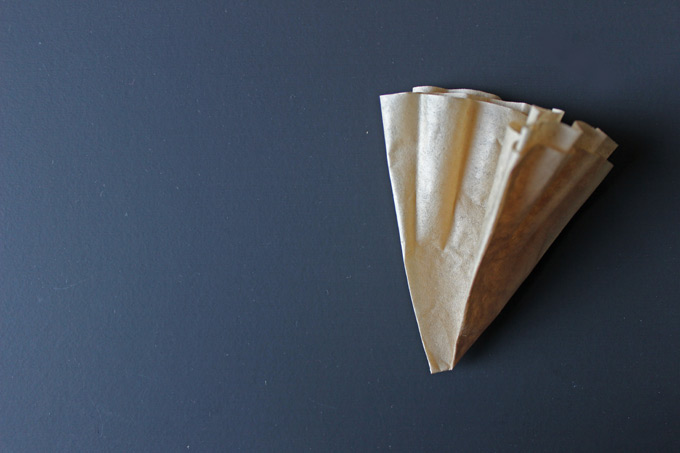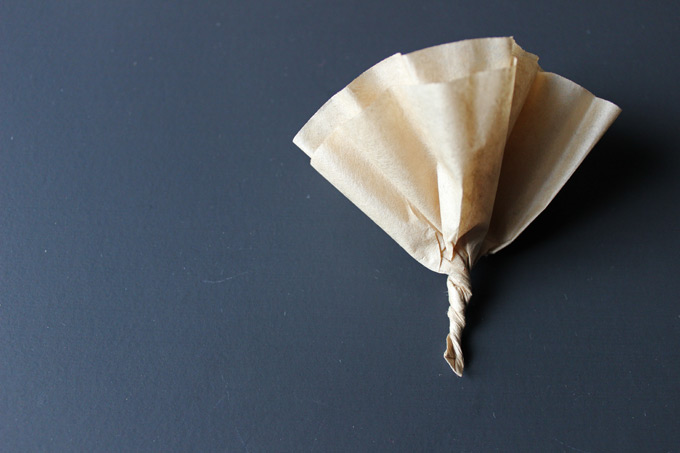 So, you can imagine my delight (and my husband's) when I don't have to go any further than my kitchen cupboards to make a craft. It's like we're back to Highlights magazine days. Egg carton crafts, anyone?! These coffee filter flowers are almost so simple to make that I debated posting them here. But upon a little Google search, I noticed that a lot of the coffee filter crafts floating around out there tend to be a bit more kid-focused and colorful. Not that I don't like kids and colors, (you should see the masterpieces I create in my neice's coloring books) but I just love how these unbleached coffee filters turn into rustic, antique-looking flowers in just seconds with just a little fold and twist.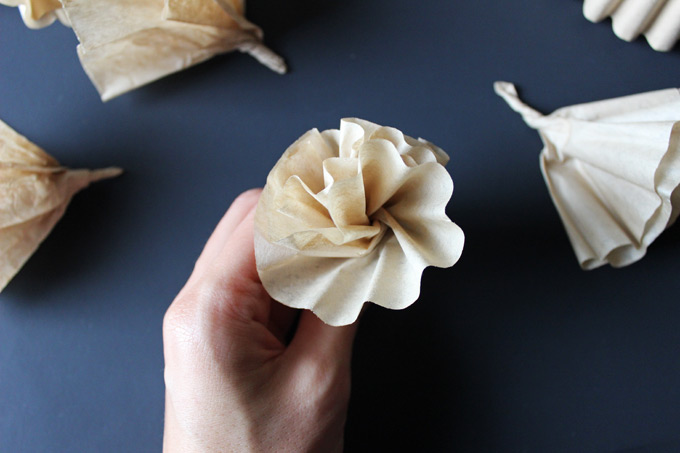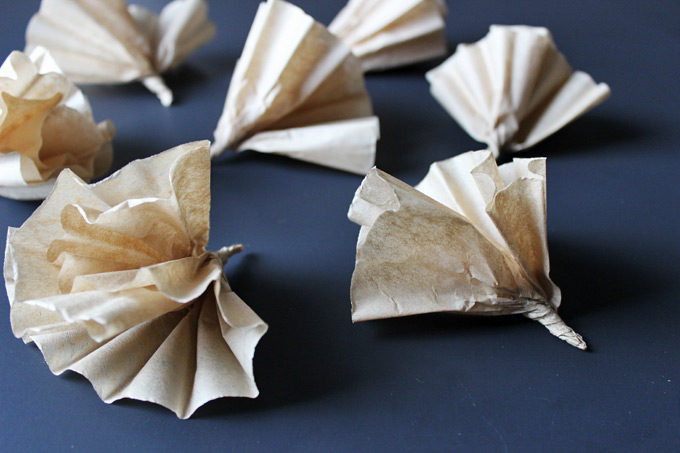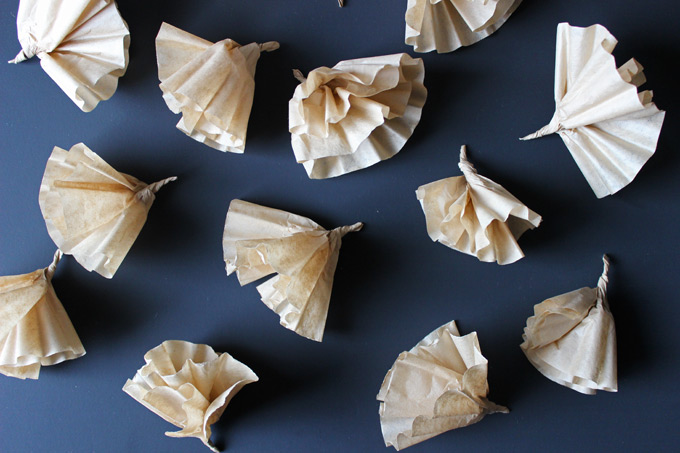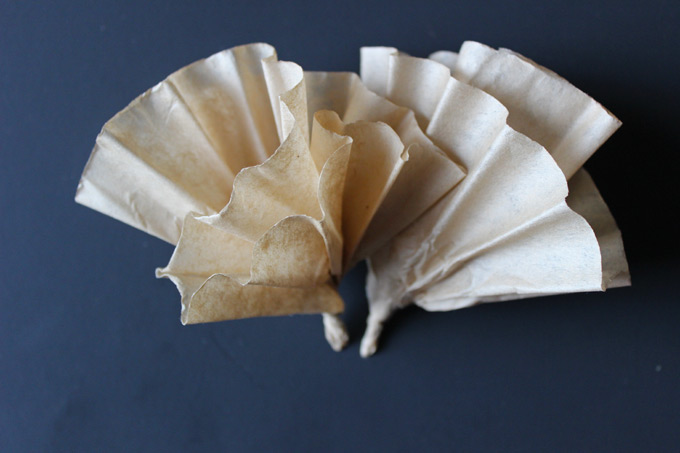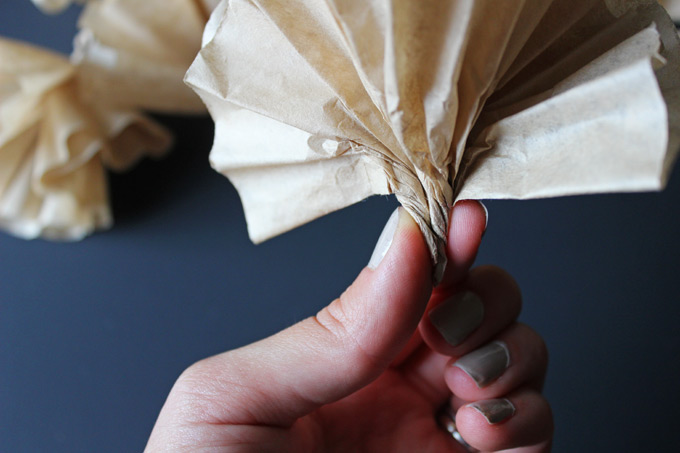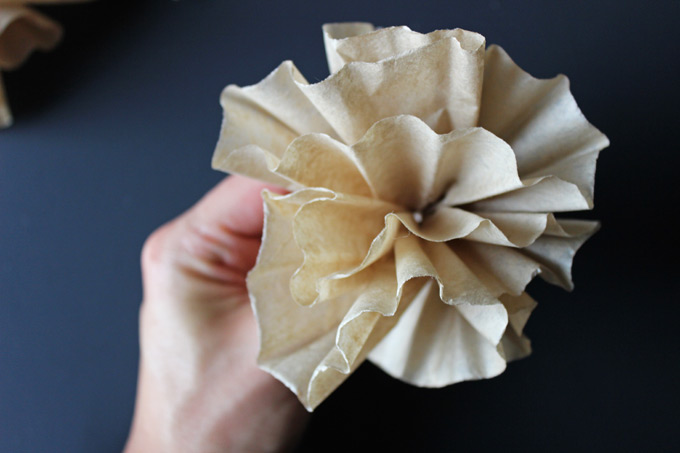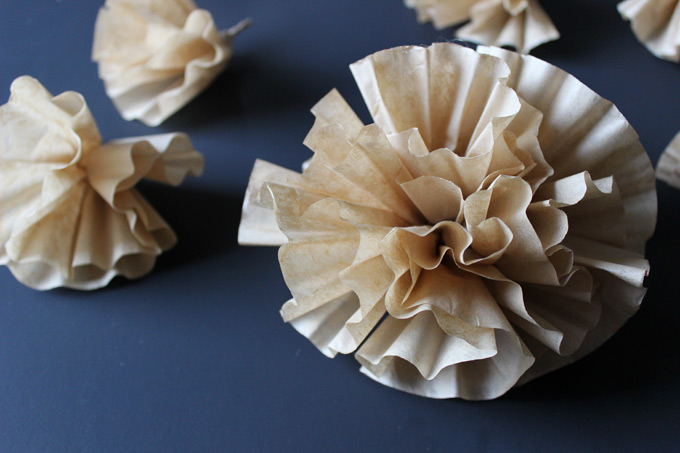 Which is a lot more than can be said of the bags and bags of random craft store supplies. Seriously, please come help me.
Coffee Filter Flowers
What you need:
Unbleached coffee filters
Glue gun
Directions:
Take one coffee filter and fold it in half.
Fold it in half again.
And again, just once more.
Using your thumb and forefinger, twist the bottom of the folded coffee filter so that the edges sort of "bloom" Hold in place for a few seconds so that the twist sticks.
Repeat as necessary, depending on how many single coffee filter flowers you want OR depending on the size of a larger coffee filter flower you want to make. (Told you this was easy.)
If making a larger flower arrangement: Once you have a few single flowers, play around with 3-4 in an arrangement. Once you have an arrangement you like, take a hot glue gun and carefully (I burned my hands and said the f-bomb way too many times making these) put a bit of glue on one of the flower twists and press it together with a second flower twist. Repeat as necessary, depending on how large of a flower you want to make.
Once you have your flowers, the possibilities are endless! I am going to share two ways that I've decorated with them soon, but you can use them in wreaths, or glued to sticks to put into vases (dare I mention how cute they look in mercury jar vases?) for a gorgeous accent or centerpiece. You can also mess around with cutting the edges when the filter is folded , just like you would when making a paper snowflake. Let me know what you come up with!