Last weekend we traveled up to Allentown, PA for the Lehigh Valley Health Network Via Marathon…aka Matt's 11th marathon!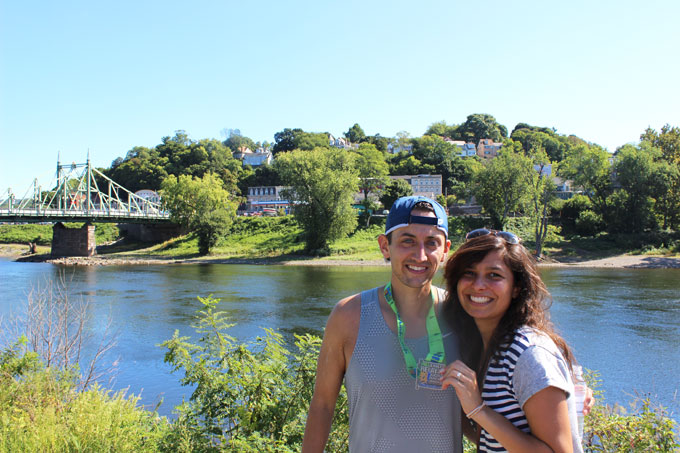 It was also the last race of 2014 to qualify for the Boston Marathon 2015, hence why it was worth traveling 600 miles for! :)
Bad news: Matt missed the qualifying time. Good news: despite not feeling well, he still ran a HELL of a run, coming in at 3:19! And crossed the finish line healthy and smiling, which is really all that matters.
Although Matt trained so hard and did every single thing right in terms of preparation, from the very start he said his legs felt like cement. By mile 15, he knew he wasn't going for 3:05 anymore.  Something just wasn't there for him like it was in other marathons. For anyone who has run a marathon, you know that it becomes a downright battlefield out there. And whether that battlefield begins at mile 10, mile 15 or mile 24….you can't predict it.
Many people joke with Matt now that he's done 11 marathons and two 50-milers and say, "it's just like running around the block for you know, huh?"  And to an extent, I joke too (having him as my "running coach" and hearing him say "I feel great, it's awesome out here!" on mile 16 of a training run in 35 degree temperatures has made me believe he IS indeed a genetic freak) but truth is….26.2 miles is 26.2 miles. There is nothing easy about that, no matter how many times you've done it!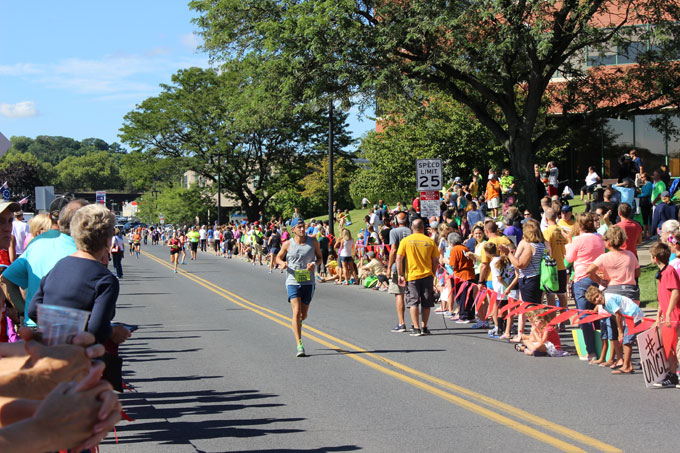 Since one of my duties as a doting wife is to over-analyzing situations, I know even though Matt was running with a crazy head cold (I am fully to blame for passing that on to him and vow to a life of shining his race medals every morning and night) and an oncoming fever, what really affected this run was the "this is my last chance to qualify" pressure. Because just a few months earlier in Seattle, Matt cruised through 26.2 miles, feeling great every step of the way and enjoying every moment, the highs and the lows, for the pure sake of being a marathon runner. He finished in 3:09, four minutes away from Boston qualifying time. Although, he was never after that from the start. The boy just wanted to run.
But, from my own marathon experience of constantly trying to beat your previous time…I know that checking your watch, stalking the pace group in front of you (while running hysterically from the one behind you), not giving yourself a much-needed walk break or even the chance to sip that water cup instead of just splashing it on your face and hoping some drops land in your mouth…it takes away a very important element of the run: the experience.
The nothing-but-you-and-the road, feet-and-pavement, sweat-dripping-through-your-smile experience. The one that you came out here for. To me, that's all that matters. I had it during my first marathon in Savannah, but in an effort to beat my time in my next two marathons in Disney and Nashville, I lost a bit of it. And while there is something to be said about speed training, pushing hard  and achieving a new PR (and buying cowboy boots to celebrate said PR), I will always consider Savannah my favorite marathon yet, because it was the one where I took it all in without any added pressure of time limits or PR goals.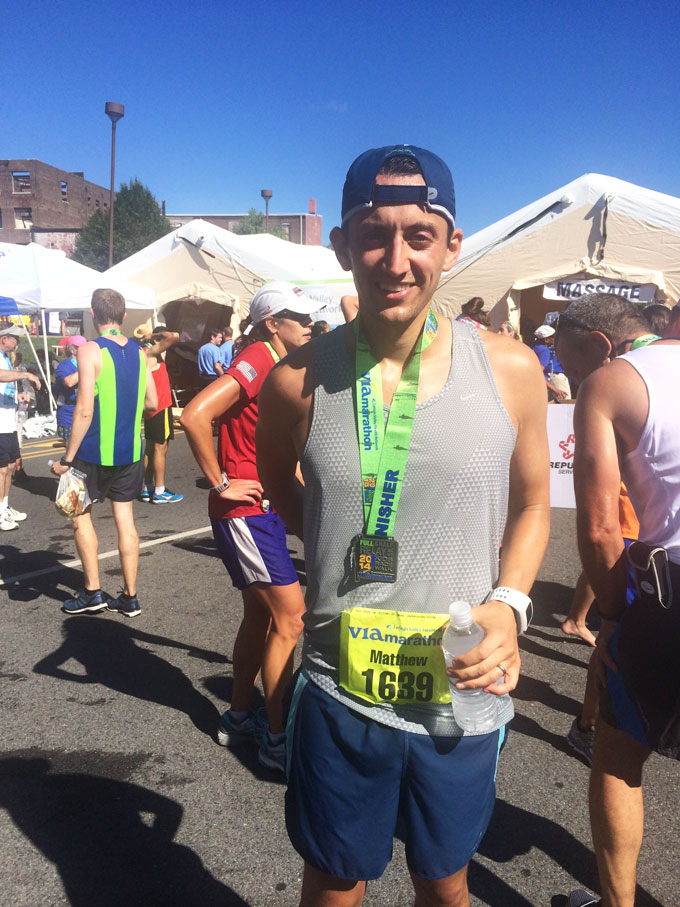 We all know that Matt can without a doubt run a 3:05 marathon – he has the strength, the speed and most importantly – the mental capability of running under 7 minute miles for 26 miles. But most of all, because he loves it. So, even though it was a tough experience, the silver lining is that he has the rest of this year (he is signed up for two more marathons in 2014) and all of next year to knock out that 3:05 finishing time. And since there will be endless opportunities to do so, the pressure will be as light as his Nike Dri-Fit tank top. So he can get back to focusing on being "flip the switch" Marathon Matt, as us fans like to joke.
(Oh wait…did I mention he is running another 50-miler this weekend? A week after this marathon? #geneticfreak)
So, in the end, all that matters is your love for the sport. The hard work, the endless determination, the ability to somehow get your legs to move forward and your mind to think straight on mile 22 when you don't feel like you have an ounce left to give…that is what it is all about. It's the experience, the accomplishment and the strength you give yourself.
Well, and the armful of free Powerbars you can grab at the end. Just saying!