While I have so many things to show and tell and sing and dance to you about Austin, I never posted this bourbon-infused recipe from our days back in Kentucky. So let's do a little #flashbackfriday, shall we? (Also…in the spirit of March Madness and my eight months in the Bluegrass state: LET'S GO CATS! Much like the rest of the county, I'm taking them all the way as champions. If not for the bracket winnings, then for this guy. You can easily change 2014 to 2015, no?)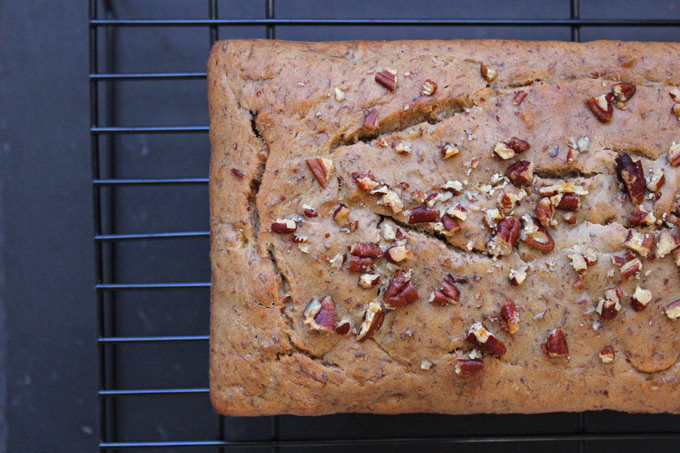 Okay, let's talk bourbon. After being a short-term resident of the Bourbon Capital of the World, I had no choice to have it become my drink of choice. Well, alright, I did but…who wants to be the jerk who buys imported vodka in a county supported by the bourbon industry? I can't even walk by a kid's lemonade stand without dropping $10. So it was clear that the only liquor I would be consuming from here on out would be, as I'm told rappers are calling it these days, "da brown." Plus, let's be real…I am a sucker for tours with samples. Wine tours, beer tours, Hershey Park chocolate tours – I am IN. Doesn't matter if the sample makes you grimace and you have to do your best to act like it actually tastes delicious.
Speaking of, look at how great my mom was at hiding her true feelings when I took her to Woodford Reserve: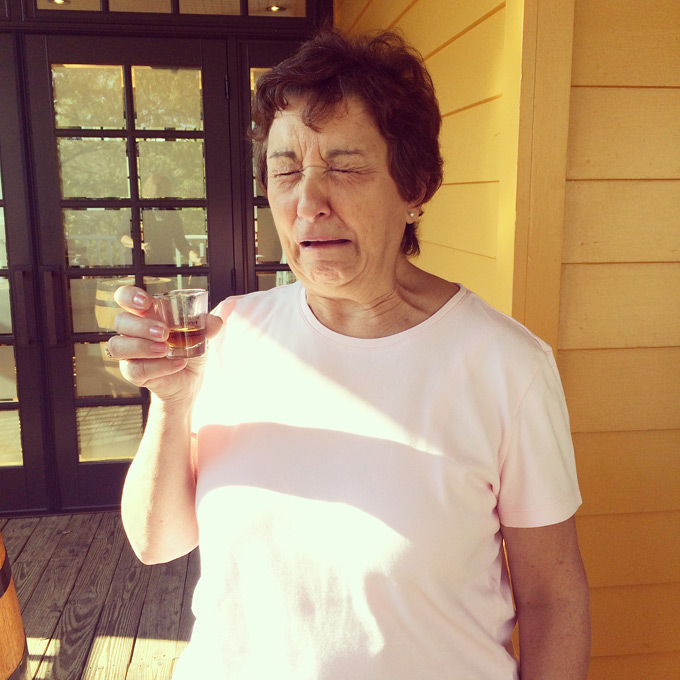 Clearly, Mama Ro don't play like that. And while the apple never falls far from the tree, I inevitably have bit more experience at drinking hard liquor than my one-strawberry-daiquiri-a-year mother. As freshman in college whose trips to the liquor store were filled with both anxiety and cluelessness, big plastic handles of $15 Crystal Palace and/or Fleischmann's were our purchase of choice. (Otherwise known as NAIL POLISH REMOVER.) Though I'm pretty sure I killed about half of my taste buds by the end of my first year, it unknowingly prepared me well for the mature weekends of high-quality bourbon tasting that I would enjoy as an adult. I don't even have to chase bourbon with a slug of Keystone Light! Older, wiser AND classier, y'all.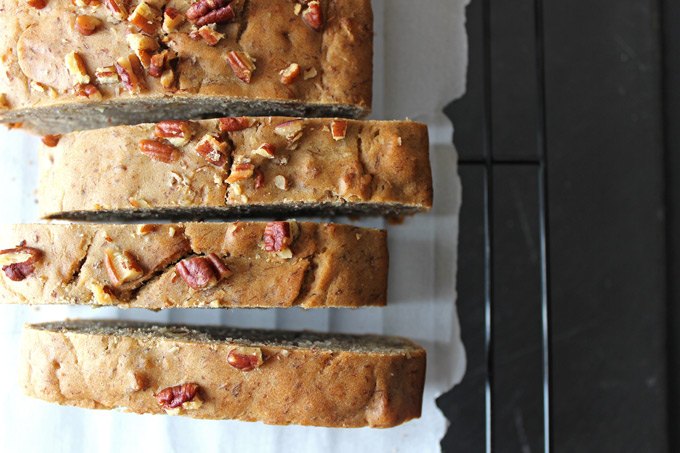 In our short stint in Kentucky, we toured Woodford Reserve, Jim Beam, Maker's Mark, Four Roses, Wild Turkey and Buffalo Trace. I sipped and swirled, toured and dipped, photographed and purchased my way through each distillery. Never have we had so much bourbon in our liquor cabinet, nor have I had more reason to buy multiple vintage decanters from antique markets I had no business walking into. And while I slowly became a champ at bourbon tasting and now even indulge in a few sips here and there of my husband's post-Kentucky "bourbon on the rocks" order, I have to say: everything is better with butter…including bourbon.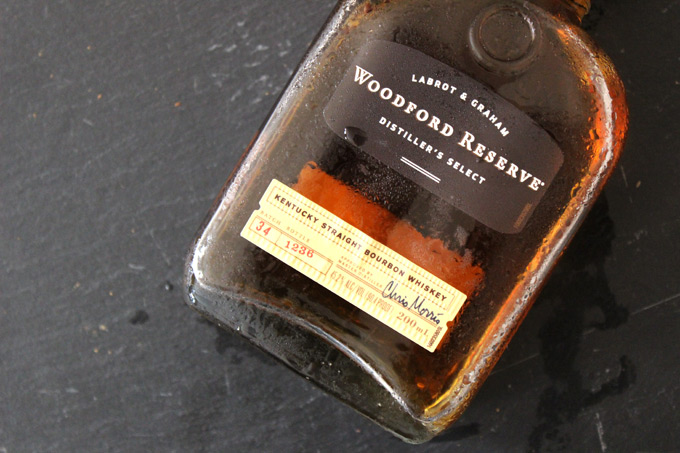 This bourbon banana bread from Food52 caught my eye right before Mama Ro was descending into Lexington. I knew it would be hard to get her to appreciate the true craftsmanship of bourbon (see photo above) without drowning it in butter, sugar and in this case, bananas. And since she is renowned for her rich, dense, smell-it-baking-from-outside banana bread, it seemed like the perfect clash of two totally different worlds.
(I must note – since I was also trying to convince my mom that omitting dairy products can be a good thing once in a while, I also tried to make this vegan by substituting Earth Balance for butter and an almond milk/vinegar mixture for buttermilk. The flavor of the bread was there, however it didn't hold together very well and within a few hours, turned pretty dry. I'm sure better cooks than me could figure out a better formula for veganizing this, but since I was short on time and ultimately just wanted my mom to approve of bourbon in any way shape or form, I just whipped up another loaf and followed the original recipe exactly.)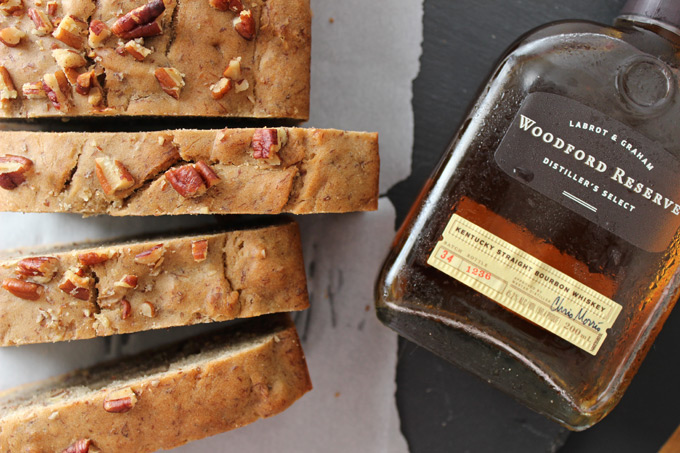 I'm happy to report that Mama Ro's face after biting into this banana bread was the exact opposite of the face she made after her first sip (ever!) of bourbon. She agreed that -while she "doesn't understand why people would volunteer to drink this" – bourbon is a very special thing, and that Bourbon Country is a very special place.
Now that we've left, I feel a sense of pride from being a Kentuckian. Partly for the Southern hospitality, partly for the thoroughbred horse racing, partly for the Wildcats… but mostly for the bourbon. Straight up in a glass or mixed up in a loaf pan, it will always remind me of our days there – and how important it is to try new things, even if they make you grimace at first.