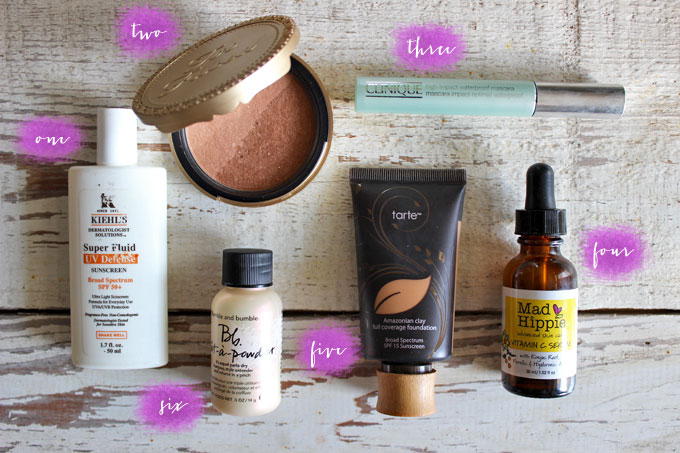 After surviving freezing cold winters in Buffalo and hot, sticky summers in DC, I thought I would be well-prepared, mentally and physically, for the Texas heat. And while I have yet to complain (read: survived freezing cold winters in Buffalo) or be surprised at just how large my hair can grow in a matter of seconds, I have had to make some serious adjustments to my daily routine. One being multiple showers per day, two being the total absence of caring how sweaty I am, and the third being shaking up my makeup bag and adding new products that would help me get through strings of 100+ degree temps like I actually enjoyed them. Nightmare dressed like a daydream, if you will.
Here are my tried-and-true new favorites in the skin, makeup and hair aisles of my life:
1) Kiehl's Super Fluid UV Defense SPF 50+: Matt actually bought this bottle before he ran the Keys 50 in Key West, mistaking it as water/sweat resistant. When he realized it wasn't, he tossed it to me like an old baseball, to which I caught it with wide eyes and a huge smile like I was 12 and it was signed by Ken Griffey Jr. At first I was in awe that my skincare-brand–clueless husband purchased a Kheils product, but then I was in awe that it was now all mine, complete without my regular guilty conscious of spending-too-much-on-skincare feeling. I love this man.
Have to admit, I have been super late to the SPF train. But after being here in Austin and actually feeling the burning sun burning my internal organs, I knew I had to get serious if I didn't want to get sick or look like the Tan Mom by 35. I now put this SPF on every day, right after my moisturizer and before any foundation/concealer. As you can tell, it also needs to be replaced soon. Ummm…Matt?
2) Too Faced Sun Bunny Natural Bronzer: Bronzer was my first "cool" makeup purchase when I was a teenager, right after white eyeliner and right before mocha LipShades. Looking at old photos of me in middle school, high school and alright…some of college, I also was a total pro at applying it. (Not.) Now that I have a bit more of a steady hand, it is still my go-to in the summer and non-summer months. Because my ancestors gave me the blessing of Mediterranean skin, I tend to have an olive complexion from October – May, then get at least three shades/ethnicieis darker from May-September (this year, with SPF!) Therefore, I needed a bronzer that would last all year, avoiding the "I'm trying to look tan" look in the winter months and highlighting the "I'm actually tan!" look in the summer. Enter Too Faced Sun Bunny. Two shades, one compact, and endless opportunities to make up for the past 10 years of bad bronzer etiquette.
3) Clinique High Impact Waterproof Mascara: I've been a Clinque junkie for years, thanks to my mom jumping on the good skincare/makeup train more than 10 years ago. While we both loved their products, I think we were both way more in love with the "free" goodie bag of samples you received every time you spent more than $25. She would always give it to me, resulting in me immediately trying out every miniature product contained in that ever-cute makeup bag as soon as we drove home from the mall. A few years later while studying marketing in college, we were asked to bring in three ads that stood out to us and made us want to buy that product. I'll never forget immediately tearing out Clinique's High Impact Mascara ad out of my Teen People, which featured a close-up shot of a black patent-leather high heel next to the mascara. It was my first taste of "punny" advertising, and I was obsessed. And since I'm still a sucker for good marketing and good mascara, this has been my tube of choice since that day in 2006. I have since switched to the waterproof version though, as many tears of joy, some tears of sadness and buckets of Texas sweat have rolled down my cheeks since.
4) Mad Hippie Vitamin C Serum: Confession: this has been a part of my skincare routine since January, but I couldn't help but feature it now in this round-up. As I creep (weird that every time I say or type that word I instantly start singing TLC and have a sudden urge to dance around in baggy silk pajamas?) into my 30s, I'm becoming more and more aware of every line/crease/"was that there four years ago?" spot on my face. I know we really can't do anything about aging or the fact that any woman over 60 reading this right now wants to punch me in the face, but we can do our best to help our skin stay supple, healthy and protected from the daily grind. Vitamin C is a powerhouse in this area, and combined with Vitamin E and the much buzzed-about Hydraulic Acid, this serum is basically magic in a bottle. It hydrates,  soothes, plumps, softens and basically kicks ass while also correcting any skin discoloration and helping to heal any sun damage you might have done while not wearing the aforementioned sunscreen. Did I mention it is also only $30, (on Amazon) compared to the outrageous cost of other "age-defying" serums out there? Yes. Buy it now.
5) Tarte Amazonian Clay 12-Hour Full Coverage Foundation with SPF 15: Ahh, my new holy grail foundation. Last time I talked makeup, I was heavy on the Josie Maran Argan Oil train. It was a part of every step in my skin, hair and makeup process, and I was a devout Argan Concealer Stick fan. I am not one to go heavy on foundation or concealer (nor am I one to know the difference between the two) and so I loved the light coverage and dewy glow it provided me. While I still love and respect the Josie Maran line for opening me up to a new world of safe cosmetics – I now read makeup ingredient labels like I intend to eat them with a fork – all of that oil use on oil-prone skin in sticky temperatures that increase my "dew" levels…faghettaboutit. I remember going out for drinks one night, thinking my makeup was on fleek (is that how yous kids use that term?), then going to the bathroom, looking in the mirror and actually gasping out loud. It was like a commercial for those oil-wipe sheets all the cool girls had in high school and gave out like Tic-Tacs during lunch. Dewy makeup will not fly for me in Hill Country. I needed to go matte, STAT.
Plus, all that oil was also starting to wreak havoc on my skin. Therefore, I really wanted to find a foundation that was not greasy and not formulated with any irritating or unsafe ingredients. Cue this Amazonian clay-packed tub of glory. I had heard great things about Amazonian clay and its soothing effect on skin, and so that combined with a foundation that would a) stay put in hot weather b) had SPF to add an extra layer of protection in said hot weather and c) soothe and heal any breakouts on my skin as it was doing its job of covering them up. I practically sprinted to the Sephora counter, and will continue to do so for a very, very long time. It's the one.
6) Bumble and Bumble Prêt-à-Powder: My friend Kirsten has always sworn by this magical hair powder, and while I was weary of spending $30 on the full-size bottle, I decided to give the sample size at $15 a try earlier this summer when my side bangs were in full "grease-is-the-word" mode. Low and behold, I was a believer after the first dusting. I have been using it constantly, as I am reallyyyyy trying not to wash my hair every day…especially when each day requires two showers. And while I love it enough to dig deeper in to my wallet for the big version, I tend to carry this mini bottle with me everywhere I go. (Yes, that was me applying it to my hair in the Handlebar bathroom on Fourth of July. Land of the free and the brave, right?) This product also lasts forever, even if you are like me and over shake (shake shake). Pro tip: It is best to apply dry shampoo to your hair before you go to bed to wake up to flawless second-day hair. Cue Beyonce "I woke up like dis." (Note: I wake up every morning like I either partied with Miley Cryus and/or brawled with a sabre-tooth tiger at 3 a.m.)
 Whew…now that my hands are as tired as my Sephora rewards card, I have to know: what are your current beauty favorites? TELL ME EVERYTHING.