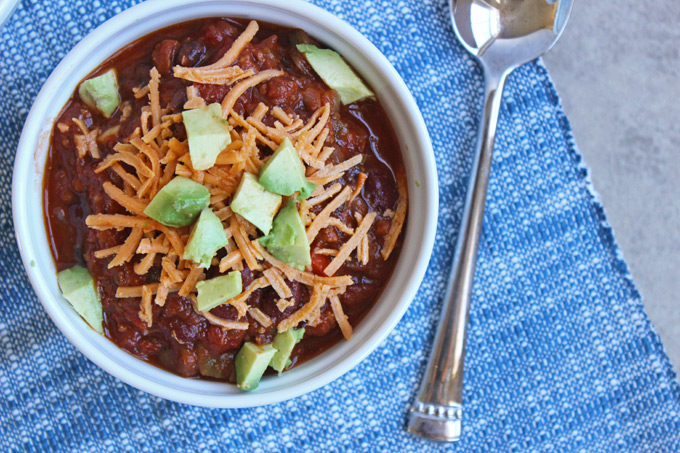 Like most couples, Matt and I are a bit opposite of one another.
He is analytical. I am intuitive.
He is logical. I am a total dreamer.
He is organized (most of the time). I am disheveled (most of the time).
He is coordinated. I am ridiculously clumsy.
He is very good at making decisions. I'm not so sure if I am.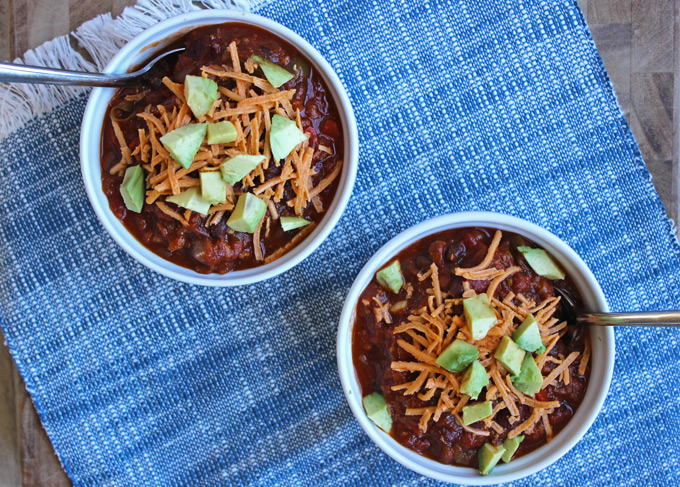 So when it comes to figuring out what to make for a cozy weekend dinner, we obviously have totally different styles. While I tend to browse Foodgawker for at least 45 minutes, opening up so many tabs that Safari shuts down and causes me to start my search all over again, Matt keeps it simple:
He opens Google, types in what he wants to make and then makes the first recipe that comes up in a search. And surprisingly but not surprisingly, they are the greatest recipes ever.
Case in point: this "best damn chili recipe." Which he found by typing "best chili recipe."
I married such a smart man.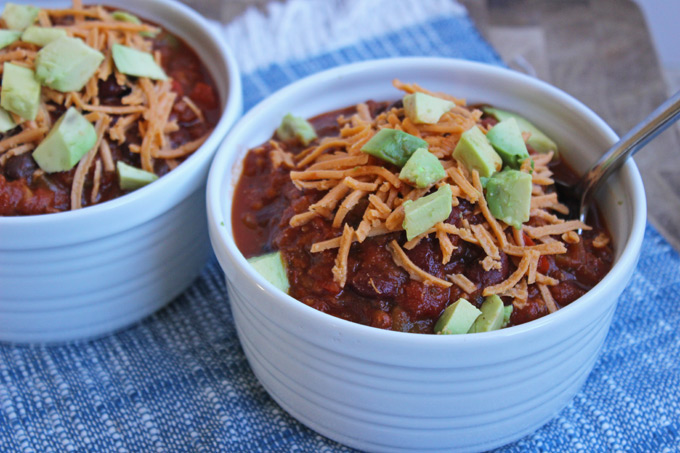 However, the recipe we found wasn't vegetarian, so it took all my creativity and intuition to make it the "best damn VEGAN chili."
He married such a smart woman.
Best Damn (Vegan!) Chili
Adapted from Danny Jaye on allrecipes.com
Don't be fooled by the long ingredient list – this comes together in a snap and can be adjusted easily to your tastebuds. Plus, it gets better as it sits – making leftovers even more delicious. I also love to put a scoop in a tortilla wrap for a quick lunch and over rice/quinoa for a more protein-packed meal.
Ingredients:
extra virgin olive oil
1 yellow onion, diced
4 cloves garlic, minced
1 red bell pepper, diced
1 Anaheim pepper, diced (sometimes I can find Anaheim peppers and sometimes I can't, so don't worry if you omit. You can also sub a green pepper)
2 jalapeño peppers, diced and some seeds removed (if you like it spicy, keep more in! If not…take 'em all out.)
1 can black beans
2 cans kidney beans
2 cups vegan Beyond Beef "feisty" crumbles (optional – if not using, I'd throw in another can of beans)
1 1/2 cups vegetable broth (more as needed)
1 28-ounce can crushed tomatoes
1 14.5-ounce can fire-roasted tomatoes
1 12-ounce can tomato paste
1 12-ounce can of light or amber beer (I've used everything from Coors Light to Sam Adams)
2 tablespoons chili powder
2 tablespoons of cumin
1 tablespoon of smoked paprika
1 tablespoon brown sugar
1 1/2 teaspoons dried basil
1/2 teaspoon oregano
salt & pepper, to taste
Directions:
1) Heat olive oil in a large sauce pot. Add onion and garlic and sauté for 5-7 minutes, stirring frequently.
2) Add red pepper, Anaheim pepper and jalapeño peppers. Cook for an additional 5-7 minutes, stirring frequently until peppers are softened.
3) Stir in broth, crushed tomatoes, diced tomatoes, tomato paste and beer. Add brown sugar and spices.
4) Bring chili to a boil and then turn heat to medium-low. Simmer for 20 minutes, uncovered.
5) Add black beans, kidney beans and Beyond Meat crumbles (if using). Taste and adjust seasoning, and add more broth if needed.
6) Let cook for another 20 minutes on medium-low, until the beans and crumbles are heated through.
7) Serve with a heavy sprinkle of Daiya cheddar cheese, avocado slices and even some cilantro, if you're into that sort of thing.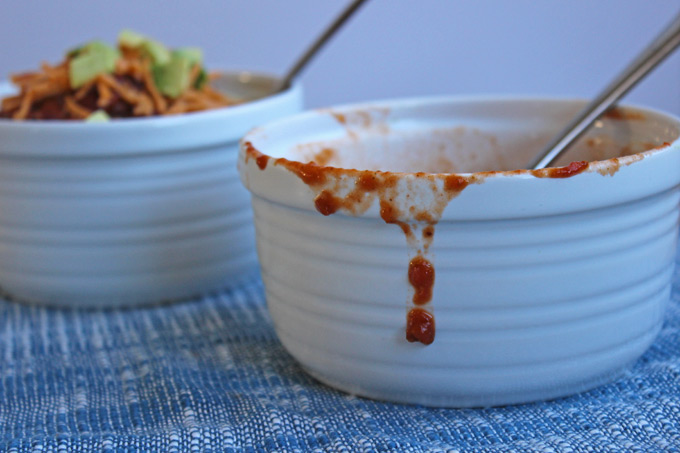 Now Matt, can you Google "how to get chili stains out of a brand-new white sweater?" I really can't decide what to do about this. Thanks.