(Note…this post is very, very long. I would either get cozy or do a quick skim and return to your regularly scheduled Wednesday.)
The overwhelming amount of inactivity on the blog has never been less of a reflection of what is going on behind the scenes here in Izzo world. ALL THE THINGS ARE HAPPENING.
Including a full house update (renovations are complete…for now), a house full of visitors, a round of visits to three different cities and, well…
(video above and photo below by my incredibly talented and gloriously lovely friend Alex Lee Galley)
A BABY.
Oh yes, baby Izzo coming at cha March 2017! Crazy, right?! I have so, so, SO much to say about the journey to pregnancy – everything from my years of anxiety about getting older and avoidance of motherhood conversations, to the slow, quiet shift of actually being okay with talking about it…let alone getting to the "let's not-not try" phase, to the excitement and anxiousness (and the apps!) that come with that trying and seeing your life flash by in the two minutes it takes for pregnancy tests to show an accurate reading…to the unexpected state of contentment that envelopes you first see that small little speck in an ultrasound.
And of course, how all of the above are things I didn't know I would ever be typing about. Without feeling slightly naeseous.
But since I am already 18 weeks and time is flying faster than ever, I feel the need to dive into my current physical, emotional and mental place in this crazy pregnancy journey. And then swim back to all of the above stated experiences before my life gets taken up with a little human in the flesh.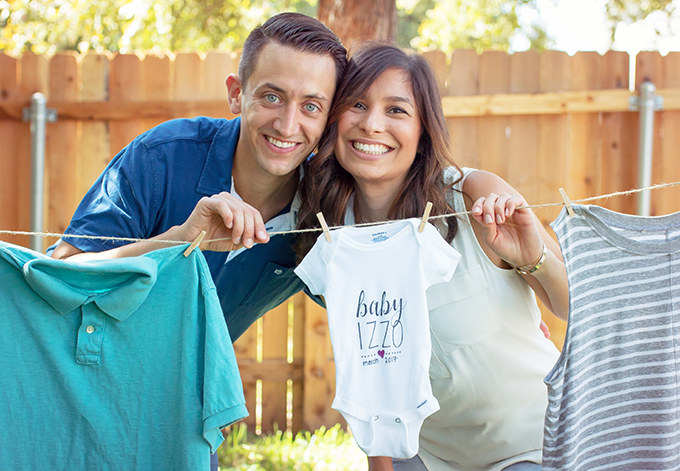 Without further rambling…let's get into the oversharing of pregnant discovery stories and weekly bump pics!
Since finding out we were expecting, I have taken weekly notes and turning Matt into my unamused personal photographer, making him take all sorts of photos every weekend with the size fruit or veggie that the baby currently is. You know, because we are vegetarians, I am pregnant and I like annoying the shit out of Matt. Ha!
I do realize that unless I would like to also annoy everyone by posting 11 weeks worth of baby bump/notes in a row…I'm going to split up the first trimester (and a bit of the second) into two posts to start. With all the random stories, produce picks and all my personal notes included. Then, if I ever get caught up, I will post weekly updates for those of you who want to read about them! (Ahem, mom.)
The pregnancy test(s), my first pre-natal visit and ultrasound:
I would love to write an entire post JUST on finding out that I was pregnant. But short story, it involved a 25-pack of pregnancy strips from Amazon, a two-pack of $8 pregnancy tests from HEB, a dozen mini plastic cups (ironically that I originally bought to make jell-o shots) and a lot of staring, pacing, timing and asking Matt "is that a second line? IS THAT A SECOND LINE?!"
I stopped at test strip #11, which apparently was my quota for second pink line confirmations. As my friend Cate told me after I called her freaking out and asking if these things actually work, "those strips don't lie."
After staring at each other and smiling like idiots all night, I called the doctor's office the following morning to schedule my first prenatal visit. They scheduled me for an 8-week appointment (based on the date of my last period), but after measuring the baby during the ultrasound (more on that below), the doctor actually determined that I was only 7 weeks pregnant!
Despite the excessive amount of pregnancy strips I went through, my pregnancy was this crazy, almost not real secret that Matt and I shared. It was a subject that we constantly started to talk about quickly diverted from, as if we were petrified to get too excited about it in case something happened. Your risk for miscarriage is high in those first few weeks, so we always had this weird sense of jinxing it by talking about it as if it were a solid, real thing. Plus,I was still halfway sure that when we went to the doctor, I would pee on a stick and she would look very confused and tell me that I wasn't actually pregnant and should consider not buying pregnancy tests off Amazon.
But alas – we went. And I was.
We even got the ultimate confirmation, via an unexpected yet extremely appreciated ultrasound. Look at that little thing!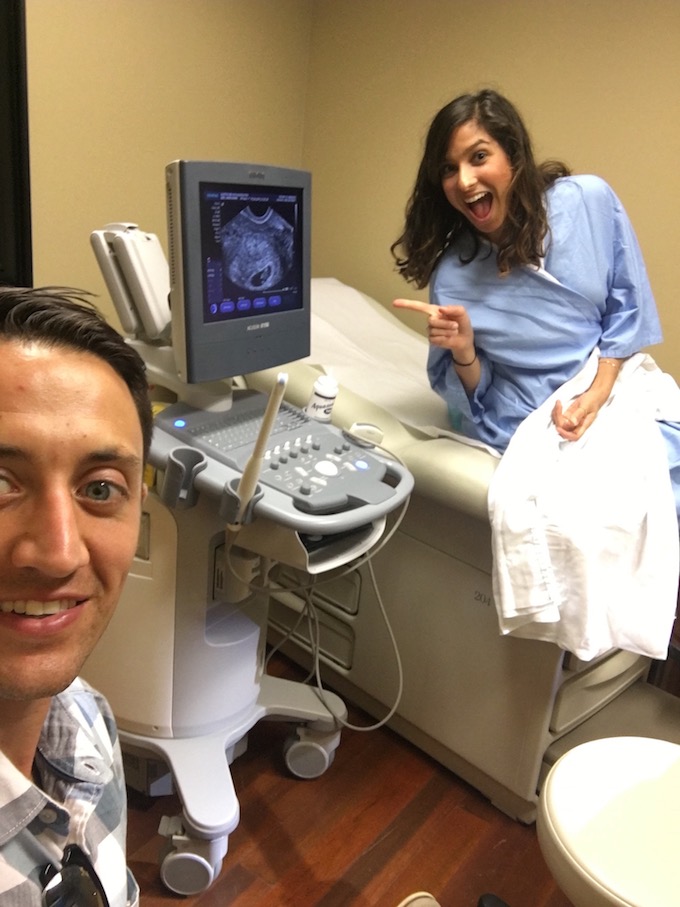 For all of the anxiety I had built up over the years over having a baby…something about seeing that little blob on the screen made everything change. It was like I could actually feel my worries, fears and discontent melt off of me while I hypnotically stared at that monitor. That little thing was a baby. And it was ours. And it was in my belly. The last thing in the world I was thinking about was myself. (Until we got to the car and I announced all of the things I was suddenly craving and needing that Matt had to get me immediately.)
Weeks 5-10: Summary of feelings, bloating and (non-existent) baby bump pics!
How I felt: As I moved into my fifth week of pregancy (although I thought it was my sixth week!) the bodily exhaustion started to set in. I noticed that when setting off on my usual morning run, my legs felt like two buckets of almost-dry cement, and that I was extremely out of breath when trying to run my normal pace. I couldn't believe that I would already start feeling the impact of pregnancy this early on, but I knew I needed to slow down and give my body the time it needed to grow a human and all. My runs became a LOT slower (decreased my pace an additional two minutes per mile) and shorter – those long weekend runs were not only not feasible but not at all appealing. I mean, it was a pretty great excuse to relax!
I still attempted yoga, but again, found myself uncomfortable and off balance. My boobs were also growing at an alarming rate, (only 15 years after puberty…thanks, universe) and lying stomach-down on the mat was an experience that was pretty hilarious for me, as I have never, ever dealt with the pain of big boobs before. And while they certainly looked great, they freaking hurt like a mofo.
I didn't write down my week-by-week feelings for those first few weeks, I can quickly sum it up as all the "blah" feelings right before you are about to get your period. Only these pseudo PMS symptoms last for five weeks. I was tired, bloated, crampy and sometimes cranky, mainly because I felt like a very tired, slow-moving beluga whale and couldn't really even talk about it to many people. Work was also stressful, and while many of my collegaues and friends would grab a beer or glass of wine come 5 p.m., I had to goofily pretend that I "was going to have one in a bit" or "I really shouldn't because I'm going to yoga!" (Until the PM team went zip lining for the team retreat. Long story, but beans were spilled shortly there after!)
However, I felt extremely, EXTREMELY lucky to not have experienced one bout of morning sickness. I felt nauseous and dizzy at times, like it was going to happen, but thankfully it never did. Some days food didn't seem appealing (the thought of some food, like Chipotle, made me feel sick, which was pretty ironic), and some days all I could do was eat everything in sight. I was almost more nervous that sickness was going to happen – that it was an inevitable part of pregnancy. But weeks went by and I still, for the most part, felt okay. I am still thanking my lucky stars (and mama) for allowing me to cruise through the most difficult trimester with just a few belly and body aches.
What I ate: Again, there were many days that I didn't really want anything, supplemented by other days where I was a starving mad woman. I had some food cravings, but since a) I read real cravings don't kick in until a couple more weeks down the road and b) I have been craving random food my entire, non-preggo life, I think most "cravings" were just demands from my inner chubby kid, just wanting all of the food that I normally limited myself to. As Matt and I liked to joke, "am I pregnant or just getting fat?" Especially when I threw multiple boxes of Lucky Charms in our cart and insist that the baby NEEEEEEDS TCBY four nights in a row. I remember thinking that if I am feeling this way now, I should be a bit nervous (mainly for Matt) for the kinds of food I will crave once I actually start craving things due to pregnancy…and not due to my sudden defiance of self-control.
(Also, quick reminder that at this time, we were still living in a total construction zone and did not have a kitchen. I repeat – we did not have a kitchen. Well, we had a table, a microwave, a Keurig and a bedroom side table that served as our cereal and snack pantry. So it mayyy just have been the sodium-rich microwave meals, sleeves of Ritz cracker and cheese snacks and multiple dinners out for the first 10 weeks of pregnancy that helped give the baby extra cushioning. :)
It wasn't until 10 weeks pregnant that I noticed a slight difference in my now-normal daily bloat game. I actually felt like I had a belly – nothing crazy, but like a gut that I could no longer suck in. Elastic instantly became my new BFF (as if it wasn't before), and if I couldn't weat stretchy pants, I began to have zero shame in unbuttoning my pants mid-meal in public.
(Editor's Note: Can I just add, as a now 18-week pregnant Anne Marie, how ridiculous I sound and look at 10 weeks preggers, stating "oooo I have a belly now." JUST WAIT, AM. Just wait.)
Without further adieu…here are the weekly baby bump/produce size pics from weeks 7-10. Once I get up to speed, I will actually post these weekly. :)
Week 7: Baby is size of BLUEBERRY!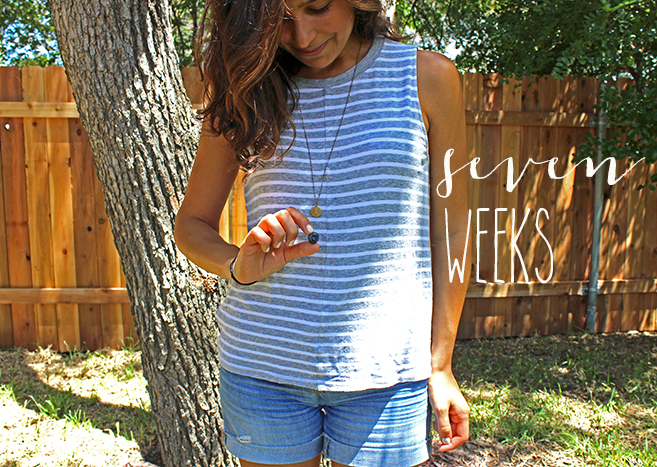 Week 8: Baby is the size of a 

RASPBERRY!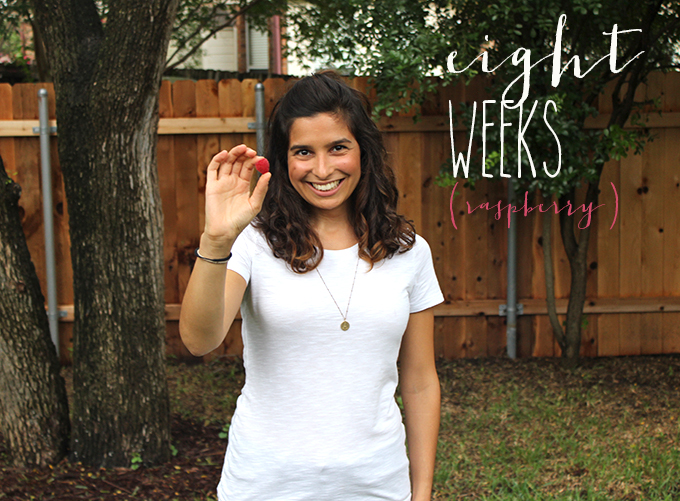 Week 9: Baby is the size of a

GRAPE!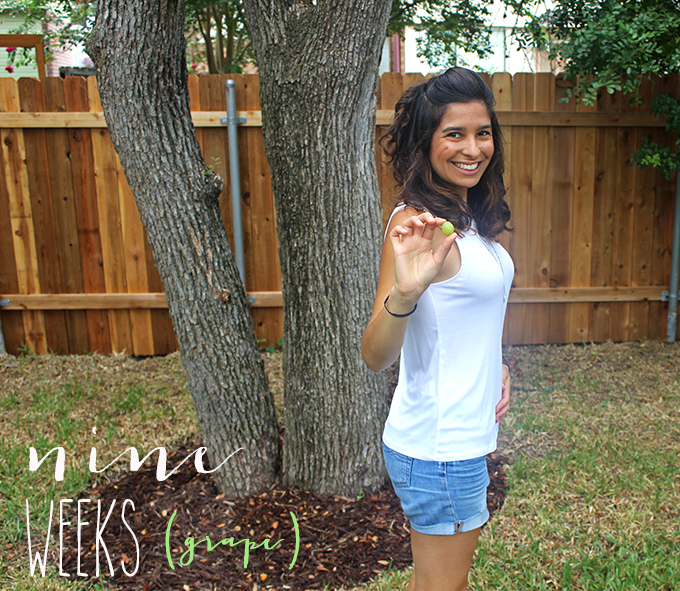 Ten weeks: Baby is now the size of a

STRAWBERRY!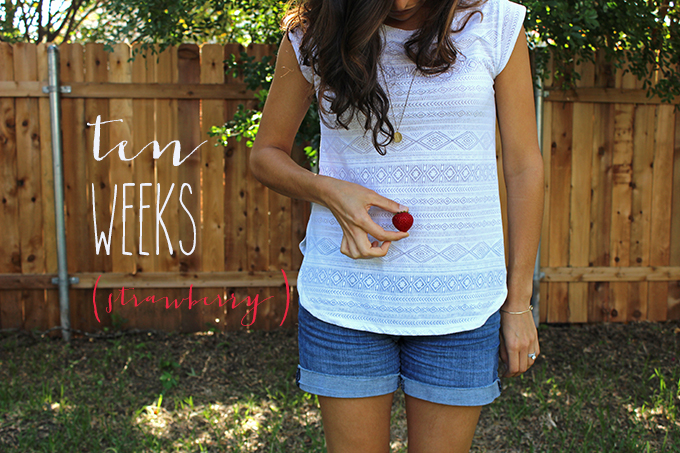 Whew – i'm sure reading this post has gone by a lot slower than these past 18 weeks have! Oh my gosh…I still have eight more weekly photos and notes to edit before I am caught up. And time nor my belly is stopping for no one. Weeks 11-14, coming right up!