Another round up of updates that I wrote in real time but am adding here in past tense as I try to catch up to my current 21 week pregnant status!
I ACTUALLY had everything ready to go last week, excited about a reality where I'd be posting my 20th and 21st weeks during my actual 20th and 21st weeks…but then the election happened. And all reality and things that were good in the world turned upside down and I lost my ability to speak/write/think clearly for a few days. It's starting to come back to me now, and I, like most Americans, have a lot more to say than ever.
For now, here are a lot of fruit and a lot of words focused on a much more welcome addition to 2017:
15 Weeks: Baby is the size of an APPLE!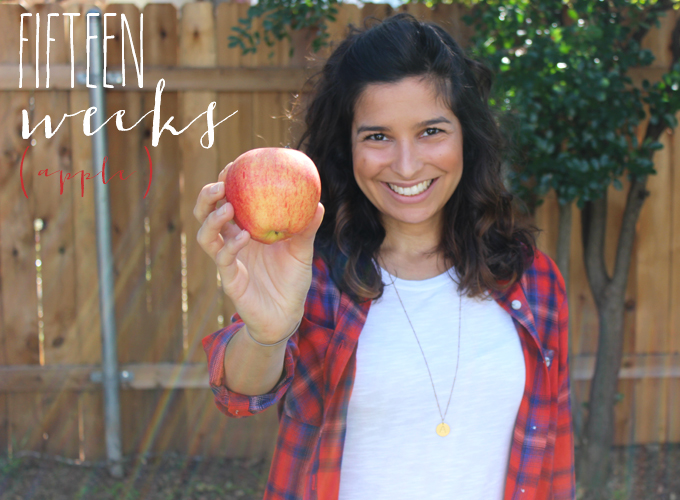 How I felt: I finally, FINALLY had a few good nights of sleep this week, which lead to a very happy, more energized mama and baby! And then we started watching Stranger Things. And I went back to zombie mode for a few days. :)
My mood has been up and down – I was in a great mood most of the week, but woke up on Wednesday with an unexplainable vengeance. Matt joked and told me I was teaching the baby to be feisty.
How my body is changing: Didn't notice much change this week…boobs are still big and belly is still getting bigger. Shocker.
What I ate: I was hungrier than ever this week! Matt has been home all week, working remotely and therefore he has made me scrambled eggs and peanut butter toast every morning like a good, dotting husband should. It was really nice to have a full breakfast again, instead of my normal (but super filling and delicious) green smoothie. 
Best thing I ate all week: I love my "sesher" acai bowl from Blenders and Bowls, but they released their fall menu this week and so I HAD to try the Fall Bowl…which pretty much tasted like pumpkin apple pie! Topped with apples and walnuts and honey, I may have devoured it in 3-5 bites. I also made my spicy roasted cauliflower for the first time in MONTHS, so having that mixed with quinoa and spinach for lunch every day was a dream. Also made another pot of pasta fagoili and a batch of my favorite vegan ceasar salad dressing – fully taking advantage of my dream WORKING kitchen.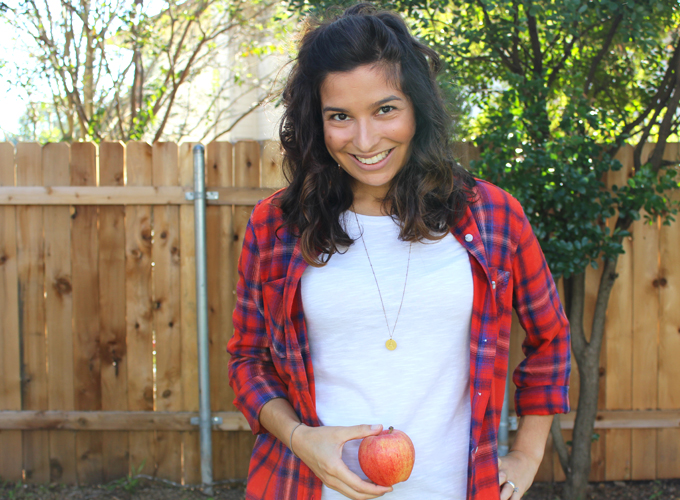 Cravings: Cheese. And salty foods. And Twix bars. And Perry's chocolate ice cream. Basically, everything. 
Not craving: as you can see above, there was really nothing that I was not craving. Maybe not Mexican food still?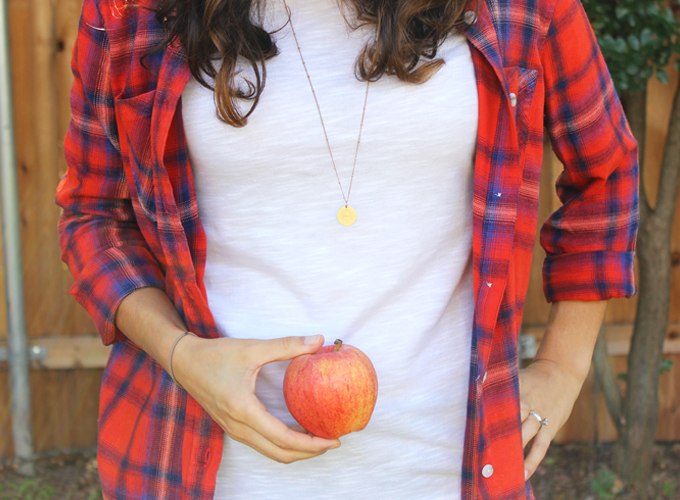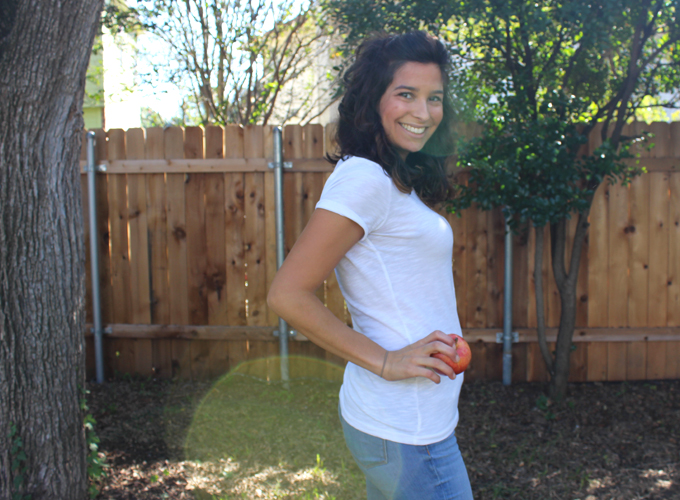 ——————————————————————————————————————
16 Weeks: Baby is the size of an AVOCADO!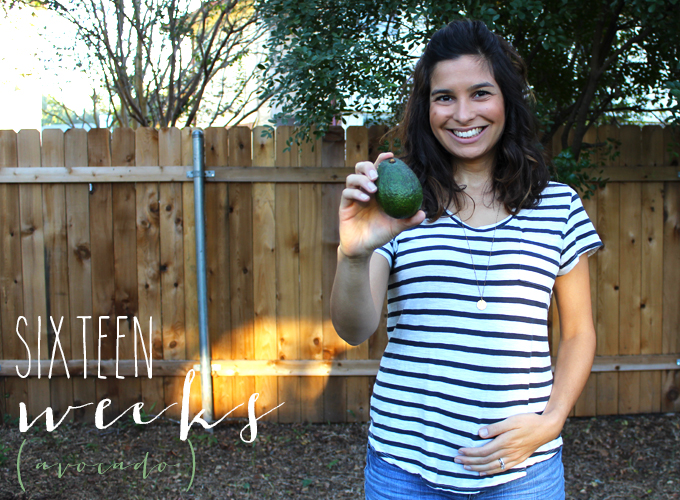 How I am feeling: Well, I am home in Buffalo to kick off my 16th week, so I feel pretty great emotionally. :) This is my first time home since getting knocked up, and so it has been pretty exciting seeing all of my family and friends. Two of my very good friends and fellow Bonnies ware tying the knot this weekend, and I am not only attending with the plus one in mah belly but also bringing my fabulous BFF Amy as my date!
How my body is changing: Still growing, per expected. However, with the amount of food I consumed within 24 hours of being home, safe to say that I may gain all of my second trimester weight before I go back to Austin!
Best thing I ate: Oh, there are so many things. SO MANY THINGS. Between the fresh empire apples at Becker Farms to the fresh apple cider donuts (and apple cider) and Franco's pizza and Park Edge sponge candy (my new favorite – thanks Linds!) to peas and macaroni to sauce to Anderson's custard. They were all the very best things I ate within 48 hours of my 7-day week.
Phrase I can't stop saying: This,
obviously.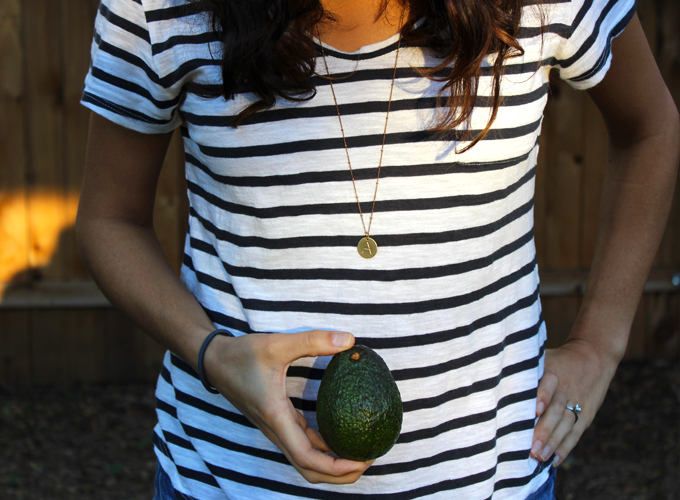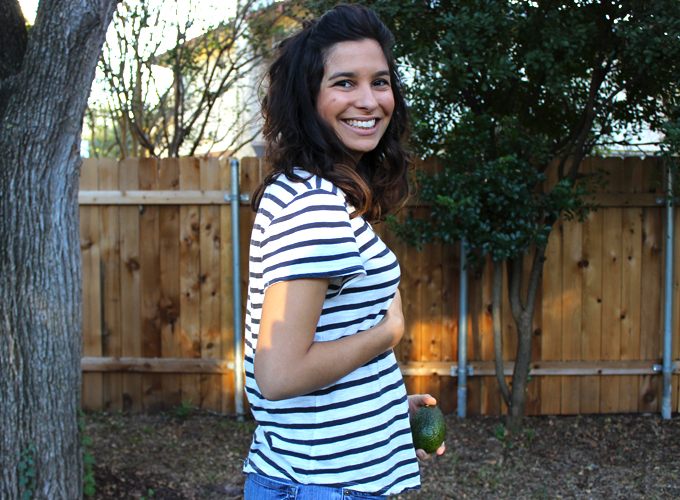 ——————————————————————————————————————
17 weeks: Baby is the size of a Pomegranate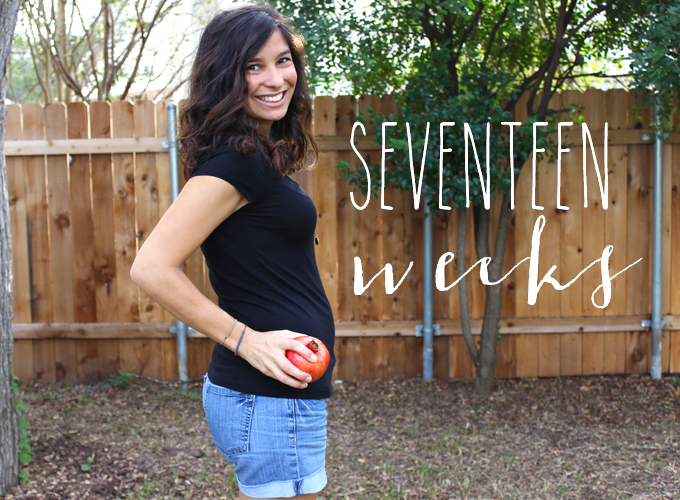 How I am feeling: Still feeling pretty great off of my Buffalo high! I slept a bit better this week, although I am holding onto tight to my favorite sleeping position – laying on my stomach. The doctor said it is fine for now (just no sleeping on my back) but I have a feeling it will get near impossible in the coming weeks as my belly expands… 
How my body is changing: I started to feel some movement in my stomach, but not 100 percent sure if it's the baby or just normal body things. :) I also started to experience round ligament pain/cramps this week, especially while running. I have been taking a couple walk breaks during my runs now to deal with these, but otherwise am still running and pretending I know what I am doing at yoga. 
I did experience an insanely awful leg cramp the other night, which shot me out of bed so fast I almost fell off the bed! As my mom loves to remind me, I need to keep chugging water (as if I wasn't peeing enough already) and "eat more bananas!"
How my body is changing: Tummy time! One night this week I woke up at like 4 in the morning and swore I was feeling my stomach grow. Like I actually felt a growing pain right at my belly button – a weird achy, specific feeling. And sure enough, when I went to put on my jeans with the hair-tie trick…I could barely even get them zipped one inch. I have been eyeing maternity jeans and leggings, but wanted to hold off as long as possible and just get by with my current wardrobe and belly band. But when my friend Jenny gave me a huge bag of maternity clothes – including skinny Gap jeans with side expanders – I was in love. I may order a couple pairs this week as I know I haven't even seen the half of this expansion.
Luckily, I'm having no skin issues – I don't know if it is the "pregnancy flow" or my newfound love of rosehip oil (seriously, BUY IT NOW) but I'm feeling pretty glow-y. (Watch me break out tomorrow.) 
What I am eating: I'm fully back to my normal eating routine, with my green smoothies in the morning, quinoa and rice veggie bowls for lunch and salad/more homemade pasta fagioli for dinner! But my snacking levels are off the charts – I'M SO HUNGRY ALL OF THE TIME. I've noticed this the most the tail end of this week – I wake up with a ravenous hunger and a full belly growl. I try my best to stick to fruits, veggies and healthy snacks (mini Baybel cheeses have been my newest crush…come to mama) but this week saw much higher instances of early morning and late night cereal mugs, mid-day, multiple bags of popcorn attacks and a few cookies thrown in for good measure. Oh, and did I mention we had a 90s party at work, filled with favorite 90s snacks such as Gushers, Fruit by the Foot, Bagel Bites, Big League Chew, Ring Pops and more? I am growing a baby AND a bunch of cavities.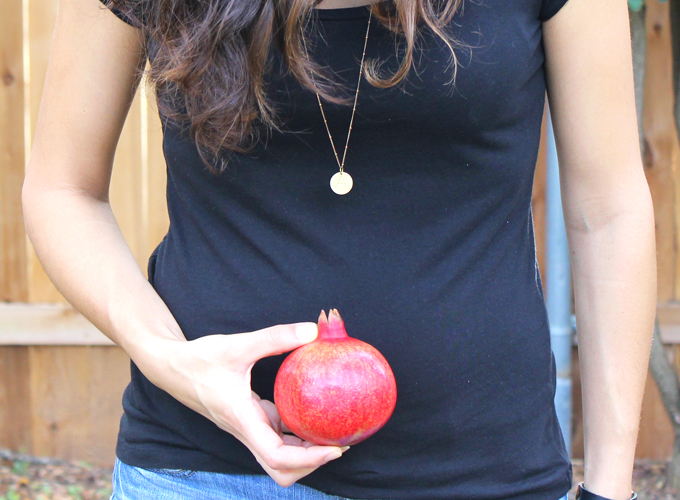 Best thing I ate all week: Tie between the Gushers and Wegmans Fall Harvest cereal mixed with Pumpkin Spice Cheerios. SO GOOD. Oh, and a chocolate chip pecan cookie from Tiff's Treats. (Honestly, all of these food updates just describe my daily life on food craving steroids – I am just eating more of what I already crave constantly but normally have will power to resist.)
Favorite experience of the week: Hearing the baby's heartbeat at my 17 week check-in! 145 beats per minute…strong little pomegranate!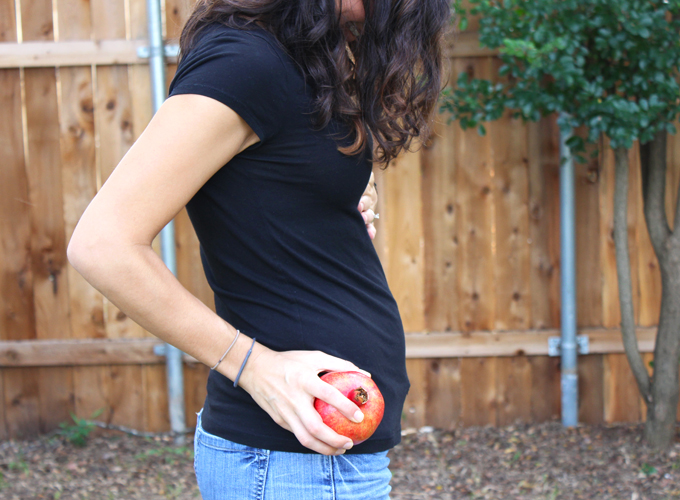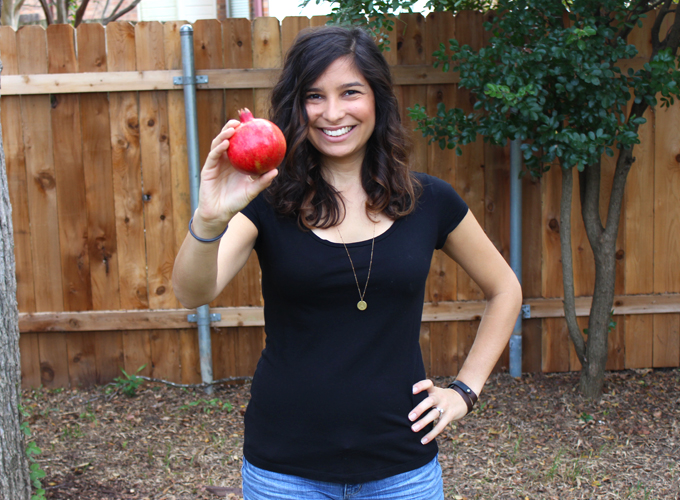 ——————————————————————————————————————
18 weeks: Baby is the size of a BELL PEPPER!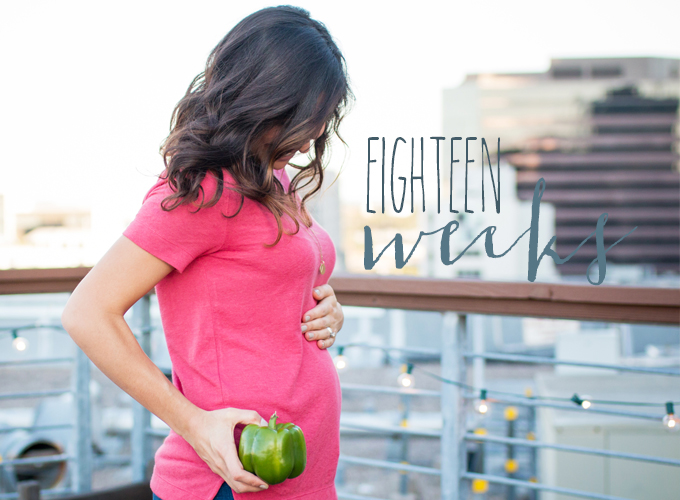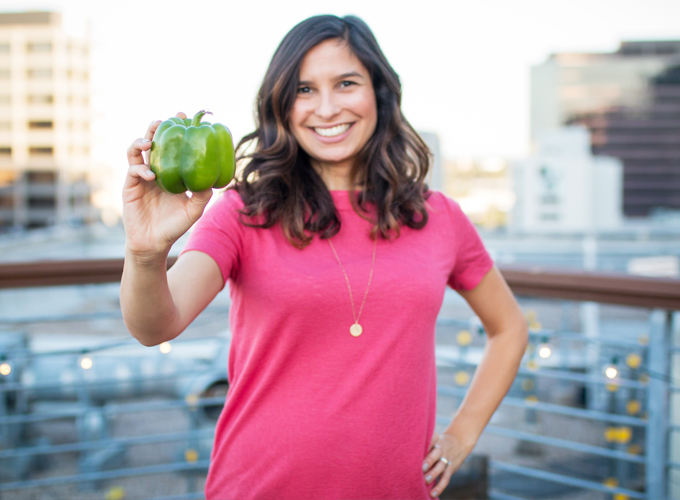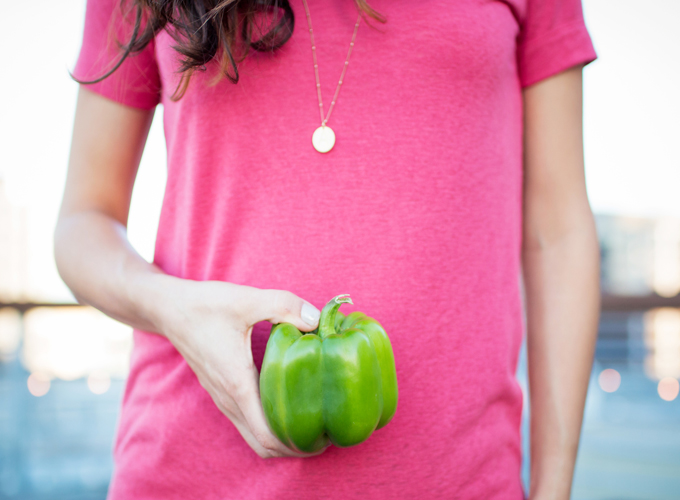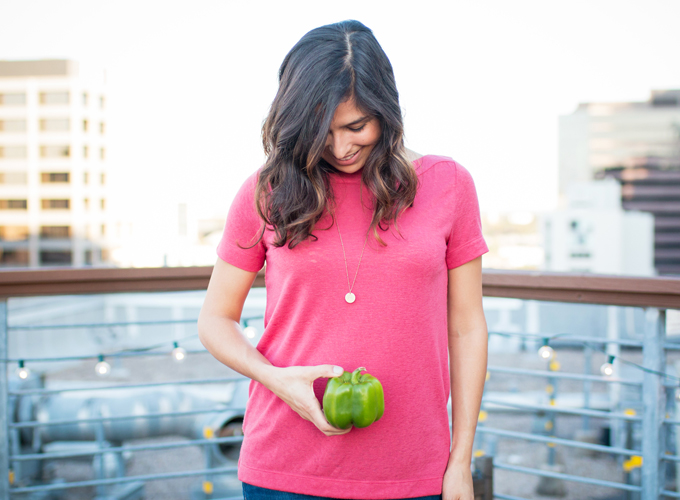 (Also…my dear, crazy amazing friend/now personal photographer Alex took this week's round of photos, and can we talk about how skilled she is?! Sorry Matt…you have been doing great so far, and Imma have to let you finish as Alex doesn't live with us but…she is the greatest baby fruit photographer of all time. ALL TIME!)
How I'm feeling: Still enjoying this honeymoon trimester to the max – I have a ton of energy, positive vibes and feelings of excitement than anxiousness. How ever, Yoga and running are getting a bit slower, mainly bc I am much more aware of this growing center of gravity – I can't balance that well during certain poses, and when I run I am either feeling cramps in my lower abdomen or am just scared that I am going to trip! I think I will begin to run/walk more as my pregnancy continues and belly gets bigger and bigger 
How my body is changing: Speaking of getting bigger and bigger…I firm behind my belief that my belly grows an inch every night. Think I can confirm, after looking at these photos that Alex took this week…think the pepper has popped. 
My other amazing friend, Jenny, gave me a HUGE bag of maternity clothes earlier in the week, which I have not stopped wearing since. (Dem Gap jeans tho.) Still rocking the belly band over my unzipped, non-maternity jeans, too, but I have a feeling that as I get bigger maternity jeans will be me preference. Also broke out my leggings for the first time this weekend nearly decided right then and there to never, ever ever take them off for the next five months. Boobs are also huge, still have yet to buy new, bigger bras. Womp womp. (weird that autocorrect just tried to correct that to "womb womb?")
Eating: Wild love affair with Cape Cod salt and vinegar chips. Wild. 
Last week I got back in my salad routine, but this week I have found a bowl of lettuce to be the last thing in the world I want. Instead, I've been sticking to my favorite food in the world, pregnant or not pregnant: cereal! It's been my dinner (and breakfast) of choice three days this week…. and I'm not mad about it. (Current mix: pumpkin life, Wegmans oats and honey and HEB frosted mini wheats.)
Best thing I ate all week: Chocolate pumpkin coffee cake from a restaurant in Asheville at 10 p.m. because when you can't drink, you eat. Plus a box of Park Edge sponge candy. (Thank you again Linds!)
Best memory: Spending the weekend in Asheville, NC with my favorite ladies, celebrating the bachelorette of  my lova lova Sarah, and meeting my fellow pregnant BFF Cate's baby bump! :)
——————————————————————————————————————
19 Weeks: Baby is the size of a MINI PUMPKIN!
(or a heirloom tomato. But a mini pumpkin was obviously my seasonal preference)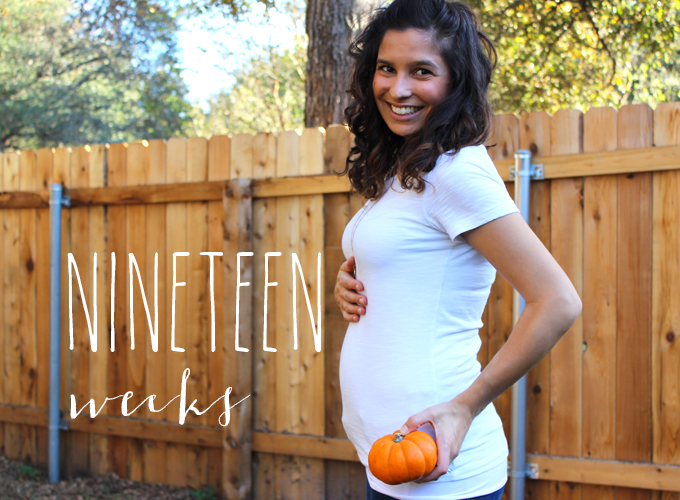 How I am feeling: Kind of like a beluga whale. My stomach is now growing much more rapidly than before, and I'm finding it much more difficult to wear my normal wardrobe without feeling like my boobs are popping out or my pants are falling down.
Emotionally I am feeling a bit anxious – something about hitting the halfway point next week has gotten my brain in a frenzy. Have we done anything at all to get ready for this baby, other than keep a weekly photo/fruit journal of how my pregnancy is going? No, no we haven't. I DID order a couple baby books off of Amazon and even cruised through the Buy Buy Baby website for a good two minutes before getting distracted/overwhelmed. Progress?
How my body is changing: See beluga whale update above.
What I am eating: After last week's sugar snack attack, I tried to focus on more on fruit and veggie snacks this week, in between my usual meals. A microwave mac and cheese may have snuck in there one day, but the baby really, really wanted it.
Best thing I ate all week: My friend Kristin's veggie chili. It was so good I finished off the pot before anyone else had seconds. You know, because the baby needed it.
Favorite memory: Carving pumpkins with Kristin, her husband Matt and their new beautiful baby girl, Emily, AND handing out candy to our first trick or treaters! Living in apartment buildings for six years makes these sort of moments ridiculously special. And pretty weird, if you are a kid in my neighborhood who heard me yell "I have candy left!" to trick-or-treaters walking by our house at 9:30 p.m.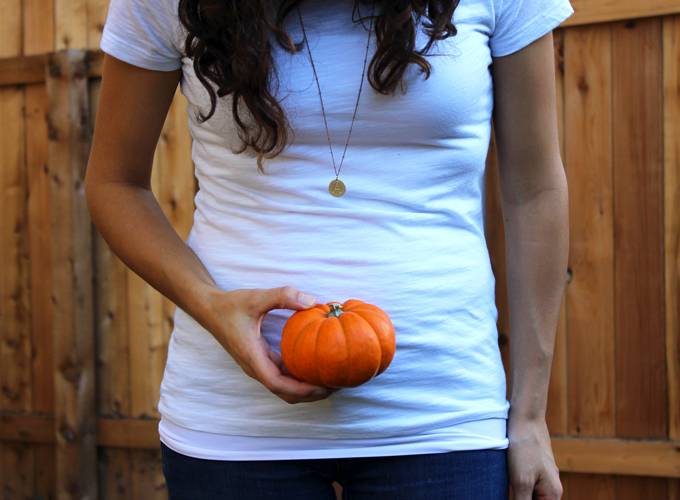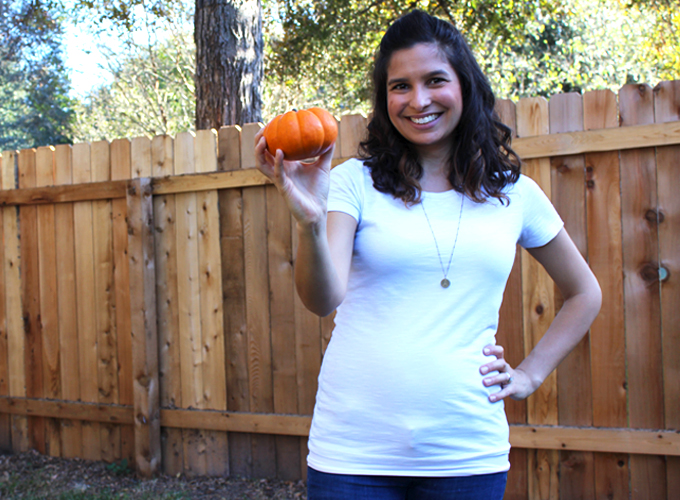 Weeks 20 and now 21 coming up next…can't believe I actually caught up before the baby's first birthday.