It's the final countdown!
36 Weeks: Baby is as big as stalk of CELERY!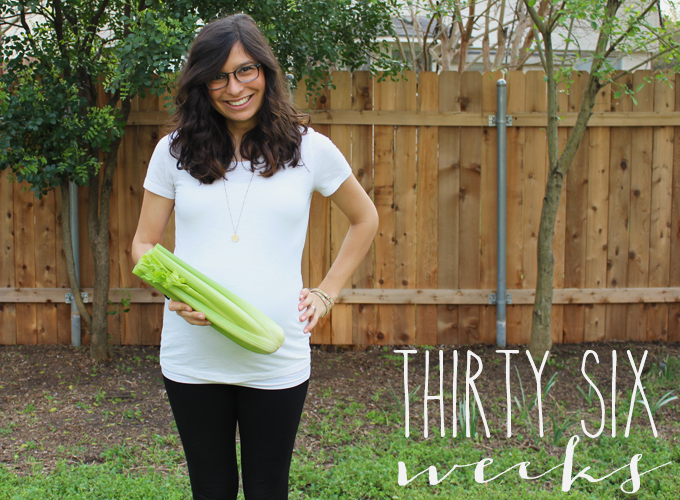 How I am feeling: Physically, still feeling great! I am still walking the trail after work and on the weekend – Matt's parents are here this week and so Mrs. Izzo and I went for an awesome four-mile was on the trail over the weekend. However, I did go to my very last yoga class at Wanderlust (for now) as the heated rooms and balancing poses were beginning to be a bit much for a 36-week-pregnant lady. I have loved keeping up with my practice during pregnancy- and totally impressed myself by lasting this long – but after actually mumbling "what the heck am I doing here?" out loud in my last class upon attempting dancer's pose…a reality check was in order. Hopefully I will be back to Gustavo's classes (my favorite instructor!) AFTER baby.
Mentally, I was a total nut job this week. I alternate from feeling excited to feeling anxious to feeling petrified to all of a sudden, needing to clean out desk drawers. It is like everything and nothing is coming at once…and I am tending to direct all my chaotic behavior towards Matt. Sorry again, bud. :/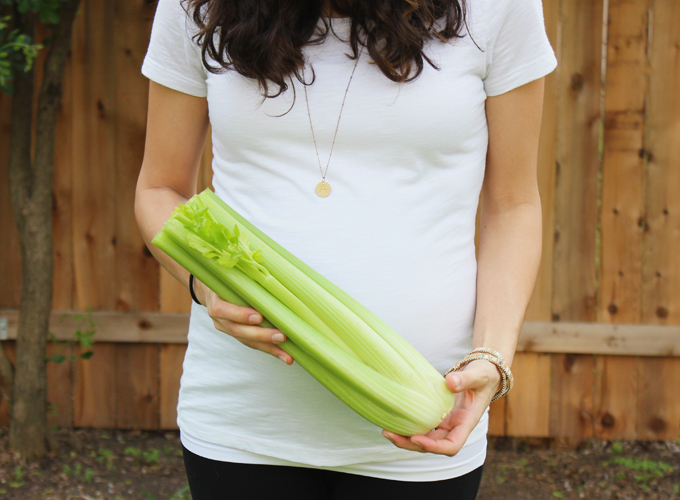 I took a breastfeeding class this week, which definitely helped to ease my nerves towards the subject. I tend to overanalyze things I actually know little about, so it was very good for me to sit through a two-hour class that went over the boob basics. I was squeamish at times, but am now a bit more ready than I was before to have a little human attached to my boobs for the next year or so.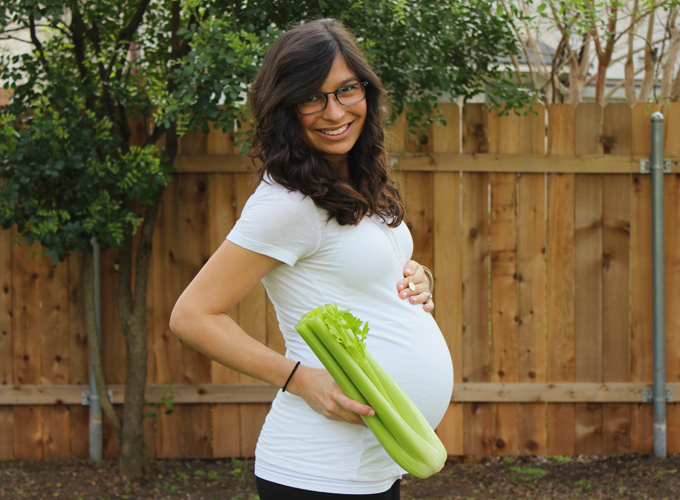 Best memories of the week: My manager/great friend, Brittney, threw me and Baby Izzo a FABULOUS baby shower on Sunday! It was filled with all of my fellow project managers as well as a couple who have since left Sringbox but remain very close friends. The afternoon was filled with some of the most incredible vegetarian food (with produce straight from her backyard – think fresh beet and broccolini tarts with creamy goat cheese sauce, fresh lemon-y pasta salad with peas….
We played a hilarious game called "What Do You Meme" which is played similar to Cards Against Humanity but with a visual and slightly less vulgar twist. Highly recommend it to anyone in the 18-40 age range! Everyone spoiled us with very generous gifts, and I don't think I stopped smiling for six hours straight. It was a really great afternoon, and I am so grateful to have a life here filled with warm, wonderful and simply magnificent people.
What baby is up to: He is a hiccuping addict – poor baby can't seem to shake them! He gets them at least three times a day, which obviously caused me to email my doctor to ensure this was normal. (Yes, it is.) I feel bad that he gets them so much, but at the same time, they are pretty darn cute. He usually moves around and does what I can only imagine are interpretive dances while he is hiccuping, too, making for a very entertaining belly dance.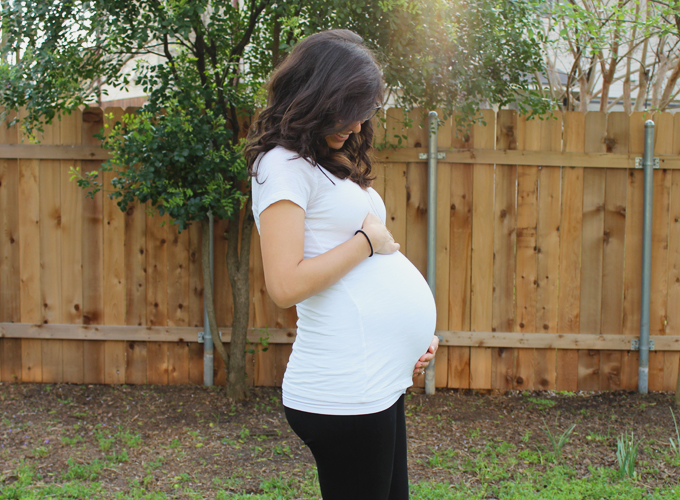 How big is baby: Baby Izzo is six pounds and more than 18 1/2 inches long!
Best thing I ate all week: See note on the baby shower at Brittney's above. EVERYTHING SHE MADE.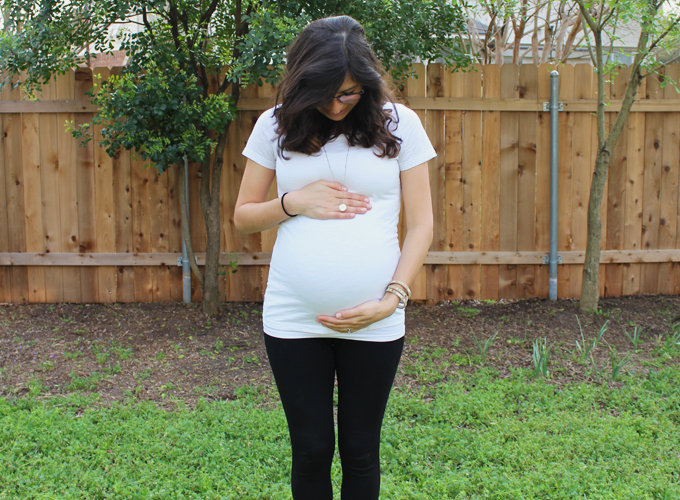 37 weeks: Baby is as big as a bunch of SWISS CHARD!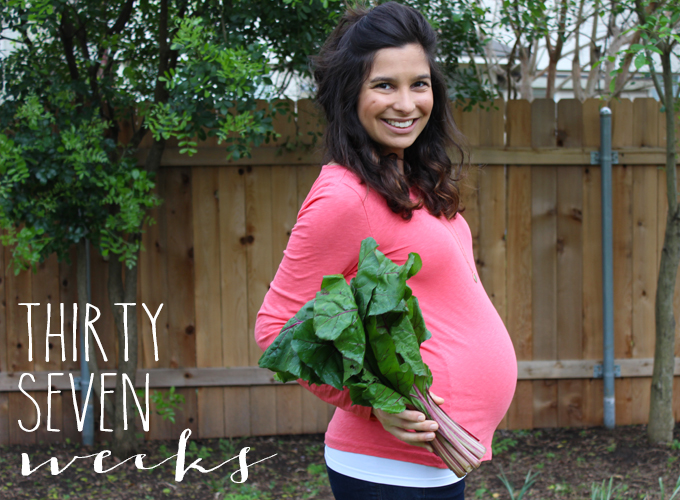 How I am feeling: My belly is definitely growing more out and down, if that makes sense! Still catching glimpses of myself in mirrors and forgetting how pregnant I actually am. :) That said, I'm starting to get mixed emotions about not being pregnant anymore – we are obviously SO excited to meet our little baby, but being pregnant has been one of the greatest experiences of my life. I know I am very, very lucky (and that some women may "x" out of this post right now as I praise nine months that may have been not-so-great for them), but I have loved every minute of growing a human. I still can't believe it is happening sometimes, but with only a few weeks of this adventure left I have found myself staring at my belly way longer than I should while getting ready (if I am late to meet you somewhere, this is probably why), watching baby dance around every night as I lie in bed well past my bedtime (another excuse for being late the next day) and even hugging my belly and internal baby inside of it!
I know that once I see this sweet boy's face, thoughts of pregnant as the greatest journey of my life will quickly diminish. But I'd like to always remember it as where my love affair with Baby Izzo and the immense power of being a woman started.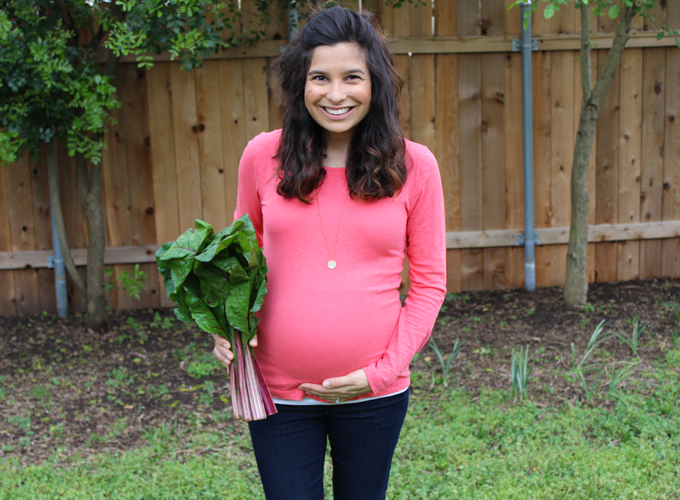 Best memories this week: This weekend, we were celebrated with ANOTHER baby shower! I hope I can find all of the right words to explain just how special this one was, too, as the entire weekend was almost like a dream.
Most of Matt's family lives in Jacksonville or in Saratoga – and since the craziness of the holidays took up a big chunk of my pregnancy and I only had a few weeks in between the holidays and my pregnancy no-plane-travel-allowed ban, my amazing mother-in-law was planning a summer "meet the baby" shower. (After all the things that everyone had already done for me, I was already in awe that another shower was planned, no matter what the time frame was!). So imagine my shock when Matt played me a homemade "movie trailer" one night that gave hint after hint after hint…that everyone was actually going to fly HERE for a surprise pre-baby baby shower in March! I had to watch the trailer four times before it actually hit me – and looking back, I still can't believe it happened!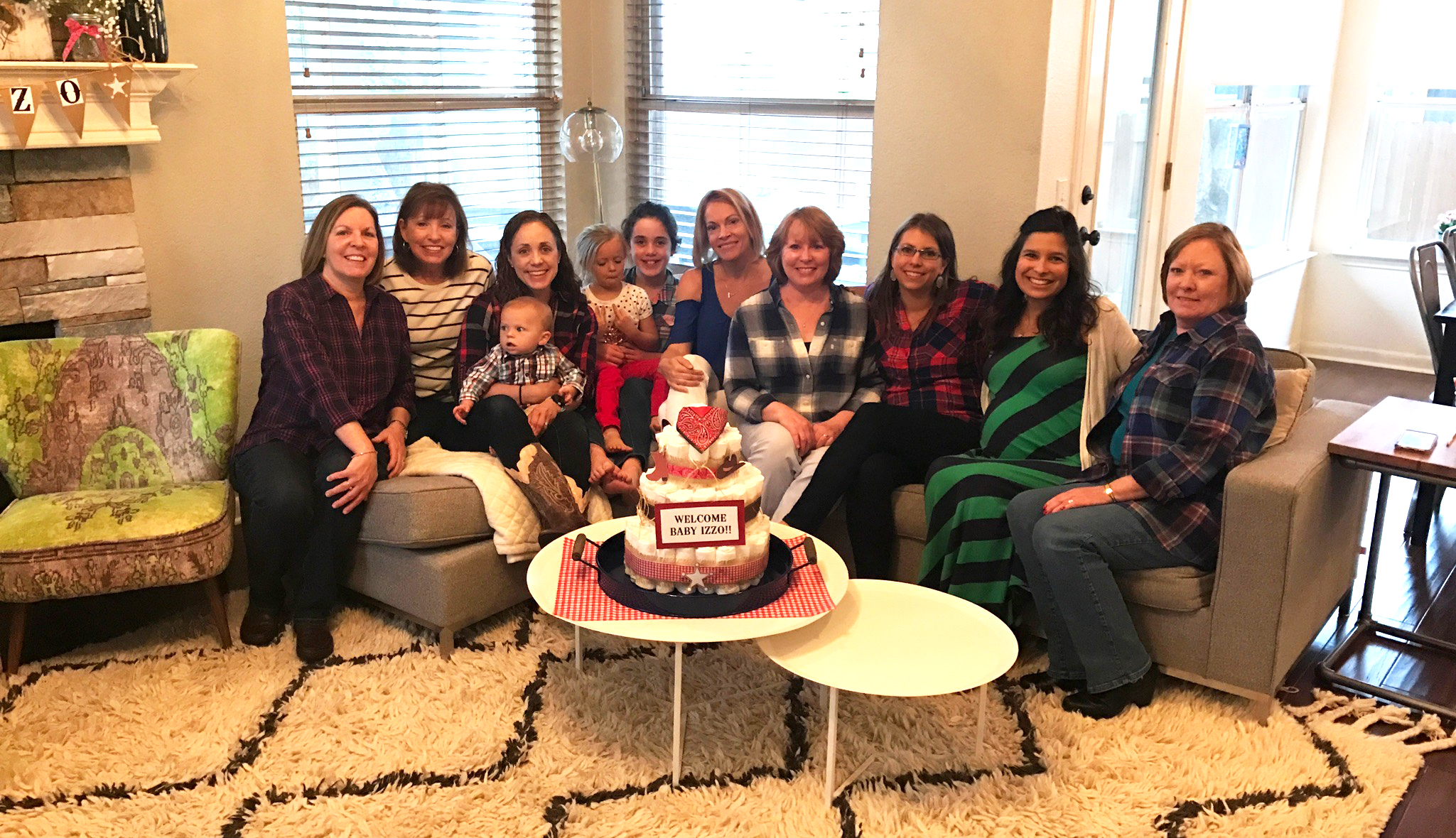 Everyone flew in on Friday night, with the shower on Saturday at an awesome house my mother-in-law found on AirBnB. And if the house wasn't enough, the cowboy-themed decor and food that my sister-in-laws created and put all around the house – not to mention the flannel shirts and cowboy boots everyone was wearing – was just INCREDIBLE. We had the best afternoon, laughing so hard until we cried playing hilarious games that my sister-in-law Kyra created. One involved balloons up everyone's shirts (I obviously brought my own bump) while squatting plastic limes between our legs, one was "breaking the water" with little plastic babies in ice cubes and the other had us picking up plastic pacifiers with chopsticks in our mouths. Seriously…my cheeks are still sore from laughing so hard.
We stayed in the house all day and then eventually turned the surprise shower into a surprise 40th birthday party for my sister-in-law, Amy! It was one of the greatest days I've had, and by the end of the night Matt was dragging this 37-week-old pregnant lady off the couch as I really didn't want to leave/have the day be over.
Luckily, I still had Sunday to spend with everyone! Leftovers were brought to our house and we all sat around the island and snacked and talked. Then, we all took a little trip to Mount Bonnell (our go-to visitor spot) and Amy and my niece Abby stayed a bit longer to see some sights in Austin. We had an awesome afternoon with everyone, and so that sinking feeling when we got back to our house and everyone was gone definitely hit hard. But it was quickly replaced when I remembered just how special the weekend was, and how grateful we were that it happened!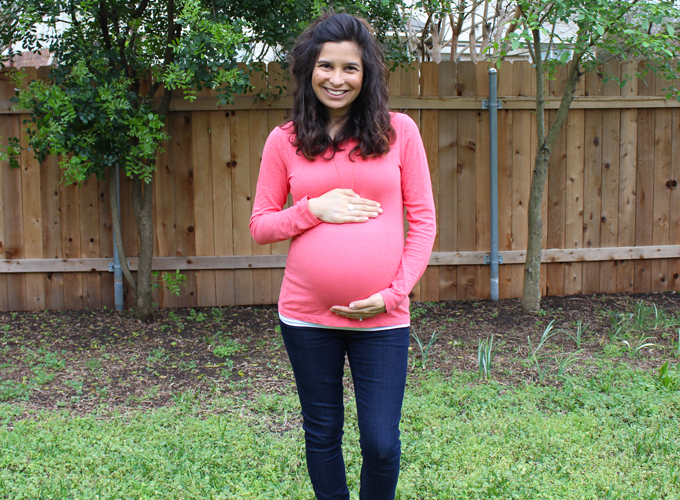 Baby to-do's checked off: I met with another pediatrician this week and fell in love with the doctor and the office. I really like the first place we visited a few weeks prior, but something about this doctor felt right to me. Finding a pediatrician had been on my to-do list for MONTHS, so it was very awesome to not only check that off but also be very excited about our choice!
I also wrote a LOT of thank-you notes at night. But since we apparently have the greatest, most generous people surrounding us near and far…I have a longgggg way to go (and more thank-you cards to buy!) before this deed is done. So if you haven't gotten a thank you yet, I promise it is coming your way soon! But thank you thank you thank you in the meantime. :)
I ALSO brought out my suitcase and began packing my hospital bag. And then unpacking it. And then repacking it. You'd think I was going to be there for three weeks.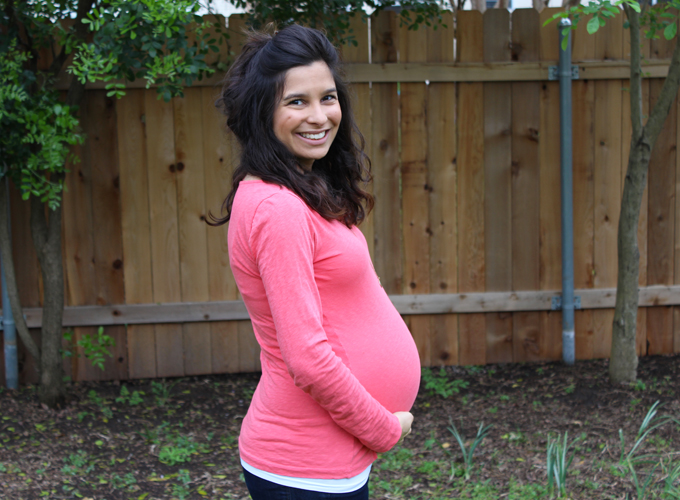 How big is baby: Baby is more than six pounds and 19 inches long!
Best thing I ate: Tie between the homemade (not to mention GORGEOUS) peanut butter chocolate and buttercream chocolate cupcakes Kyra made (with great Grandma Hickey's chocolate cake as a base!) and more pistacio chocolate chip bundt cake, which made a re-appearance for Amy's birthday celebration!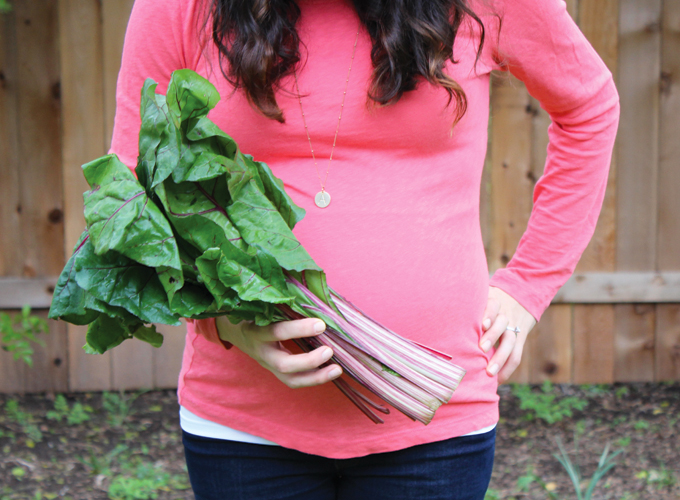 38 weeks: Baby is as big as a bunch of LEEKS!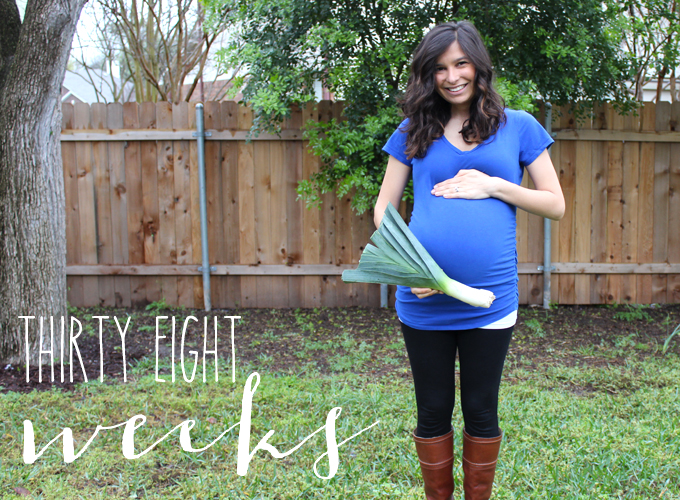 How I am feeling: Actually started to feel something other than great this week – lower belly cramps! Nothing too crazy, but definitely noticeable compared to how I have been feeling up until now. I'm still walking every day on the trail and trying to stay as active as possible! 
What baby is up to: Baby Izzo is still moving around like the crazy man he is, but you can tell that his dance floor space is almost nonexistent. He is also still getting the hiccups daily – some days a couple times a day but others just for a few minutes. I think my Topo Chico addiction may be the culprit.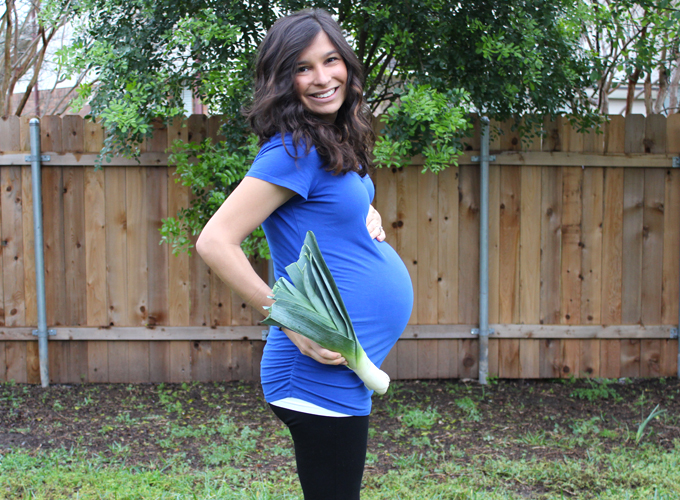 How big is baby: Baby is
Baby to-do's checked off: Matt and I (okay, mostly Matt) took advantage of a rainy Saturday morning and tackled both the Pack and Play and Rock n Play set up! Which all went smoothly…until Matt tried to get the Pack and Play into our bedroom. It didn't fit through the door at first, but – in my poor husband's defense – it seemed like one good push may get it through.
Wrong. It wound up getting stuck in the door, and no matter which way Matt pulled it, it wasn't budging. Cut to paint chipping off the door frame and the just-assembled Pack and Play suffering a couple of tears (not to mention me having to practice labor breathing in the closet to not rage out)…it was officially in the room.
Let's hope Baby Izzo really loves sleeping in it those first few weeks, as I don't think it's coming out of our room!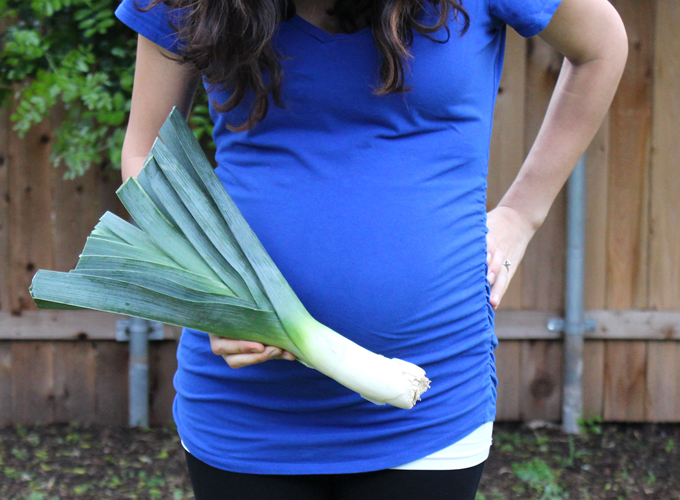 I'm officially in nesting mode, as while we were assembling baby items I was doing laundry, cleaning out my closet, sweeping the floors, attempting to organize the garage…I got everything and nothing done at the same time. But I do feel a bit better.
I also spent a lot of time on Saturday at Buy Buy Baby and Target, throwing all sorts of baby wipes and diaper ointments and even a bottle-drying rack (I don't even have bottles yet nor do I know which kind we will go with) in my cart. I don't know if I just want to be extra ready OR if I'm scared I won't want be able to leave the house for awhile after baby…but we should be covered on baby necessities for at least a month. :)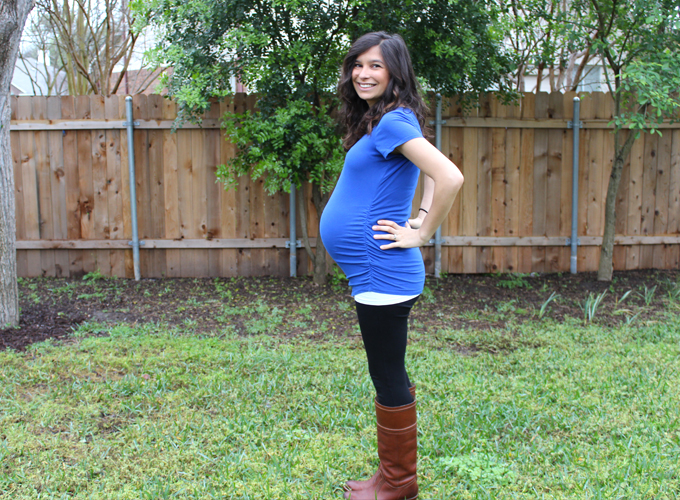 Favorite memories: The Great Pack and Play vs. Door Frame battle may have been funny in the moment, but I quickly realized that it will always be one of my favorite "we had no clue what we were doing" memories. Which I am sure will soon be joined by a BUNCH more clueless-but-laughable moments in the very near future. 
Matt and I also went for an awesome long walk on the trail and into the city to check out SXSW interactive activities and houses…including the We DC house, where I got to visit with a few of my favorite Destination DC peeps! It was so awesome to see them and have them "meet" Baby Izzo in bump form!
Best thing I ate: I have been on a serious, serious Frosted Mini Wheats kick the past week. It's all I want for breakfast and dinner (for some reason, lunch seems like an appropriate time for real food). I wrote most of this post while eating my way through another box.
39 Weeks: Baby is as big as a MINI WATERMELON!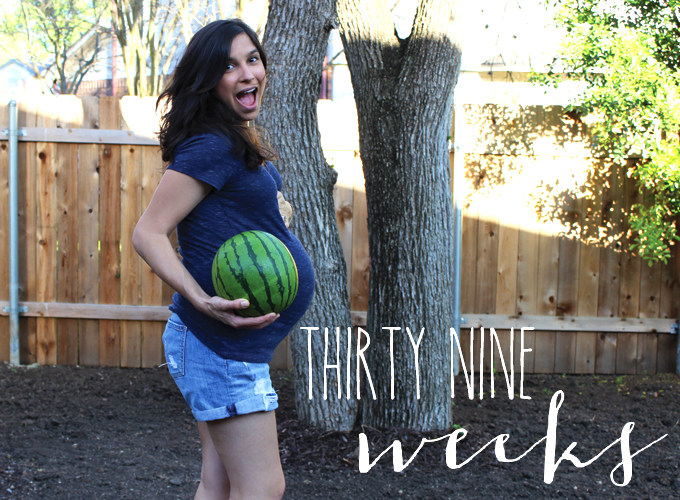 How I'm feeling: like I have to pee. ALL OF THE TIME. Baby boy has definitely dropped way down in my belly, causing a ton of pressure on my pelvis and yes, bladder. It's a lot of fun. And pee breaks. 
Especially during our weekend walks both by our house and on the downtown trail. Thank you, park people, for adding bathrooms every few miles. I'll never take them for granted again. 
Mentally, I'm staying up late and reading my baby books and probably reading too much and thinking too much and starting to freak out just a bit. But that is normal for right before the biggest change is about to come your way, right?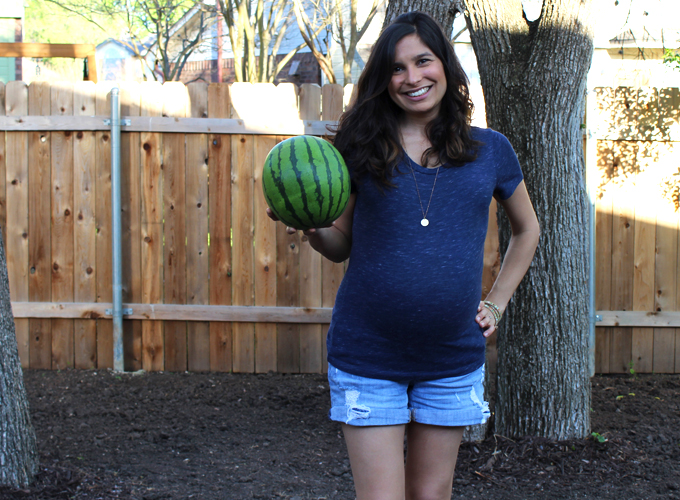 Baby To-Do's Checked: I don't know if it is technically a "baby to-do," but my incredible, hardworking and retired two star general father in law was in town this week installing a sprinkler system and all-new sod in our front and back yards!! 
Our lawn looks like it is right out of a Landscaping magazine, and with our sprinkler system I know that it will now be able to stand up to the Texas summer heat (unlike our last attempt). I can't wait for Baby Izzo to roll around in it so soon! 
Favorite memory this week: Ummm how about going to a FREE GARTH BROOKS SXSW concert with some of my very favorite people?!? The concert was announced on Friday, and lucky for me I have pretty great friends who were way more on top of tickets than I was. My friend Katie got an extra ticket and gladly extended it to me and my big ole' nine-month belly!
The concert was only open to Austin residents as a thank you for letting SXSX invade our spaces for a bit. And let me tell you – standing outside on a gorgeous March day, the Austin skyline in the background, Garth Brooks in the foreground, my friends surrounding me and my baby in my belly – it was hands down the best concert I've ever been to. Baby Izzo loved it too – he was dancing all around the entire concert, especially to Baton Rouge.
And of course, my friends TOTALLY mapped out a plan in case I went into labor, with signals to Matt and all. Plus, the concert space was much closer to our hospital than or house is. So we were totally covered!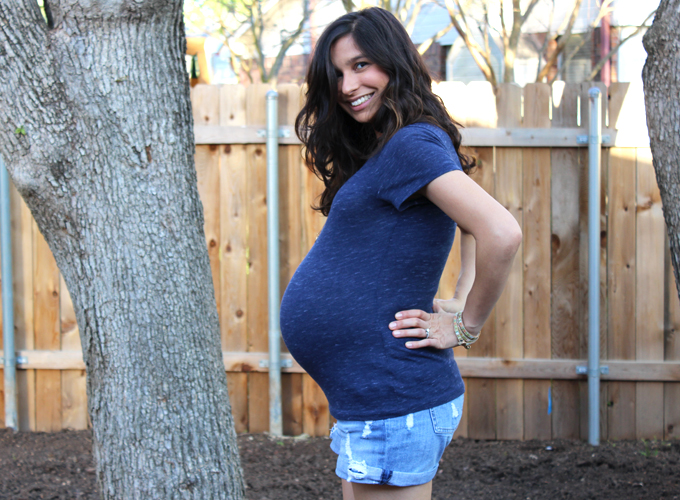 Best thing I ate: Kerbey Lane pancakes, one blueberry and one banana nut. Gets me every time! 
How big is baby: Baby Izzo is about 20 inches long and is weighing in at around 7 pounds!